On our recent trip to Barcelona, in addition to hankering after rice dishes, salt cod and chickpeas, Jackie and I also had a yen for churros, those sugared fluted ropes of fried batter. These are not as common in Barcelona as in, say, Madrid (or for that matter at some amusement parks in the US), and too many of the cafés and bars that sell them are not specialists and/or are not careful about their ingredients, much less about their frying oil. Mediocre batter inattentively fried in old oil does not make a tempting snack.
But as we explored the Born area on our way to the extraordinary Catalan Gothic church of Santa María del Mar, we came upon the Churrería Granja Ruz, where the batter was made in-house and where the churros were freshly fried in fresh olive oil. The owners, husband and wife, were proud of their product, as they had every right to be: the churros were delicious -- crisp crusts and soft but not undercooked interiors.
They came in three versions: regular, skinny and chocolate. I was skeptical about the latter, which had both a chocolaty batter and a chocolate coating, but they were surprisingly good; like the owner herself, however, I favored the traditional thicker version, with its higher proportion of soft dough to crust, though the very crisp thin ones had their own crunchy appeal.
Next time you're in Barcelona, be sure to take a look at that amazing church and use that as a high-minded excuse to stop for a plate of churros and a cup of hot chocolate (or, my preference, coffee).
Churrería Granja Ruz, Carrer Princesa 12, 08003 Barcelona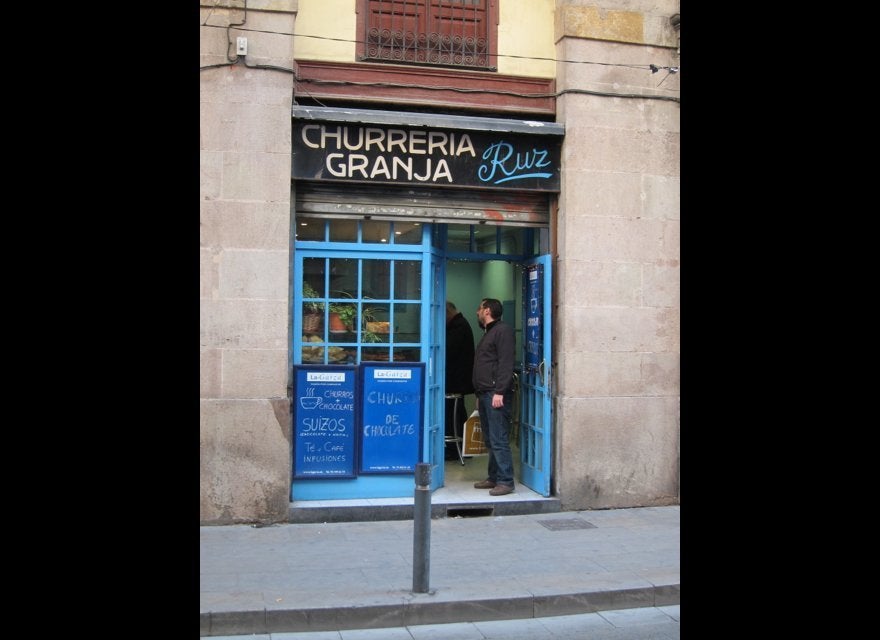 Good Churros in Barcelona