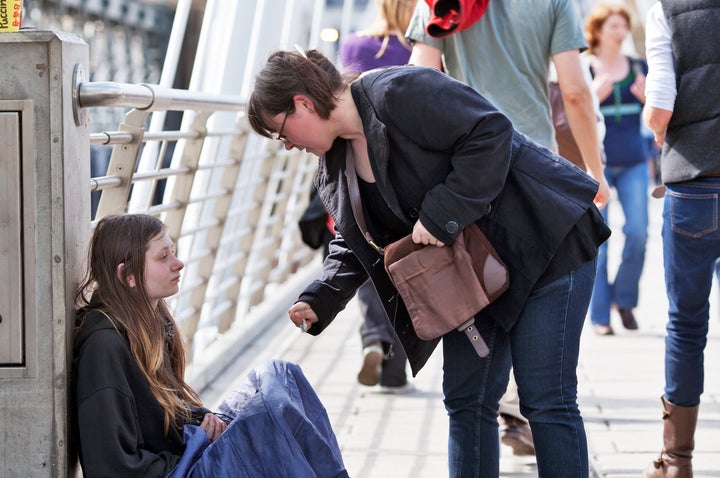 At the age of 52, I decided I was going to write books.

A bunch of stuff happens in middle age. You start doing things, you stop doing things. You become more like yourself, and sometimes even the worst version of yourself; with any luck, people who love you are around to stop things from going too far. I had written for a living for many years within the publishing industry, and then one day I decided I was tired of writing about other people's books. And that was that.

I got busy -- very busy -- because I took a job as a bookseller during the day in order to stay in the industry I loved (and, of course, to get health care). At night I wrote. I wrote my own books, I wrote series books for hire, I wrote proposals that no one bought. I didn't make a ton of money, but I became a real working writer, and I've never looked back. However, I got so busy that I gave up some things I had been devoted to, most notably work as an LGBT activist. Twenty years ago I was volunteering several nights a week, stuffing envelopes, raising money, spray-painting urgent messages on sidewalks in the dark. It was an incredibly exciting time to be involved in the movement.

Writing is thrilling, too; so is holding your published work in your hand and connecting with other people in a new way. But it can be lonely, and one of the things I began to miss most was being out there. My malaise didn't disappear, and I finally realized what I missed was the giving.

And then a truly weird thing happened: We got a saint in our family.

True, he was a distant relative, and related to me only by marriage, but still... Do you have a saint in your family? The thing is, he lived in the twentieth century, not in the distant middle ages and I'd heard stories about him forever -- both ordinary, and yes, miraculous ones. Well, I'm no saint, believe me, but suddenly the confluence of these two things hit me, and I thought, you know, I could be doing just a little bit better. Be a little nicer. Count to ten. Go out of my way once in a while. What, I wondered, would it be like if I tried to do a good deed -- even something tiny -- for a whole year?

So I did, and believe me, there was some occasional foot-dragging, and once in a while I just had to quarantine myself. But in the main, I succeeded, and it felt great. Cool things happened, and funny stuff, too, both incredible and small. I tried to train myself to look outward more and see what was going on around me.

Here's what I found out: It wasn't that hard. I did many things that will stay with me forever. I made two pies at Thanksgiving and brought one to a pair of elderly sisters whose mother had cared for my own mom as a young girl. It brought back a bittersweet avalanche of memories for all of us that encompassed more than 80 years. Or the day I went to the little chapel near the World Trade Center site to say a prayer for the fallen -- now more than 10 years later -- and found a high school choir from the Midwest singing the "Hallelujah Chorus." Simple things, to be sure, but when I posted them -- and other experiences like them -- on my blog, I found that these were the things people commented on, the days that moved them to do something similar and feel the effects of what one good deed can do. It's all about critical mass -- your own, day by day, and the others you get to get on board for the ride.

And if you wonder what it was like, of course you can read all about it in the book, "One Good Deed: 365 Days of Trying to Be Just a Little Bit Better." Plus, you can e-hang out with me and other folks who've grown to love the OGD revolution by joining us on October 10, 2012, our National One Good Deed Day. Do a little something, and post in on the blog at www.onegooddeedbook.com. See how it feels. I'll tell you how it made me feel -- new again. And how many times do you get to say that?
Popular in the Community