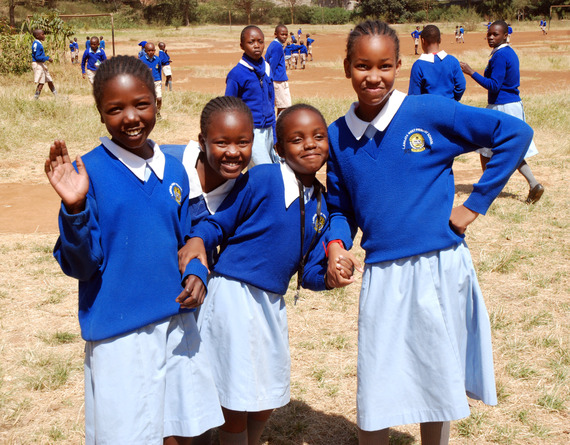 Across the globe, about 58 million children of primary school age are not in school. Of those, about 31 million are girls.
Over the last decade, there has been a substantial improvement in getting more children in school, and many nations have achieved or approached gender parity in their primary schools. But 31 million is still a staggering number, and it means that the task of bringing a quality education to girls in every corner of the world is still far from complete.
Many gender-specific impediments to giving more girls a quality education remain stubbornly in place. Among them are:
Longstanding cultural practices. These may include marrying off girls when they are still young and viewing their roles in the household as more important than their need to acquire basic literacy and numeracy. Far too many societies still put far too little value on educating girls. Even in places that have seen surges in primary education for girls, those same cultural pressures frequently keep them from moving on to secondary school, let alone to higher education.
Sexual harassment and violence that plague schools. Physical, verbal or psychological violence discourages girls from attending school and drives away the female teachers, who are essential to helping their students thrive and are often role models for female students.
Terrorist intimidation. This may come from groups like Boko Haram in Nigeria or the Taliban in Pakistan, groups that stand fundamentally and militantly against educating girls. In some regions these terror groups' presence has translated into fewer girls in schools. According to a new UN Human Rights report, "schools in at least 70 different countries were attacked between 2009 and 2014, with many attacks specifically targeting girls, parents and teachers advocating for gender equality in education." This is alarming and should get us all into action mode. Malala Yousafzai and many other girls around the world have shown us the true meaning of courage. We should reward their bravery with our own commitment to drive change.
Then there are the factors that work to keep both boys and girls out of school. These include:
Fragility and conflict. The Global Partnership for Education works with 60 developing countries to get children a quality education. About 82 percent, or roughly 33.5 million, of all the out-of-school children (girls and boys alike) in GPE developing country partners reside in conflict-affected and fragile states. The current humanitarian crises in the Central African Republic, South Sudan and other countries, for example, have shut down many schools, displaced populations and severely ravaged the education infrastructure. The Ebola epidemic closed schools in Guinea, Liberia and Sierra Leone, denying for several months precious learning to some 5 million girls and boys. While Guinea and Liberia have reopened schools, Sierra Leonean schools remain closed. While the Global Partnership for Education is working for change, these problems are currently compounded by the fact that humanitarian responses to these crises often overlook and underfund education.
Lack of systemic approaches. In order to create strong and sustainable educational progress, developing countries must build systems that fit all the various inputs together into a coherent whole. It is this patient work of building schooling systems capable of educating every child that is the core mission of the Global Partnership for Education. Getting it right means ensuring universal access and high quality. It is estimated that 250 million children get some access to school but don't master basic literacy and numeracy even after four years of school. Our aim has to be girls and boys in school and learning.
Underfinancing. Donor nations' aid to education has dropped by almost 10 percent since 2010, or seven times the rate of decline of overall global development aid. That has made it more difficult for countries to plan and implement the kind of systemic reform they need to put their countries on an upward trajectory. At the same time, developing countries must continue to increase their own education budgets and ensure that basic education is fully funded.
While these factors keep boys and girls out of school, we know that the effect on girls is disproportionately high. It is the girls who are less likely to return to school after a crisis. It is the girls who are most likely to miss out if access to schooling is limited.
Girls' Education Must Be Core to the New Sustainable Development Agenda
Grappling with all these challenges -- the gender-specific and the general -- has to be a priority for the global development community. This year, as we refine and inaugurate the Sustainable Development Goals, we have a chance to inject new urgency into the agenda of educating more girls by expanding access to secondary school, improving quality and better responding when education is caught up in a crisis.
Yes, that is going to take more money, but education is a high-return investment. There's more than enough evidence to show that educating girls is transformational not only to girls themselves but to everyone around them. With education, a girl will be better positioned over her lifetime to help herself and her family move out of poverty and avoid the threats of disease. That makes for stronger women and more resilient families, communities, nations and the world.
While the challenges to educating girls remain, the good news is that we understand them much better today than we did even a decade ago. Also, we have built reliable structures -- like the Global Partnership for Education and the United Nations Girls' Education Initiative -- to respond to them. Now more than ever, we have the opportunity to use those structures to get more girls in school so that we can all live in and share a better world.
Related