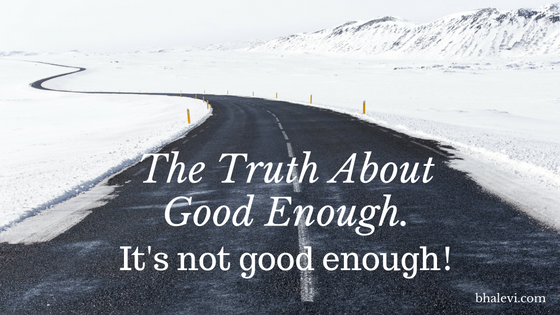 DO YOU KNOW WHAT IS WORSE THAN "BAD"?
You're in a job which you don't love, but it's "good enough."
You're in a relationship which used to be passionate, but now it's "good enough." 
You're living a life which you never imagined would be yours, but it's not terrible.  Frankly, it's "good enough."
In so many ways "good enough," sucks.
At least if your job is horrible you're motivated to move on. If your relationship is terrible, you have clarity in letting it go. If your life is upside down, you have ultimate purpose to turn it right side up. It's black and white. Something has got to give and something, or someone, has got to go, move over or change.
Yet,"good enough" is unmoving, un-motivating and not yet unacceptable which, is what makes it unacceptable. It's neither black nor white; it's not stormy, but not sunny either. It's the good-enough-grays but who in the hell wants to live a gray-good-enough-kind-of-life?
"Good enough" is just not good enough.
THE TRUTH ABOUT GOOD ENOUGH
But here's the hard truth.
Do you know the reason why your life is "good enough"? It's not due to the situation you're in, the person you are with or the circumstances around you. Good enough (as opposed to tragic)  is our doing. It comes down to a lack of motivation. And a lack of motivation is due to a lack of  inspiration. And that, my friends, begins in a not-good-enough-imagination. 
You want to go beyond good enough?  You want to try on radically amazing, or wildly wonderful or freakin fabulous?  Then you're gonna have to get bigger, better and more imaginative dreams.
In the words of George Bernard Shaw, " You imagine what you desire; you will what you imagine; and at last you create what you will."
After all, your current reality is  the sum total of your actions.  Your actions are the result of your thoughts.  And your thoughts, that's just another word for imagination. Your life is  the result of the images you created, you held onto and you followed bringing you to exactly where you are today. 
That's the bad, or maybe good enough, news. However, that is great news too. 
The images you concocted, formed and believed are what got you here. However, new images, better images, more imaginative images are what will get you out of your good enough mess as well.
If you want a more purposeful profession then it's time to re-imagine what's possible.
If you want a more passionate relationship then it's time to re-imagine what that could mean.
If you want a more profound life then it's time to re-imagine what that should be. 
You want to shatter "good enough," as you step on it lifting off toward the destination of your dreams? Then eject your old images, nix your stale thoughts and fire up your imagination. Re-imagine your life. Re-imagine your destiny. Go inwards. Think bigger. Aim higher. Imagine a reality that is far better than good enough. It's time to re-imagine your life and bring about your wildest dreams. 
IF GOOD ENOUGH SUCKS & YOU WANT TO LIVE YOUR WILDEST DREAMS, HERE ARE
5 STEPS TO GET ACHIEVE IMAGINATION LIFT OFF!
1. LET GO OF WHAT YOU KNOW
You want to ignite your imagination? You first must first let go of what you know. Certainty is the death of imagination. This requires humility and courage to open yourself to possibilities. There is no other way to move beyond what is, and on your way to what is yet to be.
2. FULLY FEEL YOUR DESIRE
Once you let go of your certainties of what is, you then have to open yourself up to what you really want, truly feel and absolutely desire. The burning passion of desire can be scary, particularly when denied for so long. However, desire is the fuel for the imagination. You want to touch upon greatness? Then unleash your desire and dare to follow where it leads.
3. MAKE BELIEVE & MAKE BELIEFS
The next step along the journey is to take those new images and grab them tight. When you hold them long enough, that is when they turn into beliefs. Whatever the mind can imagine, or conceive, it can achieve. However, between conception and reality always comes a long journey made possible by deep beliefs.
4. FIERCELY FAITH YOUR WAY FORWARD
Beliefs are easy during the sunny days.  However, if they are going to truly live they're gonna have to be put to the test.  They will have to stand up to the  dark nights, lean years and cold seasons. That will require a deep faith - not a "gee that would be nice faith," but an "I will not quit, I will not relent, I will die before I turn back," kind of faith. This is the faith there really is a butterfly out there, even when everyone and everything around you says is just an ugly caterpillar. 
5. IMAGINE YOUR WAY TO FREEDOM
Lastly, when you live from a place of possibility, courage, faith and love, your life begins flowing. Your reality begins to flourish. You transcend "good enough," ascending to your wildest dreams. What begins in imagination always ends in freedom - no matter how it turns out.
Life Coach. Author. Speaker.
REAL LIFE. REAL NEWS. REAL VOICES.
Help us tell more of the stories that matter from voices that too often remain unheard.
This post was published on the now-closed HuffPost Contributor platform. Contributors control their own work and posted freely to our site. If you need to flag this entry as abusive,
send us an email
.