It's always fun during the busy holiday season to take part in festivities that uplift the spirit through both fun and philanthropy. So I was delighted to accept when I was invited as a journalist to observe a Pro-Am tennis tournament in the Bahamas.
A kind of magic kept this event alive for 2017. Hurricanes Irma and Maria devastated the British Virgin Islands, including Necker Island. Necker Island, owned by Sir Richard Branson, was home to the tournament in previous years. But the destruction wrought by the two category 5 hurricanes cast in doubt the event's continuation.
After Maria, the British Virgin Islands were in shambles. Graphic, heart-rending images of homes demolished into rubble flooded the news media.
"It was hard to even think of holding the tournament, given that 80% of the homes in the British Virgin Islands were destroyed," said Trevor Short of PremierLive, the Producer of the Necker Cup along with Mehow.
But then a plan was hatched: use the Necker Cup event to raise awareness of the devastation, and, better yet, to raise money to help rebuild the communities of the British Virgin Islands. The tennis matches, Manuka Doctor Million Dollar Hole-in-One Challenge, parties, and celebrity breakfasts would do more than celebrate tennis—they would do some good.
Traditionally, funds raised during the Necker Cup and Necker Open go to the the National Tennis Foundation (NTF), which supports underprivileged children so they can experience tennis, build a work ethic, and sustain their college ambitions. This year a previous a NTF participant from the BVI's, Harsh Banthia, described how his family home had been leveled. Inspired by this information, Sir Richard declared, "The show must go on!"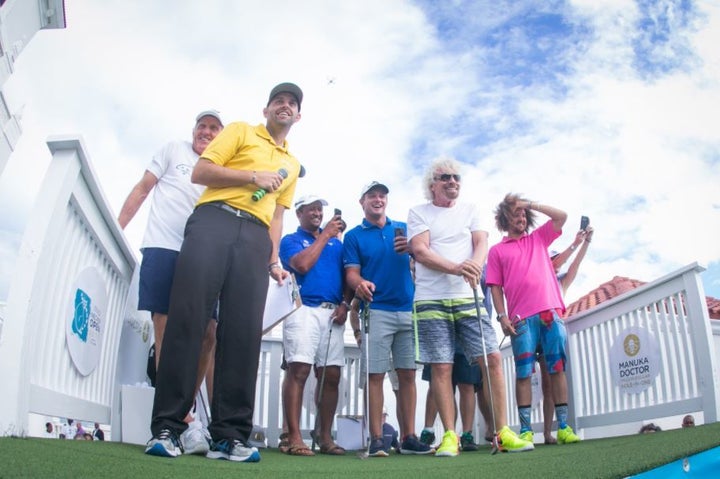 I was one of a group of journalists invited to the event. My first impression of the Baha Mar, as I drove into the resort, was that it was spacious, serene, and beautiful. Sparkling crystalline pools stretched out along a pristine property that embraced the ocean. Two days at the Baha Mar confirmed my initial good impression. Around every corner was a delight: a Daiquiri stand, a Conch shack with a friendly conch salad chef, an Exploration Center where I pet a stingray.
FYI, a stingray's skin feels soft, glossy, and wet, like rubbery flesh.
Manuka Doctor, the maker of one of the world's highest grade honey products, was one of the sponsors. This is a kind of honey I had purchased in the past when there was a virus in my home. My background as an energy healer leads me to investigate alternative and natural remedies, and this New Zealand honey has a reputation for anti-microbial properties. It's also delicious!
Manuka Doctor also makes luxurious facial products that I was invited to sample. I liked the Hydrating Facial Cleanser, which rinses off as a milky liquid that cleanses without drying the complexion.
Metal, a crypto-currency start-up, was the event's presenting sponsor. I talked with co-founder Marshall Hayner, whose enthusiasm and formidable intellect were appealing. He patiently answered my questions about crypto-currency. He was gracious about my complete ignorance of the field. Even with the current bitcoin bubble, I might explore the topic further.
Tennis was the central attraction. The Final Rounds and Charity Exhibition Match were high-spirited events, complete with cocktails and raucous laughter. During the celebrity exhibition matches, players who bungled a hit drank a shot while an irrepressible RedFoo danced to the strains of his pop classic "Shots."
Sir Richard Branson played with panache; word on the ground was that he mingled and played freely with participants every day. He was relaxed, charming, and engaged at a breakfast gathering where the journalists met the faces behind the event. I enjoyed my conversation with Branson more than I expected. How often is such a larger-than-life billionaire so accessible?
At the exhibition, I couldn't help but ogle Tommy Haas and Grigor Dimitrov. I sent a tennis buff friend photos and risqué comments. Martina Navratilova played as Branson's partner in a doubles match against Justine Henin and RedFoo. I never laughed so much as a tennis spectator while also enjoying the graceful, athletic back-and-forth of the sport.
There was a sobering moment when young Harsh Banthia spoke of sleeping outdoors. HIs family home had been crushed by the fierce winds of the hurricanes and wasn't yet rebuilt.
His story lent gravitas to the charity dinner and auction that followed. I was happy to see guests opening their purses to bid on the offerings.
My two days at the Baha Mar, as part of the 2017 Manuka Doctor Necker Cup and Necker Open presented by Metal, left me uplifted and inspired. I got to participate in something convivial, worthwhile, and larger than myself. Connection, kindness, and fun: It was the perfect lead-in to a busy holiday season.
Support HuffPost
The Stakes Have Never Been Higher
Related
Popular in the Community