This post is co-authored by Bob Benenson.
Building the Good Food movement is the core of FamilyFarmed.org's daily work. So a discussion on the future of food was, shall we say, organic when FamilyFarmed.org President Jim Slama convened a group at his home on May 12 to participate in The Chicago Community Trust's "On The Table 2014."
The theme was appropriate to the occasion, as the Trust has a proven interest in advancing the Good Food movement. With support of The Searle Funds at The Chicago Community Trust, FamilyFarmed.org is launching the Good Food Business Accelerator, a Fellows program for food and farm entrepreneurs.
The "On the Table" event drew thousands of Chicago-area residents to share meals and discuss a wide range of topics about how to build a stronger community. For the FamilyFarmed.org group, each attendee provided a dish in which ingredients were sourced primarily from sustainable and local farmers.
It was an apt moment to discuss the organization's vision: good food on every table.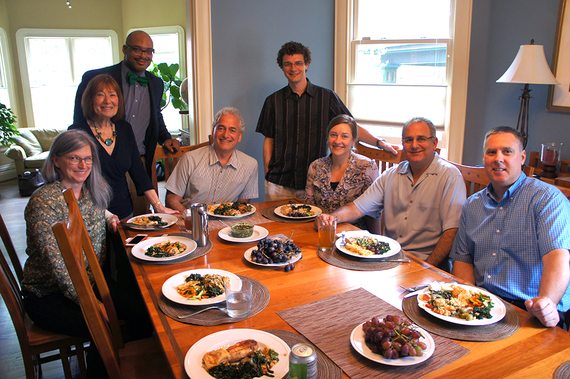 Kim Bartko, Charlotte Flinn, Brandon Johnson, Jim Slama, Grant Kessler, Holly Haddad, Lloyd Yanis and James Pirovano enjoy Good food and good conversation at On the Table 2014. Photo by Bob Benenson.
Around the dining room table, participants explored how each individual can advance the already significant gains made in creating a healthier and economically vibrant food system. Later, seated in the backyard and serenaded by cardinals, the group considered how FamilyFarmed.org could contribute to this cause.
"How do we do it in a way that's sustainable and with integrity? We need everybody in the supply chain to benefit, especially the farmers!" Slama said. "And how do we do it in a way that everybody has access to good food," not just the well-to-do?
The authors of this article were joined in the discussion by FamilyFarmed.org associates Charlotte Flinn, Holly Haddad, James Pirovano, Lloyd Yanis, Kim Bartko and Grant Kessler, along with Brandon Johnson, who is heading up an effort to increase diversity in urban food systems.
It is clear that the Good Food movement has gained a strong foothold, despite the continued dominance of a conventional food system controlled by large-scale agribusiness interests. FamilyFarmed.org's Good Food Festival and Conference has become the leading Midwest trade and consumer show advancing the business of good food.
The dollar value of organic products sold in the U.S. is 35 times higher than just 20 years ago. The rapid rise of the natural foods retail sector, led by Whole Foods Market, has prompted change throughout the supermarket industry -- as illustrated by Walmart's recent announcement of a major expansion in its organic products lines. And local is the hottest trend in the foodservice industry, according to the National Restaurant Association.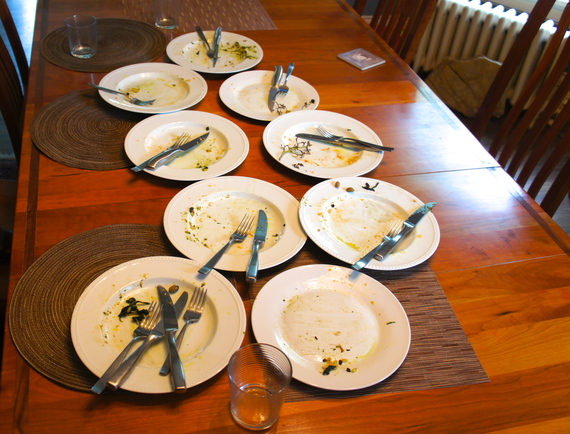 Good food makes it easy to be in the "clean plate club. Photo by Bob Benenson.
The numbers of farmers markets across the nation has grown exponentially, as growing numbers of consumers seek out fresh foods produced by local and regional farmers. Concepts such as "sustainable seafood," "pasture-raised meats" and "farm-to-table restaurant" have become common coin. And as the demand for Good food has grown along with the farms and companies supplying it, the sector has become a major employer generating rapid growth in the number of high-quality jobs.
Yet, according to Flinn, FamilyFarmed.org's Board chairwoman, "The biggest obstacle to continued rapid growth is the need for infrastructure to help build the supply of sustainably produced food and get it to market to satisfy the rising demand."
This is an integral part of the organization's future, according to Slama. "We need a whole system of developing sustainable, local supply of sustainable, local food. In all sectors -- produce, proteins, and small grains -- there are supply chain issues. We need to help build more robust production, processing, and distribution systems to give buyers confidence that local producers can meet their demand."
Johnson said that adopting a good food lifestyle will require some adaptability from consumers, as it substitutes more fresh, whole foods for packaged goods that are highly processed to promote shelf life. "It is a lifestyle change. You're not going to be going to the grocery store once every two weeks. You have to shop more often, you have to cook more often. Or you have to have the retailer who can provide you with that kind of service," Johnson said.
While the Good Food movement seeks reductions in chemical inputs in food production, Bartko noted that it is important for its advocates not to be seen as anti-science and anti-technology.
"We would be foolish to not take advantage of the technology that's available to us, the science that's available to us. But you have to make use of the tools, and they are tools, in a way that works lightly on the earth," Bartko said.
She added, "So there has to be a new system that evolves to feed a growing population that will work to reverse some of the effects of climate change, and will return to the soil what's been depleted over decades of chemically intensive farming. People are beginning to change their all-or-nothing thinking."
And, coming full circle, the conversation returned to the efforts in this area by The Chicago Community Trust, who in partnership with Kinship Foundation, recently launched Food:Land:Opportunity -- Localizing the Chicago Foodshed, an initiative funded by The Searle Funds at the Chicago Community Trust. The prospects for the Good Food Accelerator (the first project funded by the initiative) to advance the movement came up for discussion.
Under the Accelerator project, selected Fellows will undergo an intensive six-month program. They will receive customized support that includes a curriculum, mentorship, staff counsel, workshops and events. They will also be connected to trade buyers including two key partners in the project Whole Foods Market, the leading natural and organic food retailer, and UNFI, the largest natural and organic distributor in the US. The Accelerator will be affiliated with 1871, Chicago's Innovation Hub and home to over 250 start-ups.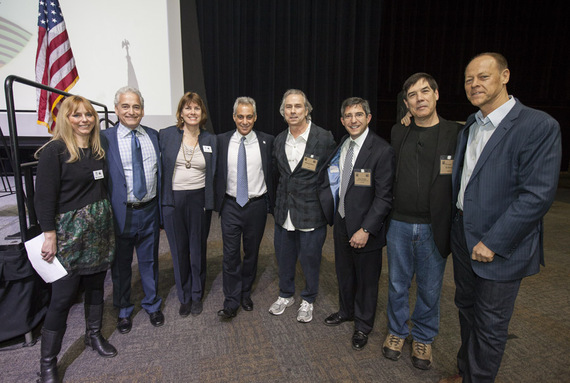 The Good Food Business Accelerator was announced at the Good Food Financing & Innovation Conference. Attendees and speakers included: FamilyFarmed.org board member, Mari Gallagher, FamilyFarmed.org President Jim Slama, FamilyFarmed.org board member Lauren Rosenthal, Chicago Mayor Rahm Emanuel, 1871 CEO Howard Tullman, Crain's Chicago Business Publisher David Snyder, Whole Foods Market Regional President Michael Bashaw, and Whole Food Market co-CEO Walter Robb. Photo by Barry Brecheisen.

By the end of the program, Fellows will be better equipped to run their businesses, and those in need of funding will be ready to meet with investors to receive initial or follow-on investments. This strategic, operating and financial mentoring will enable Fellows to launch or scale their businesses more soundly and more rapidly, and will spur the development of good food clusters that will create even more jobs and economic development.
It is a fair guess that if there is an "On the Table 2015," members of the first class of Good Food Business Accelerator Fellows will be on hand at the FamilyFarmed.org event to share their experiences and to raise a toast to Chicago Community Trust for advancing the conversation and the business of good food!
Jim Slama is president of FamilyFarmed.org. Bob Benenson is a veteran journalist who spent 30 years at Congressional Quarterly including 10 years as its Political Editor.
Related