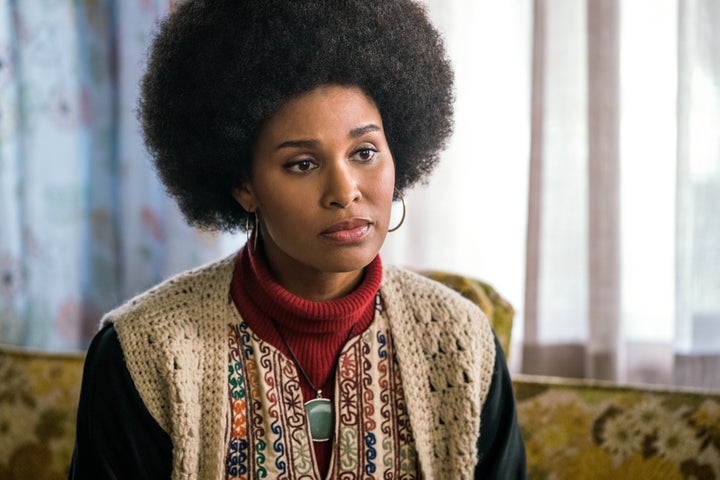 Amazon show "Good Girls Revolt" focuses on the lives of a very particular group of New York women in the late 1960s. But the issues it zeroes in on are still painfully relevant to many American women.
"Good Girls Revolt" is centered around a group of women who work as researchers (never writers or editors ― those jobs are reserved for their male colleagues) at the fictional News of the Week magazine. Eventually, they decide to file a lawsuit against their company for gender discrimination.
The premise is a fascinating one, even more so because it's based on a real landmark discrimination case filed against Newsweek magazine in 1970. The experience prompted Lynn Povich, one of the women behind the suit, to write the 2012 book The Good Girls Revolt. Actress Joy Bryant plays Eleanor Holmes Norton, the lawyer who represented the women ― and who went on to become a U.S. congresswoman. Bryant told The Huffington Post she was "so honored" to portray Norton, a game-changing presence in both the civil rights and women's movement.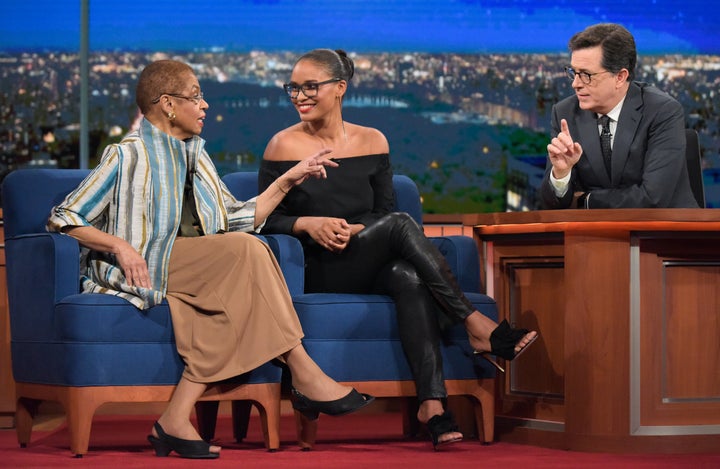 "She is, was and will always be a badass, and she was a badass during a time where it was very dangerous for women or black women or black people to be badasses," Bryant said.
HuffPost spoke to Bryant about her portrayal of Norton, the feminist movement of the '60s and today, and her character's "amazing" afro. 
Did you get to meet Eleanor Holmes Norton?
I did. I met her right before we began filming and have seen her since.
Every bit as awesome as I imagined her to be. I was honestly very intimidated prior to meeting her because here is a woman who has accomplished so many great things, especially during a time when she was coming up as an esteemed civil rights lawyer and she was always at the front lines of the civil rights movement and the women's movement. She is lovely. She is brilliant. She is committed. And she's serious about what she does, but she has a wonderful sense of humor ― and you need to, especially doing the things that she has done.
What was it like to portray her after meeting her?
It calmed me in a way. I think she liked me when she met me so we hit it off. The next thing was thinking, "I hope she likes what I do." The last thing I would want is for her to be like, "Ugh, why didn't they get somebody else to play me?" So there was that for sure, but I tried to put that out of my mind as much as possible and just trust that my conversations with her and my own research meant I would do her justice and I really hope that I have.
Watch the trailer for "Good Girls Revolt" below.
Early on in "Good Girls Revolt," one of the characters explains that when she decides to have a kid she's going to quit her job at News of the Week so she can focus on her family. When Norton decides to represent the women at the company, she's pregnant. Was that contrast intentional?
Eleanor was and is a woman who is self-possessed and was comfortable in the work-life balance. Her career was very important to her as was being a mother, but she didn't see there being issue with her having both of them. And it's not so much about having it all because no one can have it all, but you can have a lot of what you want. I think at the end of the day the fight is for the choice to live your life the way that you want to live it. If you want to work and have a family, then you should be supported in that. If you decide that you want to take a break from your career to stay at home, then you should be supported in that as well.
That's what it's all about. It's having the freedom to make the choices that we want and feeling comfortable and supported in the choices that we make. I think that's what the ultimate fight of feminism is all about really. I think that Eleanor from the very beginning understood the intersection between feminism and civil rights, feminism and the struggle for black liberation, and she was always at the forefront of those issues.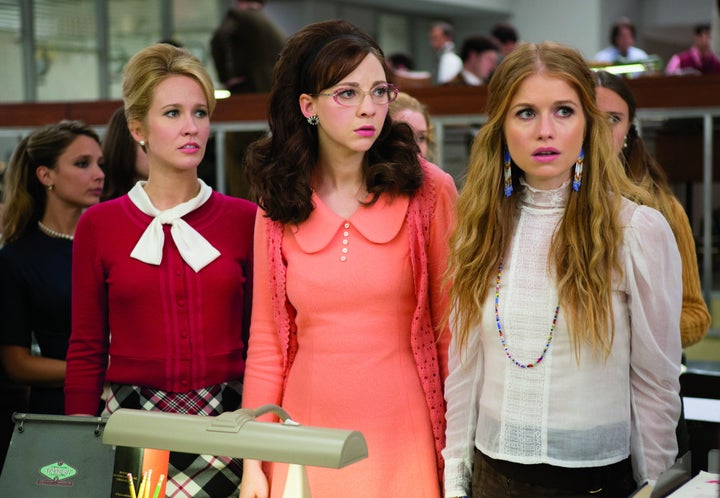 In one scene, Norton tries to persuade another woman of color to join the lawsuit against the magazine. What was creating that scene like?
That was one of my favorite scenes, and it was very important to me that in my appealing to her that I try to express to her our commonality. [In the show I tell her something like], even though the box that [a white character] is in looks prettier than yours, she's still in a box. We are connected and her fight is our fight and our fight should be theirs as well.
In actuality, the black researchers were not a part of the lawsuit, but I think that what was interesting about playing it this way is that it was great to have that conversation. It really touches on not just feminism as a whole, but also white feminism or mainstream feminism vs. black feminism, feminism of women of color. With women back then and even now, there's often a tone deafness when it comes to women of color within the women's movement. We all have to understand that as we talk about feminism, as we talk about things that affect women, we have to address race and we have to understand intersectionality of all these things. I feel like that scene touches on that.
I'm just wearing an afro and we're wearing period clothes. That's the only difference. We're still having these conversations. We're still breaking glass ceilings. We're still fighting for reproductive rights. We're still fighting for the same things.
You've mentioned how the show focuses on issues that are still important today even though it's set in the late 1960s. What was it like portraying a character in the past while also acknowledging that women and people of color are still fighting for equality today?
What's crazy and wonderful about being involved in this show is that we're not just talking about history. I mean we are, but it's not just something that happened in the past and that's it. We're talking about issues then that are still relevant now. On one side, women like the women who filed the suit, women like Eleanor Holmes Norton, the fight that they gave back then continues today and we are all beneficiaries of that. But on the other side, we're talking about the same thing. I'm just wearing an afro and we're wearing period clothes. That's the only difference. We're still having these conversations. We're still breaking glass ceilings. We're still fighting for reproductive rights. We're still fighting for the same things. If anything, being a part of this show and having these conversations, I think that it made being a sister even more important to me, not that it wasn't before but to see myself within this struggle more clearly I walked away with a stronger sense of sisterhood. Also it was frustrating because it's like, "We're still talking about this shit."
It's only as the people in power start to see their power slipping away that they grab harder and tighter.
It's so relevant and now as we're approaching the dawn of the first female president ― please, Jesus [laughs] ― it is more relevant than ever before. The same way we were when we elected a black president, some people thought that we were automatically post-racial. Electing a female president doesn't mean that we're post-sexism or post-misogyny at all. It's only as the people in power start to see their power slipping away that they grab harder and tighter, so I think it's only going to get gnarlier. We will be on equal footing one day, but the fight continues. And I think being on this show really brought that home. It's not just a story that I read. It's not just something that happened. It's still happening and we, beneficiaries and fighters, are very much a part of the fight still.
Did you find any scenes especially difficult to shoot?
As we were filming, one more black body after another black body was being gunned down by police ― unarmed citizens, unarmed black citizens. It felt like as we were filming it was just like, "Jesus Christ." And I think that everyone is feeling that in a way, or they should. As this show is primarily focused on the women's aspect of human rights and civil rights, it was also a volatile time then in our country when black people and people of color were fighting for their lives. And we're still doing that. We're still talking about gender equality and workplace discrimination and we're still talking about segregation and we're still talking about police brutality and we're still talking about these things. I think the current times definitely affected me to play the past in a way.
I think it's difficult in general to constantly see these images and hear the stories of unarmed black people or just black people in general being murdered by police. That is traumatic. That is race-based trauma and as a black woman how could I not be affected by that? As I'm playing a woman who again was at the front lines, who was with Medgar Evers hours before he died before he was assassinated, who was down in Mississippi, who was fighting a fight. So I can't help but be even more charged coming on set every day because it's like, "Damn, when are things really going to change?" Again the fight must go on.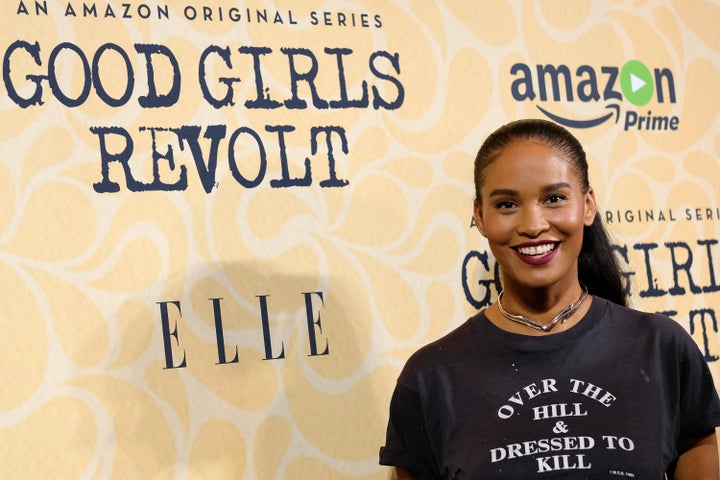 So now that the show is finally about to come out, why should people watch "Good Girls Revolt?"
"Good Girls Revolt" is a great show touching on some issues that everyone can still relate to now, but also shining light on some really great women who fought for their right to write. So many women have benefited from it. I think it's a great moment in history that has gone unsung for a long time. And who doesn't love the '60s?
Oh, and my afro is amazing! That is actually the main reason that they should watch the show. My afro is doing all kinds of things.
I'll just put that down as your answer then. 
That's right. Two words: my afro.
"Good Girls Revolt" will be released on Amazon on Friday. The pilot is currently available to watch for free.
This interview has been edited and condensed for clarity.
REAL LIFE. REAL NEWS. REAL VOICES.
Help us tell more of the stories that matter from voices that too often remain unheard.
BEFORE YOU GO
PHOTO GALLERY
Feminist TV Guide 2016