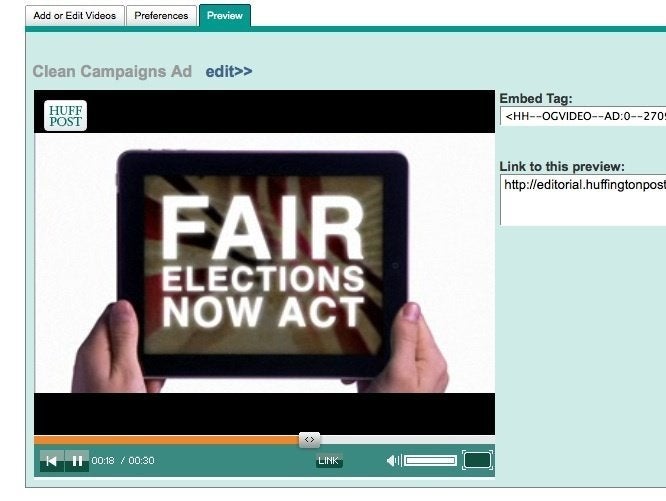 In a push to implement a publicly-financed election system and curb moneyed interests in politics, a pair of good-government groups is launching a television ad campaign with a noteworthy price tag.
Common Cause and Public Campaign, two organizations known for exposing the murkier influences on legislative and electoral processes, are staking $8 million to try and burnish Congress with the willpower to pass the Fair Elections Now Act. And they're willing to spend as much as $15 million on their campaign-season gambit.
"We'll draw it out until we win," said David Donnelly, the campaign manager for the Campaign for Fair Elections. "We will continue the advertising, continue the grassroots organizing, continue the targeting and creative action.
"This is a matter that members of Congress need to deal with in their own elections, and if they see the benefit both on policy grounds as well as political grounds, then they'll do it," Donnelly said. "That's really the debate we're having."
The ads are slated to air on local stations in three major cities -- Seattle, Denver and Tallahassee -- as well as on national cable. It cites two of the most widely lamented political crises, the Wall Street bailout and the Gulf oil spill, to shape a compelling argument that special interests have free reign in Washington.
The groups' targets are almost entirely House Democrats, none of whom are currently co-sponsors of the public financing bill: Allen Boyd of Florida; Ed Perlmutter and Diana DeGette of Colorado; and Washington Reps. Brian Baird , Rick Larsen, Jay Inslee, and Norm Dicks. The only Republican in the ad's crosshairs is Rep. Dave Reichert, also of Washington.
On a broader level, however, the ads reflect the evolving tactics that public-financing advocates are applying to the legislative process -- namely, a more aggressive approach. Coalition-building and issue advocacy have given way to a formal political campaign. Already the groups have personnel and organizations working in 24 states to channel the measure's popular support into congressional action. The groups are working closely with first-time candidates as well as incumbents. In addition, and with some levity, they been dispatching actors dressed as founding fathers to confront lawmakers about the fundamentally anti-American spirit of special-interest fundraising.
Whether the political will is there to marshal is an open question. As it stands, there are 157 House and 21 Senate cosponsors of the Fair Elections Now Act, which would give candidates $4 of public financing for every dollar raised through contributions of $100 or less.
As Common Cause President Bob Edgar notes, the groups have both private and public commitments from House Speaker Nancy Pelosi (D-Calif.) to bring the bill to the floor. In the Senate, the second-ranking Democrat, Dick Durbin (D-Ill.) is a lead sponsor.
"[He] believes that a very strong House vote will give momentum for the Senators to come and step forward on this bill," Edgar said of Durbin.
In President Obama, the groups have another champion of true campaign finance reform; that is, reform not limited to disclosure. But while Donnelly said the White House was essentially irrelevant to their efforts -- "It'd be great to have them, but I don't think we need them" -- Edgar made it clear he wanted Obama to step up his involvement.
"We'd like to really challenge the White House to come out strong on the reform issue," he said. "We think it's in their best interest to do it and do it aggressively. It's been a hard message; the President has been bumping up against the oil spill and economic issues and jobs issues and other things, but we think the President is making a big mistake if he doesn't come out with a strong reform push."
The money for the campaign, it should be noted, is coming from a host of sources, including foundations and individuals fed up with the fundraising process. Donnelly listed, among others, Arnold Hiatt, the former CEO of Stride Rite Shoes.
Should the legislation linger in limbo, Donnelly pledged that action, not just television advertisements, would continue through the November election.
"We actually have in hand or pledges that make us believe that $8 million is the minimum we will spend this year, and we may spend as high as $15 million," said Edgar.
Popular in the Community