Most countries that drink instant today are predominantly tea-drinking countries ― such as India and China ― who are new to the coffee culture. (They're the ones responsible for the rise in sales.) For other countries with a longer coffee-drinking history, instant will do in a pinch, but it's rarely first choice ― especially if it's a quality cup you're after.
Instant's reputation is about to change. Not because of big brands that are already out there, but thanks to new products that are hitting the shelves. There are two notable companies ― Sudden and Voila ― that are looking to change the standard of instant and make it just as good as getting a cup from your local coffee shop.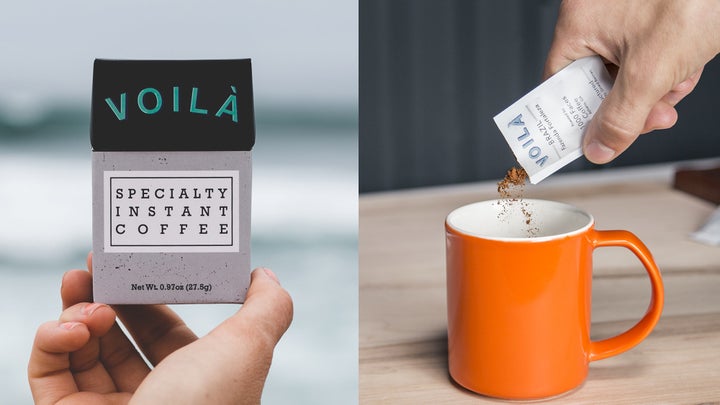 Sudden Coffee is a San Francisco-based company run by the hands of Kalle Freese, a two-time Finnish Barista Champion and the ninth-best barista in the world when he competed in 2015. (If he can't make instant coffee good, no one can.)
Voila is based out of Bend, Oregon and is run by Kent Sheridan, an entrepreneur in the coffee industry. Both companies are taking a similar approach to making better instant: focus on beans, roasters and brewing method.
The process for making their instant coffee is the same that the big brands use, but these companies are focusing on quality at every step. This mean that once the coffee is freeze dried, it can be reconstituted into an actual good-tasting cup of coffee. It's said to be able to retain even the most complex flavors.
Both companies are (or will be) subscription based, so they're available no matter where you live. Sudden Coffee breaks down to about $3 a cup. And Voila ― which is just transitioning out of a Kickstarter campaign ― will be available for $3-4 a cup.
Even if you can't imagine giving up your cup from the local coffee shop, just think about how this could change you camping game. Major.