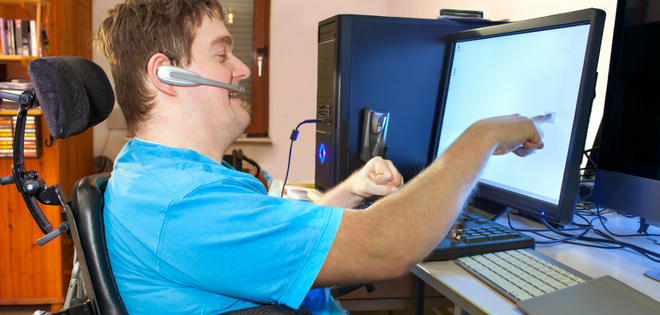 The American Community Survey reports that more than six million Americans with disabilities have some college and nearly eight and a half million have annual incomes of more than $50,000. While this is positive news for people with disabilities, there is still a considerable gap in employment rates when they are compared to people without disabilities who are in the workforce; 30.4 percent and 73.8 percent, respectively, according to the most recent nTIDE report.
The newest generation of young adults with disabilities have benefitted from civil rights protections to receive educational opportunities in their neighborhood schools, are attending colleges and universities in record numbers and are graduating eager to join the workforce in positions with upward mobility potential. They have heightened expectations of a better economic future as active participants in the economic mainstream.
With more people with disabilities working, there is a greater need now than ever before to increase attention to their financial inclusion and capability. Working-age adults with disabilities need to be able to use financial products and services every day to efficiently manage financial resources, and have real-time access to information on the status of their accounts to make informed financial decisions. From focus groups and interviews, we have learned that, like everyone, customers with disabilities want affordable and accessible financial services that respond to their changing needs over their lifespan. Many commented on positive customer experiences with personnel in neighborhood branches and others shared a lack of understanding in how to use mobile banking and other financial applications with concerns about security protections. NDI analysis of multiple data sets indicates that almost one in two adults with disabilities are unbanked or underbanked, relying regularly on alternative financial services. How can we change this picture?
Over the last two years, in five cities, National Disability Institute worked with FDIC and diverse community partners to convene Financial Inclusion Summits. The purpose of the Summits was to bring together the disability and financial communities to better understand challenges and opportunities to improve financial inclusion and capability. In Seattle, Chicago, Columbus, Orlando and New Orleans, the one-day Summits were supported with a Mayor's proclamation that endorsed the goal of "aligning our values and vision with action that brings together the financial community with the disability community and government to make the ADA's goal of advancing economic self-sufficiency a reality for all Americans with disabilities."
After presentations on existing efforts to improve financial stability for individuals with disabilities in each city, the highlight of the day was small group discussions that resulted in recommendations on how financial institutions, government agencies and community-based organizations could work together to increase engagement of adults with disabilities with mainstream financial products and services and increase the availability of financial education and coaching services. The Summit participants in each city generated more than 40 recommendations which post-Summit were further prioritized and are now being moved forward by a volunteer work group being facilitated by NDI staff. These Summits were possible due to the generous funding of JPMorgan Chase as part of their commitment to bring people with disabilities into the financial mainstream.
What did we learn? What did Summit participants suggest? Here is a sample of priority recommendations:
What can financial institutions do to improve access and long-term relationships with customers with disabilities?
Have each financial institution have an "Accessibility Ambassador" to problem solve solutions for customers with disabilities as part of a rapid response team.
Hire more individuals with disabilities in different jobs to promote diversity and inclusive culture.
Involve people with disabilities in product development before the product is made available to the public to improve accessibility.
Offer speakers from financial institutions to come to places where people with disabilities already are to teach classes and explain varied financial products and services.
Include people with disabilities in advertising and marketing materials of financial institutions to reflect interest to reach potential customers with disabilities.
What can government, disability organizations and financial institutions do to expand financial education and counseling/coaching services?
Have financial education classes offered at American Job Centers and Centers for Independent Living.
Have financial goal setting and building financial capability skills be a part of all youth in high school transition plans with linkages to community resources.
Have financial institutions and employment service providers work with employers to expand programs that offer financial education and coaching.
Collaborate with FDIC to schedule a train the trainers program on Money Smart with the disability nonprofit community.
Establish a peer support group for ABLE account owners/beneficiaries to help improve their financial decision making.
National Disability Employment Awareness Month is a month of planned education and awareness activities to build relationships and expand employment opportunities for individuals with disabilities. It is also an opportunity for the disability and financial communities to work together to support the development of knowledge and skills that result in improved, informed financial decision making as a critical part of setting financial goals and designing individual pathways to a better economic future.
Since its inception in 2005, National Disability Institute (NDI) remains the first and only national nonprofit organization dedicated exclusively to designing pathways to economic stability and mobility for persons with disabilities. Through public policy research and development and customized training and technical assistance, NDI has become a recognized leader nationwide demonstrating that individuals across the spectrum of disabilities can work, save for the future and advance their financial capability and economic stability. To learn more, visit www.realeconomicimpact.org. Take the DISABLE POVERTY pledge at www.disablepoverty.org.
Calling all HuffPost superfans!
Sign up for membership to become a founding member and help shape HuffPost's next chapter
This post was published on the now-closed HuffPost Contributor platform. Contributors control their own work and posted freely to our site. If you need to flag this entry as abusive,
send us an email
.