Global energy demand will plateau from 2030, oil demand will flatten from 2020 and continue to decline significantly thereafter, the shift to renewable energy will be quicker and more massive than most people realize, and yet the energy transition will not be difficult to finance.
These are some of the findings of DNV GL's Energy Transition Outlook, a brand new study that charts the world's energy future to the middle of the century.
Energy efficiency will improve faster than global economic growth due to the rapid electrification of the world's energy system, leading to a plateau in energy demand from 2030.
Renewable energy sources will continue to rise, making up nearly half of global energy supply by 2050, cutting energy-related CO2 emissions in half by that time.
Gas supply will peak in 2035, coal use has already peaked.
Oil supply will flatten out in 2020 and then fall significantly to be surpassed by gas in 2034.
The world will manage the shift to a renewable future without increasing overall annual energy expenditure, meaning that the future energy system will require a smaller share of GDP.
Electricity consumption increases by 140% by 2050, becoming the largest energy carrier. Other energy carriers, such as coal and oil, experience significant reductions or only slight increases in consumption.
85% of global electricity production in 2050 comes from renewable sources ‒ Solar PV will provide around a third of the world's electricity by 2050, followed by onshore wind, hydropower and offshore wind, in that order.
Historically, energy demand and CO2 emissions have moved broadly in line with GDP and population growth, but that relationship will unravel. Electrification, particularly with the uptake of renewables, will change the way in which energy is supplied and consumed. While the global economy and world population are set to grow modestly, energy demand will flatten out and CO2 emissions will drop sharply.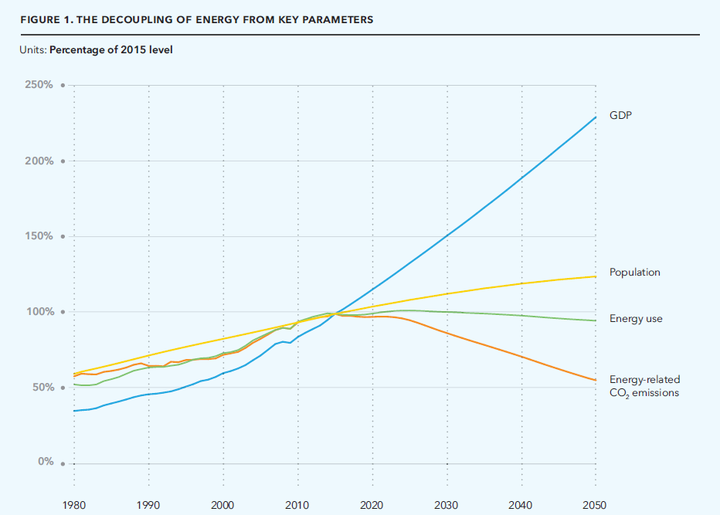 We forecast that renewables and fossil fuels will have an almost equal share of the energy mix by 2050. Wind power and solar photovoltaics (PV) will drive the continued expansion of renewable energy, whilst gas is on course to surpass oil in 2034 as the single biggest energy source.
Oil is losing ground as a source of heat and power, and is set to flatten from 2020 and fall significantly from that point as the penetration of electric vehicles gains momentum.
The global energy transition will occur without a significant increase in overall annual energy expenditure and on a straight comparison, the world's energy will cost less than 3% of global GDP compared to the current level of 5%.
Solar PV and wind costs are set to decrease by 18% and 16% respectively per the doubling of capacity. Although the oil and gas industry has responded impressively to the present lower price environment, renewables will improve cost performance at a much faster rate, benefiting from the 'learning curve' effect.
Electric vehicles will achieve cost parity with internal combustion vehicles in 2022 and, by 2033, half of new light vehicle sales globally will be electric.
Despite greater efficiency and reduced reliance on fossil fuels, the Energy Transition Outlook indicates that the planet is set to warm by 2.5˚C, failing to achieve the 2015 Paris Agreement target.
Even with energy demand flattening and emissions halving, our model still points to a significant overshoot of the 2°C carbon budget. This should be a wake-up call to governments and decision-makers within the energy industry. The industry has taken bold steps before, but now needs to take even bigger strides.
To achieve the target of a low-carbon world, there is no single solution. Instead, multiple achievable actions must be taken both locally and globally, involving collaboration within the energy sector and across industries.
Action 1: Act on Paris agreement and the UN Sustainable Development Goals
Nations, cities and companies must articulate how they respond to the main global challenges and explore the opportunities a low carbon world represents.
R&D, education and society at large must use these global frameworks in order to build competence, capacity and to share and communicate good sustainable solutions, technology and best practice.
Action 2: Greater and earlier adoption of renewables is the single most important action to meed the world's 2030 agenda.
Assist the growth of offshore wind
Drive uptake of data analysis to optimize performance of wind, solar, grids, and energy use
Invest in cyber security to ensure a robust electricity supply
Provide flexibility, balanced and cost-effective integration solutions
Optimize grids to facilitate growth of renewables
Action 3: Greater and earlier electrification of heat and transport
Drive the uptake of de-carbonisation of heat
Broader adoption of electric vehicles contributing to energy savings and emissions reductions
Action 4: Greater improvements in energy efficiency
Invest in strategic energy management
Action 5: Change in personal behaviour
Increase the level of public acceptance to shape consumer behaviour
Availability of subsidies
Will the world achieve the United Nations Sustainable Development Goals (SDGs) by 2030? What can business do to lead the charge?
DNV GL answered these two critical questions in the forecast examining the future of our 'Spaceship Earth'. The report launched at the United Nations in September 2016 concluded that, while many of the goals will make good progress across several world regions, action will not be fast enough or fair enough and will come at an unacceptable environmental cost. Lack of climate action is a showstopper. Lack of sufficient progress on climate action forms a barrier towards achieving most other global goals and it will be increasingly difficult to achieve most of the global goals in a world with increased climate change.
A quick transition to a sustainable energy system is the single most important action to fight climate change and we hope that our new Energy Transition Outlook will contribute build more competence, capacity and fuel a fact based debate that can accelerate the global energy transition.
Popular in the Community