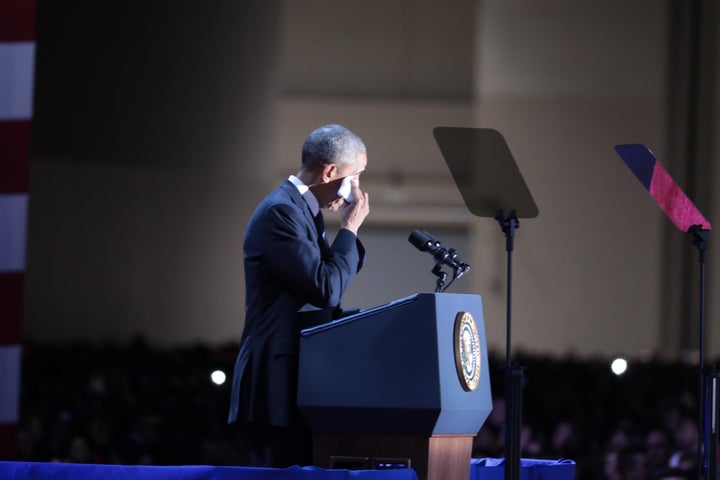 Listening to your speech tonight, I have one thing to say; please say the party ain't over. Say it ain't so! From the bottom of my heart, I wish you could run a parallel presidency, if that were possible. Oh, how we will miss you. A man who recognizes that our work as a society is not done until all Americans are treated equally.
"It doesn't have to be a zero-sum game."
As an immigrant, it was touching to hear you state that, "if we're unwilling to invest in the children of immigrants, just because they don't look like us, we will diminish the prospects of our own children." What made it sweeter was the parallel recognition of "the middle-aged white guy who from the outside may seem like he's got all the advantages, but has seen his world upended by economic, and cultural, and technological change." You showed us that acknowledging and empathizing with one person's narrative doesn't diminish the recognition of another's truth and pain.
Your thoughts reminded me of the story of the farmer who grew award-winning corn and shared the seed for free with his neighbors. When asked why, he responded, "Why sir, didn't you know? The wind picks up pollen from the ripening corn and swirls it from field to field. If my neighbors grow inferior corn, cross-pollination will steadily degrade the quality of my corn. If I am to grow good corn, I must help my neighbors grow good corn."
Like the farmer you, too, recognize that "if we don't create opportunity for all people, the disaffection and division that has stalled our progress will only sharpen in years to come." I wish more "middle-aged white guys" had heard that message more often and sooner, from more Democrats than Bernie Sanders.
The roar from the crowd as you flatly rejected "discrimination against Muslim Americans," stating they are "just as patriotic...", was an affirmation of all that is good in this country. I felt a surge of relief. The nation was behind us!
"This isn't a time for sorrow. It is impetus for renewed commitment, action, involvement. We are stronger, much stronger, than we think," I had written on Facebook as the world learned of the election result on November 9, 2016. Like the majority of Americans that, however, was far from my first reaction!
Even as they re-group and galvanize, many of my fellow American-Muslims take both solace and courage in verses of the Quran that say nothing happens without Allah's will and that He is the best of planners. I, too, believe that. But the Islamic tradition also calls on us to tie our camels and not sit idly by. To reach our destination, we are to row the boat even as God sends the wind. Your bitter-sweet call to arms tonight reminded me that while we are losing a class-act (you), we must also realize that "if it is to be, it's up to me!"
Our reality has to be the catalyst to do more. To be engaged at all levels of politics, whether as voters, canvassers, donors or potential elected officials. Not every eligible Muslim went to the polls during the presidential election. I had wondered what on earth would compel them to be engaged citizens, given the circumstances!! Maybe we now have our answer.
You have defied the odds, President Obama. Like you, millions of Americans, and especially American Muslims, know it's our collective responsibility to strive towards where we want to be. Just two months since the election, movements to shape the country we want are already stirring.
As Democrats, and American Muslims, we had worked for this past election and the platform it stood for, like no other election. We did it because we believed in certain values. We donated, we attended rallies, we phone-banked, we registered first-time voters, we drove others to early voting locations, we voted.
Just like you, and every minority who has made it in this country, we will leave a mark. Rest assured, God willing, left to us America will rise stronger, braver, more successful than ever before.
Good night and good luck, Mr. President. We can't wait to be part of your second act. #YesWeCan
The recipient of the Council of Islamic Organizations of Greater Chicago (CIOGC) Excellence in Community Service Award and the Muslim Women's Association ( MWA) Inspiring Woman Award, Naazish is the mother of two, and loves movies and good food! Please, leave her a comment below! Thank you.
Calling all HuffPost superfans!
Sign up for membership to become a founding member and help shape HuffPost's next chapter