Honeybees, the great pollinators of our time, are an essential aspect of agriculture on planet Earth.
To get this point across, artist Matthew Willey founded The Good of the Hive initiative, a project that will push him to personally paint a total of 50,000 honeybees ― the number necessary to sustain a healthy hive ― in murals across the globe. His efforts are meant to raise awareness of the importance of honeybees as a pollinator, but he harbors a less obvious motive, too.
Honeybees, Willey explains on his website, work as a collective. Inside the hive, they think and act together, operating under the assumption that the health of the individual is contingent upon the health of the collective. A collaborative, finely-tuned hive, he suggests, should serve as a model for all types of communities.
"Whether that community is an actual honeybee hive or a community of human artists, kids in a school, military veterans, gay people, women with cancer, marginalized people, skateboarders, or the American people as a whole, the health and success of the individual relies heavily on the connections within the group ― and consequently between the groups within the greater society," he writes online. "When we connect, we thrive. This is the essence of The Good of the Hive Initiative."
Willey has spread his honeybee gospels to locations across North Carolina; Seattle, Washington, Washington, D.C., and LaBelle, Florida. With seven murals under his belt ― and one currently in the works ― he's already hand-painted over 892 bees. Many of his murals show the insects in elaborate formations, swarming up the sides of walls, consuming pollen, and generating honeycombs. He hopes to create at least 50 murals in total, spanning locales around the world.
You can see a preview of the honeybee murals made so far below. For more information on The Good of the Hive, check out the website, or follow along with Willey's travels on Instagram.
Carrboro, N.C. (in progress):
Durham, N.C.:
Chapel Hill, N.C.:
LaBelle, Fla.:
Asheville, N.C.:
Seattle, Wash.:
Bonus: A moving truck! (That originated in Asheville, N.C.)
Before You Go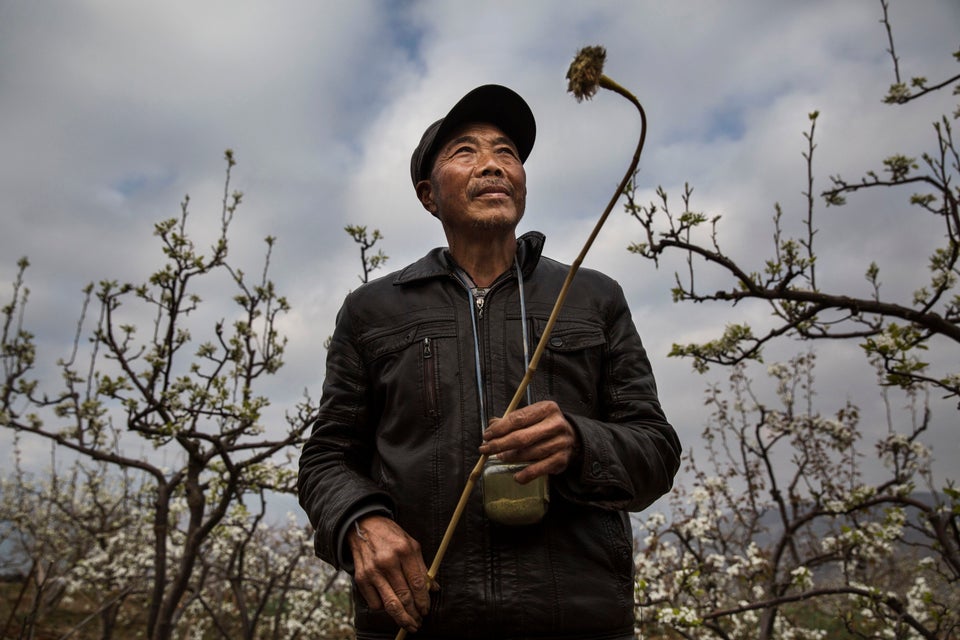 Humans Do The Work of Bees In China
Popular in the Community