 Co-written by Michael Misner
The Australian government has formed the world's largest network of ocean reserves. The network is anchored by a massive reserve in the Coral Sea. As we say, "Go you, Aussies."
The Coral Sea reserve includes a sprawling no-take zone a little under the size of Spain, or the combined sizes of California and Maine. As "no-take" implies, there will be no fishing, mining, or drilling allowed in these waters.
The other part of the Coral Sea reserve, nearly half of the total 386,100 square miles (1 million square kilometers), allows some activities including fishing.
Unfortunately (or fortunately), the ocean cannot be fenced in, or isolated from most people by natural forms like mountains or valleys. One of the biggest challenges of ocean reserves is enforcement in that seemingly endless blue. Officials are concerned that the Coral Sea reserve might prove to be expensive to monitor, especially to keep illegal fishers at bay.
To the extent that it is actually protected and enforced, the Coral Sea's more than 80 species of sharks, rays, dolphins, and whales, as well as spectacular coral reef systems, also now get a break. Plus, there are dollars to be had. Jobs and tourism, especially dive tourism, are expected to grow with the new protections.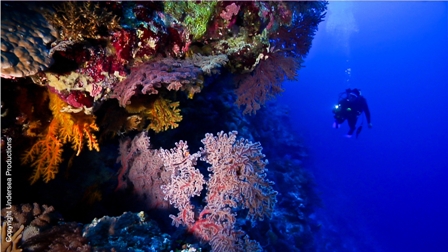 Osprey Reef by Undersea Productions
In 2003, about $1.5 billion from Great Barrier Reef tourism flowed into the Australian economy. This, coupled with the value of enduring beauty and fascination, and a legacy of healthy seas for all to enjoy, seems worth the Australian government's expected $100 million payout to commercial fishers who will be locked out of some of the new marine parks.
Part of the marine reserve network outside of the Coral Sea contains hundreds of thousands of square miles in Australia's southwest where a small chain of islands is home to more than 1,200 species including the spectacular seahorse known as the leafy sea dragon. There is a deep and wide underwater canyon that is the feeding ground for the threatened blue whale, the largest animal that has ever lived.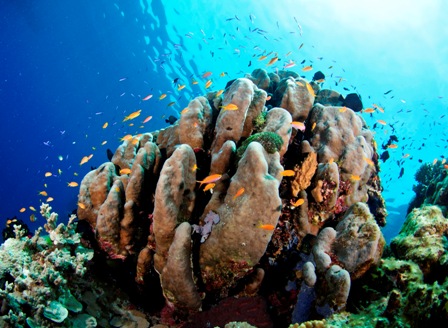 Boot reef coral and fish by Robin Jeffries
Making marine conservation history is no small feat. Credit goes to the Australian government, Pew Oceans Program, and a coalition of 15 Australian and international conservation groups. It is about collaboration and a good dose of determination fueling plenty of work by these organizations. In a modern campaign effort orchestrated by the coalition, nearly half a million people in Australia and globally publicly voiced their support online for these ocean protections.

Everyone involved deserves the firm handshake, the kudos, and the satisfaction of being part of positive ocean change. Together they have provided refreshing hope.

Links:
Tourism great barrier
Pew marine reserve release
ABC News coverage
Areas of US states
Southern California marine reserves
REAL LIFE. REAL NEWS. REAL VOICES.
Help us tell more of the stories that matter from voices that too often remain unheard.