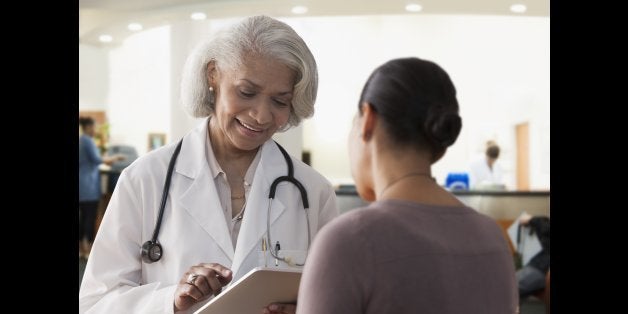 At the White House Correspondents Dinner, President Obama joked about the rough year he had with the roll-out of the Affordable Care Act (ACA). That said, it is useful to take a serious moment to reflect on the importance of programs that invest in the public health. For the ACA, the bottom line is a positive one: A large number of Americans who were locked out of the insurance market -- either because of affordability issues or because insurers wouldn't offer them coverage -- can now access the health insurance market. This is undoubtedly a good thing.
A large part of the ACA's long-term success and sustainability will hinge on its ability to provide significant and meaningful support to individuals who could not otherwise access health insurance. If the public does not see that people are directly benefiting from the program, support will erode and the program's future will be in doubt. Fortunately, the enrollment success and direct patient benefits of the ACA, makes it well-suited to build long-term public support. Unfortunately, not all public health care programs are on such solid footing.
I was reminded of this fact when I saw a recent report studying the problems in a little known but widely used public health program dubbed simply "the 340B Program." The 340B program was created in 1992, and it requires that certain qualifying federally-funded clinics and hospitals that are presumed to treat high numbers of uninsured, indigent patients receive discount prices for medicines. Importantly, while the law does not specify that entities participating in the program pass on those discounts to needy patients, the presumption was that the entities would be stewards of the program and ensure its benefits get passed to those in need of assistance.
At first, the vast majority of the program's participants were true safety net facilities dedicated to serving the poorest and most vulnerable. Many of these facilities were clinics and public hospitals based in low-income areas that served disproportionate numbers of indigent patients. More recently, hospitals that are less focused on safety net populations have realized that they too could take advantage of the program's discounts. These hospitals have fueled the program's exponential growth rate as qualifying hospitals have sought to leverage the program to maximize revenue instead of benefit patients.
The most recent report used newly available government data to look at the share of hospital costs that 340B hospitals were spending on free or reduced price care for low-income patients. The report found that charity care represented less than 5 percent of hospital costs at more than 80 percent of 340B hospitals. More alarmingly, about a quarter of 340B hospitals provide charity care that represents less than 1 percent of the hospitals costs. And while defenders of the status quo attacked the report for being privately-funded, it came on the heels of a report by the HHS Office of Inspector General outlining the proliferation and problems caused by a regulatory change in 2010 that permitted entities participating in the program to contract with an unlimited number of for-profit pharmacies. The inclusion of for-profit companies such as chain drug stores (in a program that is otherwise limited to not-for-profit providers) has only exacerbated concerns with 340B.
The short truth is that the 340B program has problems, and it is rapidly approaching the point of unsustainability. The combination of unsustainable growth combined with dubious financial gains created out of a public health program should give everyone pause.
These financial schemes have led to complex profit-sharing arrangements with for-profit contract pharmacies and have created massive incentives for hospitals to buy up physician practices so that hospitals can increase the number of prescriptions that qualify for the 340B discount (allowing them to further maximize revenue from the program without patients necessarily seeing any benefit). At the very least, the program seems due for what would be just the second Congressional hearing on the program in its 20 years of existence.
As a physician, I will be the first to recognize the value and importance of the 340B program, and it needs to have an important role going forward. It is a valuable public health program that provides tools to assist the neediest among us who still do not have access to coverage, even after ACA is fully implemented (an unfortunately high number due to the intransigence of some states in expanding their Medicaid programs). But when programs designed to assist the neediest among us are abused or exploited, it can undermine future efforts to help those same populations by breeding cynicism about government's ability to develop and sustain programs that effectively serve the most vulnerable.
And that is why every public health advocate should be willing to push for reform of 340B; we need the program to be sustainable for those who need it, and we need to create effective public health programs that serve as examples of sound policy for everyone to see.
Howard Dean, MD is the former Governor of Vermont. He currently serves as an independent consultant for McKenna Long & Aldridge LLP, which represents a wide variety of clients, including those interested in health policy. Views are his own.
Calling all HuffPost superfans!
Sign up for membership to become a founding member and help shape HuffPost's next chapter