TV news reports have depicted Jamaican government forces battling a drug gang in the Tivoli Gardens section of Kingston, a city on Jamaica's southeast coast. That mayhem caused the State Department to issue a Travel Alert for that Kingston, which expires June 23. Tivoli is only one section of a vast city frequented largely by business travelers. Resort towns like Ocho Rios, Montego Bay and Negril are on the country's north coast, hours away. Skipping a resort vacation in Jamaica because of troubles in Kingston is like not traveling to L. A. because it's raining in San Francisco.
The capital city of Kingston (population 700,000) is a bustling port (world's seventh largest natural harbor) that exports sugar, rum and bananas and is the home of University of the West Indies and the Red Stripe beer brewery. The Jamaica Pegasus, a 17-story, 300-room hotel in the New Kingston neighborhood, is conveniently located across the street from Emancipation Park, where locals jog and relax.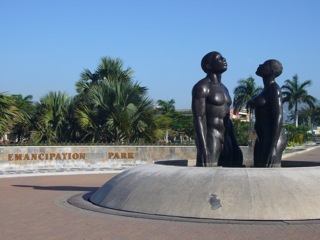 Pegasus' pool, tennis courts (it's easy to pick up a doubles game), gym and a friendly staff give this business hotel a family feel. Jog in Emancipation Park and you'll encounter middle-class Jamaicans, the everyday people you'll never see on the six o'clock news.
Kingston Recommendations:
1. National Gallery of Jamaica - Exhibits from 1000 A.D. (Taino Indian artifacts) ultra cool modern art (check out the hot-pink, blinged-out Volkswagen Rabbit).
2. Spanish Court Hotel - The tasty Jamaki Roll (sushi with local-smoked marlin and ackee) in the lobby restaurant is a must.
A 1 1/2 hours drive north and west of Kingston brings you to the nondescript beach town of Ocho Rios which is distinguished by some of Jamaica's most chic resorts, which well describes the 74 all-oceanview suites Royal Plantation; it sits regally on a lushly landscaped hillside overlooking two beaches. Marble bathrooms, private terraces, access to an 18-hole golf course and the Red Lane spa make this an intimate exquisite hotel with all the benefits of a larger property. Breakfast includes an inviting array of Jamaican fruits: jack fruit, sweet sop (looks like a sea creature), naseberry (looks like a fig) and five varieties of mango. Noel Coward has played the drawing room's grand piano; butler service adds to an atmosphere that is quietly majestic.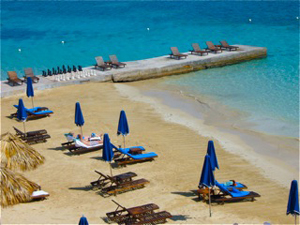 Ocho Rios Recommendations:
1. Chukka Caribbean Adventures (http://www.chukkacaribbean.com/) -- Adventure outfit offers adrenaline pumping inner tube rafting and horseback riding in the sea.
2. Scotchies - Best jerk cuisine in Jamaica (at Drax Hall, 10 minutes west of Ocho Rios, 876-794-9457); try the succulent pork and the sweet festival bread.
Most vacationers fly into Montego Bay, Jamaica's second largest city, 52 miles east of Ocho Rios, then take long bus rides to various resorts. Smart travelers stay put in Mo'Bay to enjoy its vibrant night life and swank properties like Half Moon. Built in 1954 on a crescent-shaped beach as a small hotel with private villas, it has expanded to a 400-acre compound stretching two miles along a beach with 398 accommodations (rooms-to-palatial villas), an expansive golf course (a 7,119 yard, par 72 championship course designed by Robert Trent Jones, Sr.), a large tennis club (13 courts), an equestrian center (riding, show jumping, dressage) and a lagoon with dolphin encounters. Add six gourmet restaurants and a spa and Half Moon is a mini-city so big guests drive around on golf carts, because they have to.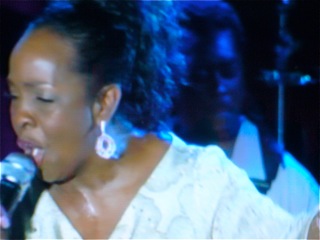 Montego Bay Recommendations:
1. Jamaica Jazz & Blues Festival - Annual January event features jazz, R&B, pop, rock, souka and salsa artists.
2. Pelican Restaurant - Traditional Jamaican cuisine, decent prices, good chance to mix with locals.
This resort town on the northwest tip of the island is famous for its seven-mile, golden-sand beach. The all-inclusive, 234-room/suite Couples Negril is a stand out. The sea is so placid here you can lounge on an air mattress and float in serene waters without getting your hair wet. A deep-tissue massage with trigger-point therapy in the resort's unique tree house soothes the body (priced around $100). Water sports, golf, tennis, drinks and a popular sunset catamaran cruise (with a raucous party atmosphere) are included as is dining at restaurants such as the Otaheite Caribbean restaurant: Try the Bloody Bay cappuccino soup (fire-roasted tomatoes, sour cream and allspice).
Negril Recommendations:
1. Rick's Cafe - Go for the magnificent sunsets, stay for the cliff divers and leave before the price of margaritas shocks you.
2. Jackie's on the Reef - A new-age wellness guest-house replete with organic meals, spiritual workshops and massages on the beach near soothing, crashing waves.
Jamaica has suffered some trying times and bad publicity, but its finest hotels and resorts are offering good deals to entice travelers to come back to Jamaica. Take advantage.