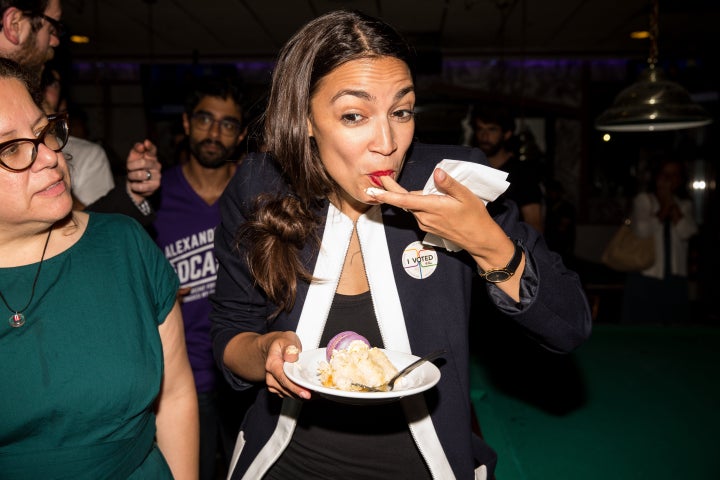 Welcome to Good Shit, HuffPost's weekly recommendation series devoted to the least bad things on and off the internet. 
This is obvious, but the best thing I saw this week was NY1's video of 28-year-old Alexandria Ocasio-Cortez realizing she had beaten out Joe Crowley in the Democratic primary for the 14th Congressional District of New York. The results all but assured that she will soon become the youngest woman ever elected to Congress, and they set off a predictably nauseating period of 24/7 news coverage.
But the particulars of that moment were mesmerizing: the way she convulsed just for one second when she saw the results; her widened eyes and covered mouth, first with two hands, then with just one; when she shook her head exactly once and replied "Nope" after an interviewer asked Ocasio-Cortez to put what she was feeling into words; and then when she composed herself and told the world that the victory belonged not just to her but to everyone who was with her. It was something wholly foreign to 21st century American politics: pure, uncorrupted joy, and we were right there with her in the bar to witness it. What a shocking delight. ― Maxwell Strachan 
Gucci Mane In Iceland
If you love yourself, watch this video of Gucci Mane in Iceland. Then you should mention BET, VH1, HGTV and the Travel Channel on Twitter, and petition for him to have his own show in which he travels the world and talks about how it makes him feel. Fuck, I love Gucci so much it hurts. ― Julia Craven
World Cup Tequila Shots
Mexico got thrashed by Sweden in its final World Cup group stage game on Wednesday, but South Korea's improbable win over Germany allowed Mexico to advance to the next round anyway. So, after the game, Mexico fans swarmed the South Korean embassy in Mexico City, mobbed the ambassador and other consular officials, and all but forced them to do shots of tequila with them. Then they chanted, "Korean, brother, you're Mexican now!" The videos brought me genuine joy, even though the week was otherwise mostly awful. Mexico, which has had a pretty fun ride through this World Cup so far, plays Brazil in the first round of the knockout stages on Monday morning. It'll be worth a watch. ― Travis Waldron
New Books!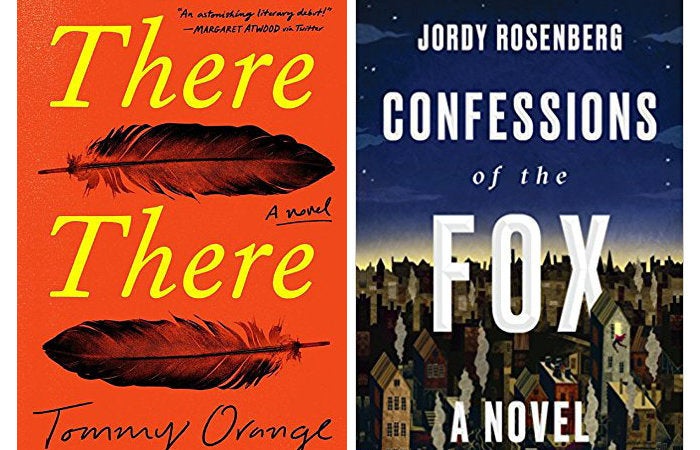 If you want to deftly thread the needle of unplugging from the horrifying news cycle while still thinking deeply about all the political, social and economic factors that have combined to make it so horrifying, allow me to humbly suggest two electrifying debut novels that were published this month.
Confessions of the Fox by Jordy Rosenberg takes the hoary tale of an 18th century folk hero ― the infamous English pickpocket and jailbreak Jack Sheppard ― and transmogrifies it into a wildly entertaining epic featuring a trans hero and a London underworld as diverse in race and gender identity as the real 18th century London was. 
Set in Oakland, California, There There by Tommy Orange weaves together the stories of urban-dwelling Native people grappling with the consequences of white colonization that has disconnected them from their heritage. All the while, the plot builds inexorably toward a shocking conclusion. ― Claire Fallon
"Salvage Dawgs"
For anyone who wants to escape the madness of the news cycle, turn off the worrisomely relevant "Handmaid's Tale" and flip to the DIY Network ― where you can peacefully watch Robert, Mike and the rest of their Black Dog Salvage team carefully extract architectural elements from private homes, historical properties and crumbling mills across the eastern U.S. states. I first caught on to "Salvage Dawgs" four years ago (as an HGTV fanatic), and with a new season currently airing on Sundays at 9 p.m., I've been thoroughly enjoying it again. ― Leigh Blickley
"Demolition Man" Nacho Fries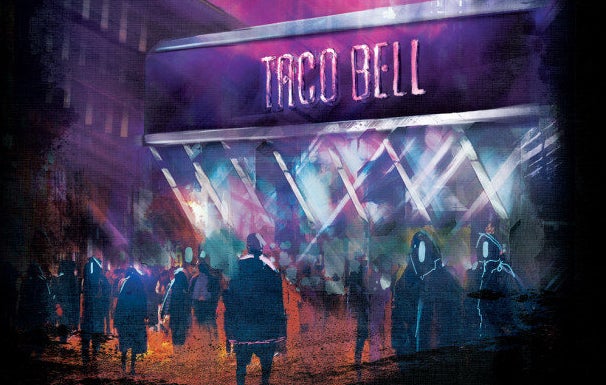 Is it a coincidence that in "Demolition Man" ― a movie depicting a world of peace, love and Wesley Snipes with bleach-blond hair ― every restaurant is a Taco Bell? I think not. Now, in honor of the 25th anniversary of this cinematic masterpiece, in which Sylvester Stallone says "Heads up" before literally kicking Snipes' head off his body and people clean their butts with seashells, Taco Bell is bringing "Demolition Man" nacho fries to San Diego Comic-Con. And as if this partnership could get any more perfect, the fries are supposedly free.
So even if you're not into "Demolition Man" (but, really, who even are you?), it's still enough to make you say, "Aw, bell yeah." Anything else happening in your life is nacho problem. But just remember: This is still Taco Bell we're talking about, so keep those seashells ready. ― Bill Bradley
Some Hedonistic Art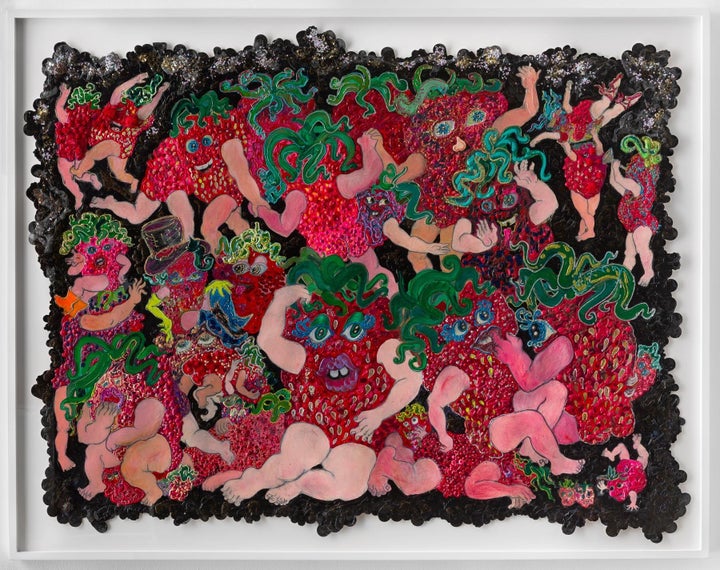 Fuck self-care, "Alive With Pleasure!" ― a new group show at Asya Geisberg Gallery in Manhattan ― seems to suggest. These dire times require unabashed hedonism, stripped of nutrition, intention or good sense. Curated by Irena Jurek, the exhibition takes its name from the playfully seductive Newport cigarette ads from the '70s and '80s. The works on view ― by artists including Caroline Chandler Wells, Raúl de Nieves and Melissa Brown ― are united by an excessive energy that oozes from their materials, style, palette and subject matter. Strawberry orgies, sprinting nipples, smoking birthday cakes and rainbow horses with serious BDE populate the gallery space, manifestations of self-indulgence far more strange and satisfying than bubble baths and goat yoga. ― Priscilla Frank
Kieran Culkin In "Succession"
Listen, I do not know how I feel about "Succession" on the whole. It is a longish HBO show filled with rich white men whose business dick swagger is very sad emoji, pretty frightening and a little funny. But I do know how I feel about Kieran Culkin in "Succession," and that is that Kieran Culkin in "Succession" is very hot. He is the media conglomerate sex idiot I never knew I needed. He is the entitled son of a Rupert Murdoch avatar that I would otherwise hate if he weren't so good at sick sibling burns and fast talking. He is Igby Slocumb, if Igby had just gone ahead and Jeff Goldblum-ed himself. That scene where Kieran Culkin in "Succession" is wiping his own semen off the window of his high-rise office window is exactly how I imagine Wall Street Men behave, so maybe this is a documentary. I don't know. Watch it for Kieran. ― Katherine Brooks
Music For Your Ears
It's always been difficult to get a handle on Deerhoof's noise pop. It's both artful and art-damaged, heavy metal and wistfully melodic. On a recent episode of the great podcast "Essential Tremors," drummer Greg Saunier explains at length how the band's sound is rooted in an unlikely source: Burt Bacharach's orchestral pop. Saunier is a captivating storyteller, unwinding his tale much like his band's twisty songs bouncing from a nostalgic remembrance of his mom's love of soft rock to dissecting the essential genius of the 1968 hit "Do You Know the Way to San Jose" to karaoke singing. "People have rarely agreed with me on this, but I pretty much think of Deerhoof as being a soft-rock band," Saunier said. ― Jason Cherkis
Freaky people, clap your hands! You'll hear that command on "The Now Now," the latest LP from sprightly synth cartoon band Gorillaz. We could use a freaky handclap or two right now, especially if it's filtered through baroque bops like "Humility" (a summer jam if there ever was one) and "Magic City." This album? It's sunshine in a bag. ― Matthew Jacobs
A Movie About Aliens
This week I'm all over "How to Talk to Girls at Parties." Don't be fooled by the "Dude, Where's My Car?"-esque name, this is an entirely precious, entirely new, entirely weird movie about growing into love in the most outlandish of circumstances. Enn is a punk boy in the '70s who likes nothing more than scaring old ladies on his beat-up old bike and eating tomatoes that grow in the sewer, but his life gets shaken up when he meets Zan, an alien girl from a clan of introverted extraterrestrials touring Earth. I loved the subversion of expectation, like when he leans in to kiss her and she vomits on him. Somehow this is still cute. Elle Fanning is a great alien, and Nicole Kidman makes an appearance as an aged punk, which is worth it just to see her done up in the requisite 3 inches of eyeliner. The special effects are really campy and kind of jarring, but fun if you just go with it. And Mitski (!) even makes an appearance on the soundtrack to round it all out. Upon watching it, my mother said, "What in God's name did you just show me?" Great fun. ― Anna Krakowsky
Maeve On "Westworld"
The best thing for me this week was, hands down, the subtle power of Thandie Newtown's performance as Maeve on the Season 2 finale of "Westworld." There's this one, glorious shot of her toward the end of the episode, defiantly using her powers to hold off a horde of crazed hosts in order to protect her daughter. It's brilliant on many levels, foremost because it's the instant where the show fully crystalizes something that, all season, it had only been half-committed to acknowledging: Maeve is basically every black woman who has had to save herself (and everyone else) because no one else would. In light of the dumpster fire that has been this week and quite frankly this entire year, there's something cathartic in seeing that visual metaphor on screen. ― Zeba Blay
The Passionate Experts On "Ologies"
My evergreen podcast recommendation this summer has been "Ologies," a delightful science series. Each episode features a different expert, or -ologist, who can expound on all the cool shit to do with topics including death, birds, fear, squids, even postcards (!!!). Host Alie Ward is a true delight and basically asks all the weird questions I'd want to ask. It's educational without feeling too heavy. Listening to people who are passionate about things is kind of the best thing? I've yet to come across a dud episode, and there are nearly 40 in the back catalog to work through on your journeys this summer — or simply your journey ~through life~. ― Jillian Capewell
And Finally, This Photo
This photograph was DMed to me by a stranger with absolutely no words or explanation. It is beautiful and makes me want to die, which is all you can really hope for with art. ― Ashley Feinberg
Calling all HuffPost superfans!
Sign up for membership to become a founding member and help shape HuffPost's next chapter