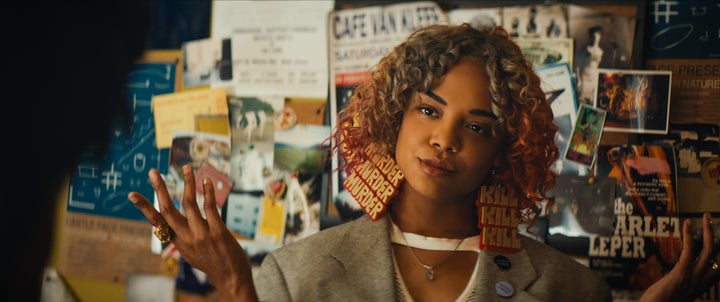 Welcome to Good Shit, HuffPost's weekly recommendation series devoted to the least bad things on and off the internet. 
When Lakeith Stanfield compliments Tessa Thompson's earrings in "Sorry to Bother You," the camera cuts close to the ornaments framing Thompson's face.
In quirky block letters, one earring says "MURDER MURDER MURDER," the other says "KILL KILL KILL." They're the first of many audacious pairs that Thompson, playing a fiery artist-activist, wears in Boots Riley's fantastic new movie. Others display men in electric chairs, Bob Dylan and Prince lyrics, and the apt words "WILDLY ORIGINAL" ― all accentuated by Thompson's electric-orange curls.
As rowdy as the earrings may be, they're one of the more grounded oddities in this surreal odyssey about race, capitalism and loud manifestos. ― Matthew Jacobs
Romelu Lukaku, A God
I want you to stop, for one moment, and watch the video of this run by Romelu Lukaku, Belgium's star striker, in the dying moments of Belgium's 3-2 win over Japan in the World Cup's round of 16. (In the above GIF, he's the guy in red who starts at the bottom left of the screen.)
Lukaku, like many black soccer players, is often stereotyped as a big, strong, physical athlete whose greatness is defined by those qualities. But while he is all of those things, he's also smart as hell when it comes to his positioning and his ability to see how a play should unfold before it does ― and then make it unfold exactly that way. This run is proof: Watch how Lukaku drags the defender nearest him toward the middle of the field to create space for the first pass. Watch how he follows that by pulling another defender in the opposite direction to create space for the next pass. And then, watch how he dummies that pass, stepping over it so that it runs to an open Nacer Chadli ― who is only open because of Lukaku ― on the far post. It's brilliant. It's all beautifully, mind-numbingly brilliant.
Lukaku is Belgium's leading scorer, but he'd spent the first 89 minutes of the match against Japan failing to find the back of the net over and over again. No one would have blamed him for trying to bury that shot ― it was the last minute, the match was tied, he's their best player, he's there to score goals. But he knew the right play was to take the defenders out of the play completely, to let the ball run to Chadli, to let the wide open guy nail home the win instead. Romelu Lukaku is God. Also: he's fluent in at least seven languages. He is brilliant, and I love him. ― Travis Waldron
The Charming Netflix Rom-Com That Makes Up For That Adam Sandler Movie
Listen, Netflix, I'm never going to forget that you made "The Ridiculous 6" possible, nor should I. BUT. Today I'm feeling nothing but gratitude for the proliferation of streaming-content creators, and Netflix in particular. See, I love a good, old-fashioned, stomach-flipping romantic comedy, and in this superhero-crazed environment I rarely get one as fun and unabashedly sweet as "Set It Up." I missed it when it came out last month, but now that I've seen the Claire Scanlon-directed confection, I plan to watch it daily at least. 
The premise: Harper (Zoey Deutch) and Charlie (Glen Powell), the beleaguered assistants to, respectively, a hotshot sports journalist (Lucy Liu) and a venture capitalist (Taye Diggs), decide to prod their bosses into dating each other in hopes that a fresh romance will prove a distraction from work. They manufacture a relationship between their bosses ― and accidentally start to fall for each other. The movie gleefully subverts numerous rom-com tropes, like the grand running-to-the-airport gesture, while maintaining the goofy-sweet heart of a true romantic comedy. 
The cast is peppered with brilliant comedic turns ― Tituss Burgess, Meredith Hagner, Pete Davidson ― and the leads are a delight. Deutch is so winsome, I literally wished I could wear her as a skin suit, and Powell looks at her in that heart-melting way that every rom-com hero must do to win my heart. It was a bit disappointing to see the actors of color pushed, as usual, into supporting roles (of course in a rom-com about the oft-ignored assistants, it's the assistants who are white). Here's hoping the rumors that Lucy Liu's character may get a sequel come true. ― Claire Fallon
This NYC Teen's Valedictorian Speech
The best writing I read this week came courtesy of a teenager. His name is Matteo Wong, and he is the most recent valedictorian at Stuyvesant High School, an elite New York City public high school that finds itself enmeshed in a larger battle over how (or how not) to combat racial inequality in the city.
The simple question of which students should go to which schools is an intensely emotional one for many parents, especially white ones, who have been known to yell when people propose that schools should reflect the demographic makeup of the city that surrounds them. It is widely considered an incredibly complex question as well. But that's what makes Wong's valedictory speech ― a version of which was published in Crain's New York Business ― so fantastic. His writing is clear and measured, uplifting while also based on the facts.
"The problem: New York City's best public high school is less than 4 percent black or Hispanic, demographics which compose nearly 70 percent of the city's school-age population," he writes. "This debate revolves around two truths. One: These statistics are unacceptable. To accept them is to buy into a racist myth of black and Hispanic inferiority that has very real, physical and psychological repercussions. To accept these demographics is to make Stuyvesant a toxic environment for black and Hispanic students. The way forward is unclear, but the status quo is broken."
The 850-word speech, which I suggest you read in full, just gets better from there. If only adults could speak with the same level of candor. ― Maxwell Strachan 
An Incredibly Boring (And Great!) Reality TV Show
I've been told to watch "Terrace House," an unassuming Japanese reality television show in which three young men and three young women live in a house together, for years, and this week the Netflix algorithm gods blessed me by finally suggesting I put it in my queue. I'm only a handful of 28-minute episodes into the show, and yet I'm already a convert. If you're looking for a way to soothe your news-ridden, tweet-ridden, over-stimulated soul, binge your way through this series. (Parts 1 and 2 are already on Netflix, and Part 3 is being released at the end of this month.)
The weird thing about "Terrace House" is that very little happens and yet it's completely captivating. As a consumer of American reality TV, specifically the "Bachelor" franchise, I'm primed for high drama ― big fights, lots of tears, ominous music cues, carefully produced confrontations and very little eating on camera. "Terrace House" flouts these conventions, opting instead to lean into the seemingly mundane. It makes you wonder why American shows keep trying to raise the emotional stakes of reality television when the Japanese have figured out a way to draw in audiences with no stakes at all. ― Emma Gray
Amy Adams In Anything (But This Week In "Sharp Objects")
HBO is back with another limited series in "Sharp Objects," based on the debut novel of author Gillian Flynn. Alongside showrunner Marti Noxon and director Jean-Marc Vallée, the "Gone Girl" scribe brings her dark crime thriller to the screen in a compelling fashion.
The always superb Amy Adams plays reporter Camille Preaker, who returns home to Wind Gap, Missouri, to cover the mysterious murders of two young girls. But it's her own past that haunts her as she's reunited with her overbearing mother (Patricia Clarkson) and rebellious teenage half-sister (Eliza Scanlen) in a hometown burdened with pain. It premieres Sunday at 9 p.m. ― Leigh Blickley
Bron Snow, AKA A Clash Of Kings, AKA June 19, 2016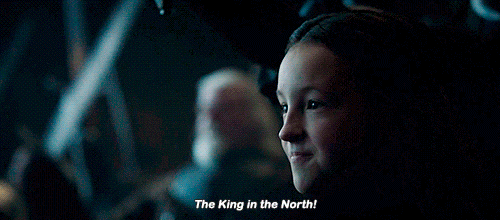 On Sunday, June 19, 2016, I watched on a split-screen as the Cleveland Cavaliers won Game 7 of the NBA finals and Jon Snow defeated Ramsay Bolton in the Battle of the Bastards on "Game of Thrones." Yes, it was two years ago, but it was beautiful. The days of the Cavs championship drought and of Jon Snow making his pouty face — not because it was cool, but because his life kinda sucked ― were over.
Now, with LeBron James leaving the Cavs and "Game of Thrones" coming to an end, it's good to remember that moment can never be taken away from us. Some of my own colleagues, who are now celebrating LeBron in LA, counted him out of that 2016 series from the start, much like many doubted the White Wolf.
But the North remembers. Cavs fans remember! We know no king but the kings in the North and Northeast Ohio. I don't care if they're bastards or they moved to LA ― Ned Stark's blood and Cavs wine-and-gold run through their veins! They're my kings from this day until their last day! ― Bill Bradley
Tina Lawson's Instagram Account
Tina Lawson, the mother of our true saviors Beyoncé and Solange, has the Instagram feed from Heaven. But this photo of her and her man, Richard, waiting to see Smokey Robinson is the blackest thing I have seen this week. I am fucking LIVING for it. I grew up listening to Smokey Robinson because of my mama and nana. So I feel like this could be my parents and that warms my soul in a way I can't fully explain.
Also, look at that selfie. It's just terrible enough to be a fantastic auntie and uncle pic. I love it. I love them. I'm crying. ― Julia Craven
Comedian Kate Berlant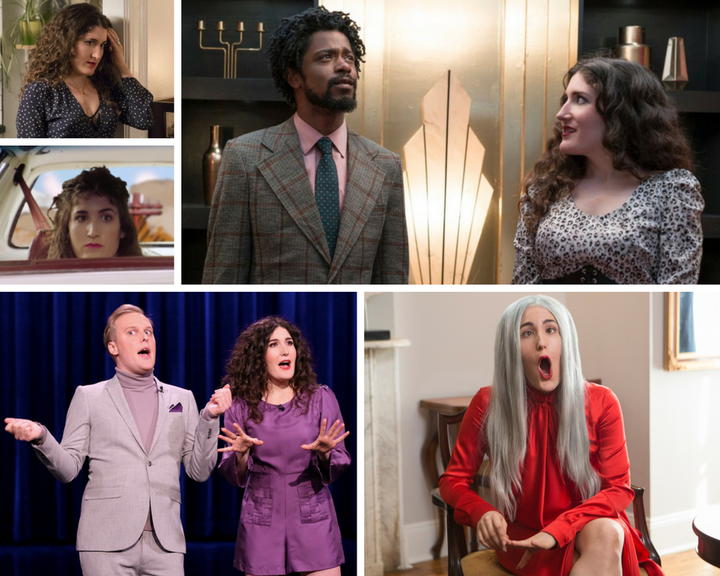 Remember that time Roseanne Barr shrieked the national anthem at a San Diego Padres game? That is not my recommendation for the week. My recommendation for the week is the human being who wrote a thesis on the deconstructionist milestone that was Barr's scream-performance: Kate Berlant. (She did this in grad school, really!) 
Berlant is in the new film "Sorry to Bother You," which according to my colleague Matt Jacobs, you should really see. But she's also appeared in "Search Party," "High Maintenance," "The Characters" and "555." She's a prolific scene-stealer and best friends with John Early, with whom she's apparently writing a film. I recommend it! Them! Her! ― Katherine Brooks
A '70s Gangster Film, Why Not?
For years, I've been trying to track down Elaine May's mid-'70s masterpiece "Mikey and Nicky," starring John Cassavetes and Peter Falk as childhood friends turned low-level gangsters turned frenemies. The film, which is now streaming on Kanopy, was well worth the years of searching. It's better than every other Netflix crime show you've just binged.
The premise is simple: Cassavetes' character knows there's a contract out on his life and calls Falk to help him out. The rest of the film concerns what Falk does with his friend's fate during the course of one boozy, cigarette-stained night. You can see the movie's influence all over "Goodfellas" and shows like "The Sopranos."
But the thing that will stay with you long after the film is over are the spare scenes with the women in their lives ― the ones who take their late-night calls, their abuses and their endless, tormented need. You see it in their eyes. They know what's up. ― Jason Cherkis
Red Shorts, Blue Shirts: A Phenomenon
We've uncovered an international phenomenon: Each summer, dudes across the world bust out red shorts and, after very little consideration, decide that the only fashionable pairing is a blue shirt. Two of our reporters have been documenting this for four years — but this is bigger than our circle of friends now. Prepare to have your third eye opened. We bring you the RedShortsBlueShirt Instagram page and a whole hell of a lot of red shorts-blue shirt combos. ― Andy Campbell
Kumail Nanjiani's Cheeseburger Freakout
I still can't stop thinking about Kumail Nanjiani's cheeseburger-related freakout in "The Big Sick." We've all been on the wrong side of a customer service issue at the exact worst moment, and watching Nanjiani channel that is perfection. He strikes just the right notes of sympathetic and ridiculously funny. It's hard to pick a favorite moment from the scene because I loved all of it ― from his yelling "Who the fuck is we, man?" to his knocking over the trash can and then feeling bad and slowly, sadly picking it all up again. ― Anna Krakowsky
Inner Peace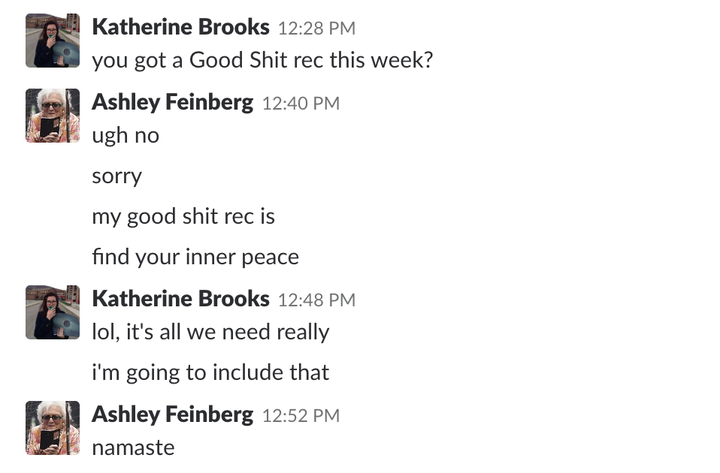 Calling all HuffPost superfans!
Sign up for membership to become a founding member and help shape HuffPost's next chapter