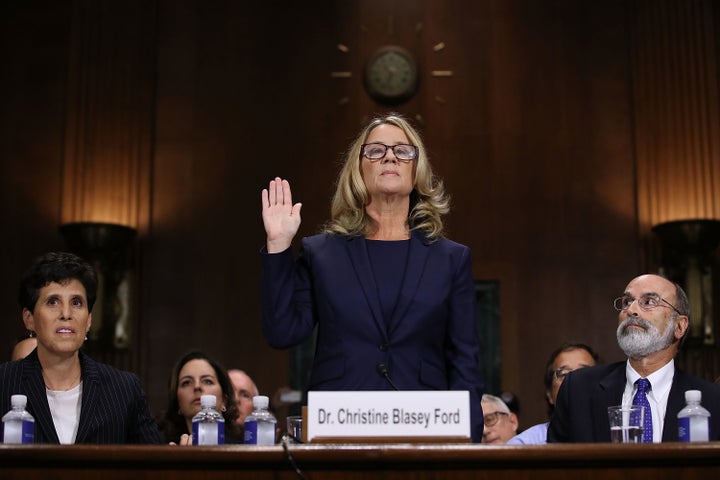 Welcome to Good Stuff, HuffPost's weekly recommendation series devoted to the least bad things on and off the internet.  
This week, I'm just going to go with a single photo, one worth remembering for the next, say, 30 years or so. ― Maxwell Strachan
Today's High School Boys
This week made my soul hurt, but something that gave me a ray of hope was seeing teenage boys who are so much better than the most powerful men in this nation; teenage boys who recognize the humanity of victims of sexual assault and their responsibility to combat rape culture.
If boys like Jack Torres and Cameron Kasky are any indication, then maybe the kids will be all right or, at the very least, better than us. ― Emma Gray
Awkwafina Rescuing 'SNL'
Then I remembered that Awkwafina — fresh off of her badassery in both "Crazy Rich Asians" and "Ocean's 8″ — is hosting SNL next weekend, a rare piece of genuinely good news in this otherwise grim world. ― Marina Fang
Conservatives Discovering Country Musicians Aren't Conservative
It's been a banner month for conservatives discovering that their favorite country music singer isn't conservative like them but is instead a dirty lib. Earlier, it was a few angry Texans figuring out that Willie Nelson ― the pot-smoking friend of the Obamas who's recorded songs about gay cowboys ― might not be a registered GOPer. This week, it's this contributor to a bevy of conservative websites learning that Jason Isbell also doesn't partake in right-wing crankery.
Our friend here apparently went to an Isbell concert in North Carolina, where the singer who routinely tweets about how much he hates Donald Trump sang his "white privilege" song ― which I can only presume is Isbell's 2017 "White Man's World." I can understand the shock of learning that this song is not actually an ode to the GOP's preferred state of things, given the title, but c'mon, the libruhl message is right there in every verse. It's not even subtle!
At least our friend finally managed to hear them, I guess, but I have to wonder what else these folks have been missing if they're just now discovering that Jason Isbell and Willie Nelson aren't soon going to join the contributors' list for Pajamas Media. Gonna be fun when they find out that LGBTQ people are writing and singing some of their favorite songs, too, but at their current pace of discovery, I figure that'll take another decade or so, at minimum. ― Travis Waldron
This Moment Of Parenting Bliss
This thread may be the greatest thing I've ever seen in my black ass, would-cuss-as-a-kid-and-get-caught-then-lie-about-it-ass life. Let's break it down:
1. We all use to get caught cussin' and lie about not cussin'. We're a generation of "Nah, I said 'puck'" liars. I don't know if this little boy lied, but I hope he told his mama that he said, "I'll block your calls."
2. The GIF brings back memories of staring down my grandmother — and trying to stand my ground — while she stares back with a sense of purpose and righteousness I still just ain't got.
That kid has a bright future ahead of him in the cafeteria cypher circuit. ― Julia Craven
Cardi B's Lunar Knowledge
We went to the moon in 1969. Not 1968, but the year after. If you can believe in anything in this whole gosh darn life, it's in this one indelible fact, thanks to the "Even Stevens" episode "Influenza: The Musical." And now thanks to Cardi B.
Can we just make this our new national anthem? Because I've never felt more patriotic than right this second. Nobody knows what ramparts are. What we do know is we went to the moon in 1969, and Cardi B singing about it is solid and isn't cheeeesy. ― Bill Bradley
A Fictional Podcast To Escape This Dumb World
Kaitlin Prest is one of podcasting's originals with a knack for tender and surprising audio stories. She honed that skill on "The Heart," an unflinchingly raw look at sex and intimacy that, in my opinion, remains unmatched in the genre. Sadly, that show is no longer in production, but Prest is back with "The Shadows," a fictional show about a self-professed romantic who moves to the big city, enters the world of puppeteering and looks for her one big love. The initial episode is dreamy in all the same ways as the heady first days of a new crush. Typical boundaries between internal and external voices become fuzzy; characters feel like people you've met in real life; songs weave in and out of dialogue. I'd love nothing more than to tap out of reality for a few hours, and this six-episode series, all available now, should do the trick.
CBC Radio, which produces "The Shadows," is really killing it in the space right now. "Uncover: Escaping Nxivm," "Personal Best" and "Love Me" are three other shows from them I'd heartily recommend. ― Jillian Capewell
Female Rage In A Museum Of Sex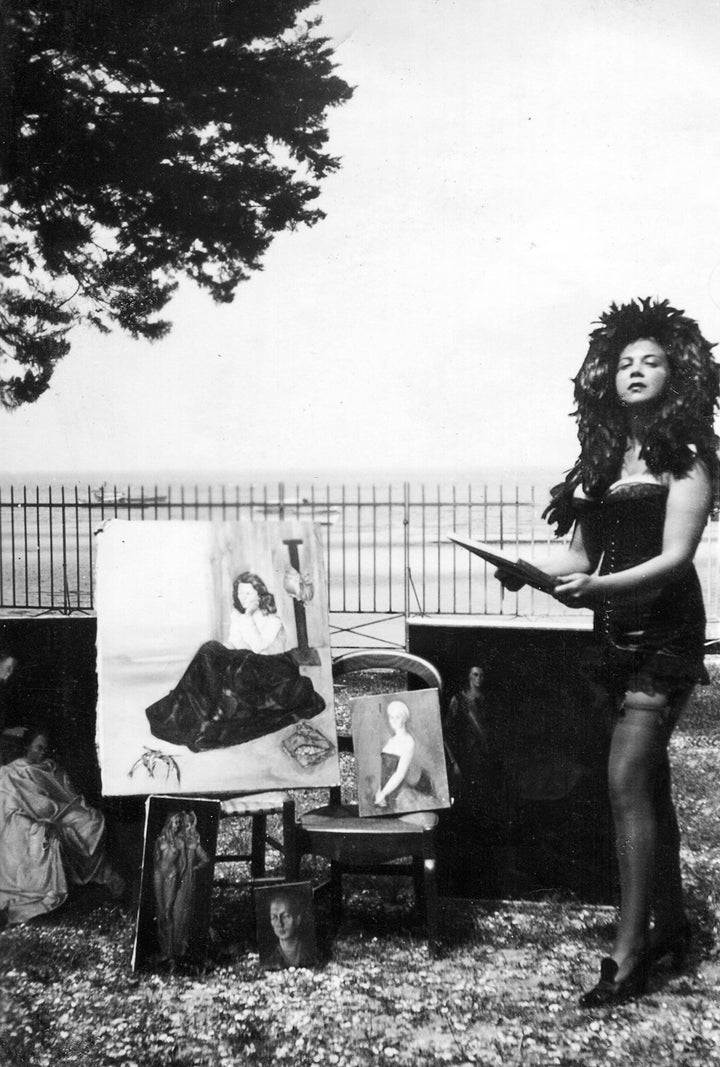 In surrealist artist Leonor Fini's 1959 painting "The Witches (Les Sorcières)," a coven of sorceresses levitate on black broomsticks whose edges are sharpened into deadly points. Their flesh is the texture of an all-encompassing scab, their hair is either entirely absent or blowing in the breeze as an unruly mane. These are powerful women whose pain has alchemized into fury.
After this week's horrifying Supreme Court hearing, the image of female rage feels like an accurate depiction of many people's state of mind. If you're feeling gutted by this week, I recommend visiting Finns' stunning exhibition now on view at Manhattan's Museum of Sex. Her spellbinding paintings explore power, desire, performance, gender, darkness and domination with insurgent courage and abundant imagination. The show will make you believe not only that the witches are coming but also that they've always been among us. ― Priscilla Frank
The Horniest Show On Netflix
"Oooh. This is one sexy... sexy bathtub," Caroline Quentin coos, staring dead straight at the camera fixed on her, capturing the intimate scene unfolding between human and appliance. She leaves just enough space between each "sexy" to fully communicate how earnestly orgasmic the tub is making her feel. "Look at this tub. Oooh!" she exclaims. Except she's whispering, all seductive-like. It's so sexy. Shhh! 
Caroline Quentin is the horniest woman I know. She is also the co-host of "The World's Most Extraordinary Homes," a BBC Two show about stunning architecture and definitely not anything overtly toothsome. Or so I thought. In Quentin's hands, the homes of the rich and extremely rich are absolutely pornographic. She pores over every interior decor element like each one is Jessica Rabbit. When she sees a living room installment she likes, her eyes shoot out of their sockets like she's a howling Tex Avery character. Don't get her started on floor-to-ceiling window treatments. Awooga! 
The world is terrible. Everything is disappointing. But damn, Caroline Quentin is thirsty, and I love her for it. "Extraordinary Homes" Season 2, Part 1, is on Netflix right now. You should probably watch it. ― Katherine Brooks
Calling all HuffPost superfans!
Sign up for membership to become a founding member and help shape HuffPost's next chapter