Welcome to Good Stuff, HuffPost's weekly recommendation series devoted to the least bad things on and off the internet.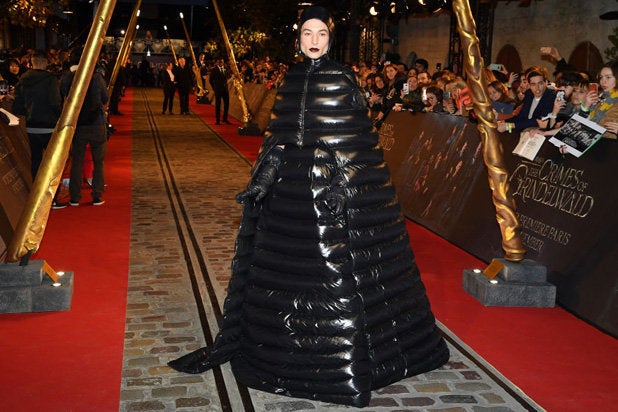 Rather than wearing some plain old dress robes, Ezra Miller chose to attend the "Fantastic Beasts: The Crimes of Grindelwald" world premiere in Paris as a walking tutorial for what all basic muggles should do with their old North Face jackets. For this dark, bouncy house-meets-haunted bubblewrap, dementor chic look, we salute you. Ten points to Miller for an outfit that I can only guess was made from outstanding moral fiber. ― Bill Bradley
The Julia Roberts M.C. Escher Crossover Event You've Been Waiting For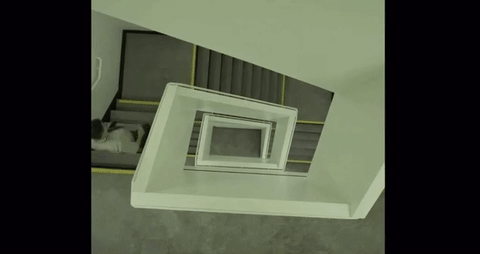 Of all the names they could have picked for their new TV show, the creators of "Homecoming" might have landed on the least enticing one possible. That's a shame, because this show is riveting. Starring an inspired Julia Roberts, the new Amazon series rests comfortably in that genre of sci-fi that is just realistic enough for you to believe it could happen today ― a multi-episodic version of the best kind of "Black Mirror" episode. My colleague Matt Jacobs will do a better job than I ever could of convincing you to watch it, but I just wanted to quickly add that the cinematography in this show will make you wonder why other people don't try as hard. The use of angles takes this show up one Hitchcockian notch, and its willingness to sit on a good shot when it sees one pushes it up one more "Twilight Zone"-like level. Take this M.C. Escher-esque spiral, which could have been done a million other boring ways. ― Maxwell Strachan
Brian Tyree Henry Making You Cry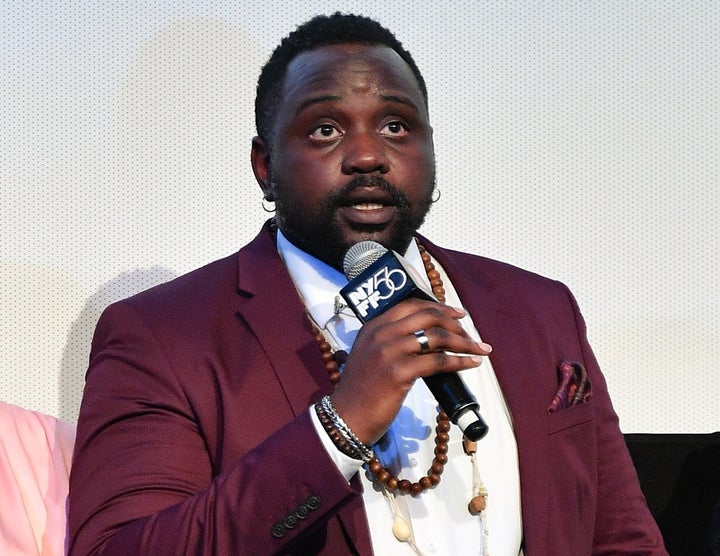 Brian Tyree Henry is the alpha and the omega. The recent profile of the actor in GQ magazine is easily one of the best things I have ever read. And for a bitch who reads a lot, that's a high bar to clear considering that I hate 98 percent of things my eyes happen to glance upon.
Henry is a vulnerable man. He's in tune with who he is, his pain over his mother's death, his timid happiness over not being broke anymore, his hesitation to fully embrace the blessings that come with fame and his complete immersion in his blackness. And his grounded sense of self spills over onto the page. That openness can be, in part, credited to writer Zach Baron, who is a god of feature writing and who often gets celebs to share glimpses of their souls.
Yet, what stood out to me the most were his poignant comments about his mother, who died two years ago in a car accident:
"What kills me is everyone's like, 'How do you feel about this Emmy nomination?'" Henry says to me. "My mother's dead. Every time I close my eyes, I see my hand on her casket. Every time I close my eyes, I hear my necklace bang on her casket. That's the last time I saw her. That's the only thing that gets me out of bed, and it's sometimes the thing that keeps me in it. So being busy helps, but y'all don't understand. If she's not here to see it, I don't really get a chance to rejoice in it. You know what I mean? I've buried a person every year for three years. I lost my best friend to cancer; then I lost my other best friend the next year to lupus. And I lost my mom to a fucking car accident. She wasn't even sick. She died in the most awful fucking way. So it's like… I haven't had a chance to even think about that. But I still have to survive. I like to believe that all these blessings are them. But it would be really nice to look to my left and see my mother sitting there when they call my name. You know? And I'm being real fucking real with you. It's hard to do this stuff. It's just like she died yesterday, man. I haven't even looked at a photograph of my mom since she died. I can't look at her. And yet people are still celebrating and lauding this thing that I did about my mom. When, at the end of the day, I can't really rejoice in what I did, because I'm still in pain."
It's a quote that breaks your heart, as cliche as that sounds. It reminds me of how I felt when my grandmother, the woman who raised me, passed. I was in a place where external things were going great for me, but inside I was a shambles. I lacked motivation, and I didn't see a greater purpose to my life. It's a dark place to inhabit. Yet Henry perfectly captures what it's like to currently be pushing through those feelings and survive them.
Equally powerful were his thoughts on what his mother's broken relationships taught him about loving another person and himself:
And what he decided was: Love was figuring out what you deserved and not waiting 68 years to go get it. Love was seeing your mother for the person she was and the person she could be. And love was, in the end, letting go of the idea that someone else would do for you what you would not do for yourself.

After his mother passed, Henry says, "I just started living in a place of, like, look, man: This world is full of millions of people. It's not about you finding them. Or y'all finding each other. It's about you finding yourself."
Henry is full of wisdom. His dialogue with Baron is a guide on how to love yourself and how to accept the people in your life for who they are. As I said, when it comes to celebs, Henry is the alpha and the omega. He is the beginning and the end of celebrities I care to hear from. I need nothing else. No other celeb profile will ever touch the hem of this one. Never.
We stan a fucking icon. ― Julia Craven
White People Failing To Form A New City Because Of The Cheesecake Factory (And Racism)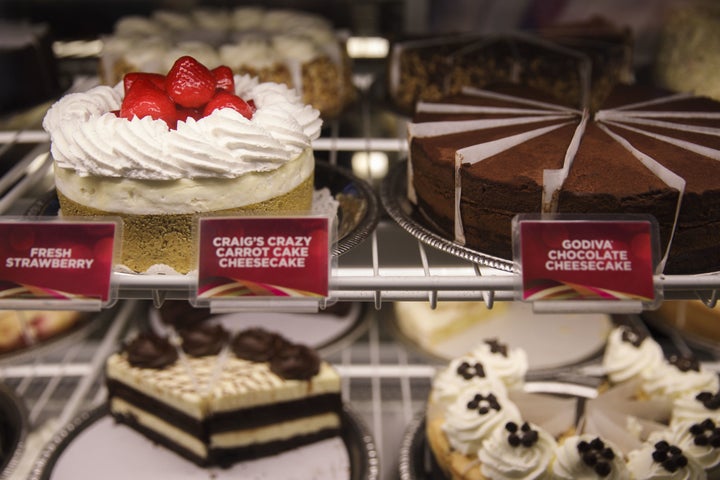 There was a whole lotta racism going on in the 2018 midterm elections, but this one might take the, er, cheesecake. In Stockbridge, Georgia, a small group of rich white folks were mad about the fact that the exurban Atlanta town had elected an all-black city council and a black mayor for the first time in its history, so they launched an effort to split away and form their own new city. That's not even the worst of it; these rich white folks were going to carve up Stockbridge in a way that would crush the tax base. They also planned to redraw the boundaries so the black population would become a minority in both the old town and the new one. And that's not the worst of it either, because when it came time to find an explanation for the changes that wasn't obviously racist, the lady in charge of the whole deal declared that she was mad over the fact that Stockbridge wasn't an appealing enough place to attract a new location of The Cheesecake Factory. The Cheesecake Factory! *THE CHEESECAKE FACTORY!*
"I kept seeing all of these places like Bojangle's, Waffle Houses, dollar stores, and all this going up in our county," the lady behind the effort told CityLab. "And I was like, why can't we get a Cheesecake Factory, or a P.F. Chang's or a Houston's? We have areas that have high incomes, so what's the deal?"
Do you realize how racist you have to be to use a basic chain restaurant that serves bland, overpriced cheesecake and something called a Glamburger to justify that racism? Do you realize how wrong about food you have to be to prefer The Cheesecake Factory to Bojangles?
The good news here is that this effort from rich racist folks with bland, tasteless palates failed miserably. It lost by more than 1,000 votes in an election that had fewer than 8,000 total ballots. So good for you, Stockbridge voters, for ruining this lady's day and for ensuring that if she wants her damn Cheesecake Factory, she'll have to wind her way through more than an hour of hellish Atlanta traffic to get it. ― Travis Waldron
This Thriller About Sisterhood And A Serial Killer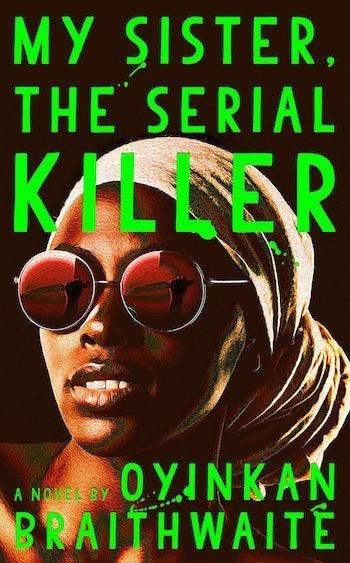 The title of this diminutive thriller from Nigerian author Oyinkan Braithwaite ― My Sister, the Serial Killer ― is such a blunt description of its subject that it sounds like it should contain the tear-soaked memoirs of a Wuornos sibling. No artful novelistic elision here! The book continues in this straightforward way, laying out its story in clear, precise terms.
But what a murky, unsettling story. Ayoola is a spoiled but gorgeous young woman who immediately turns the head of any man who encounters her. She also keeps ending up with dead boyfriends on her hands. As the novel opens, she's just killed a third boyfriend, and her responsible older sister, Korede, has been summoned to clean up the crime scene ― not for the first time. Korede, who narrates the book, accepts Ayoola's flimsy excuse of having been attacked, just as she did the first two times. Then her irresistible little sister sets her eyes on a new romantic target: Korede's longtime crush, a handsome doctor. As Korede wrestles with which of her beloveds to protect, a police investigation into the disappearance of Femi, the third dead boyfriend, hovers threateningly over her.
Korede's and Ayoola's motivations, at least their true ones, are more hinted at than explored, so diagnosing their troubled impulses, and the powerful bond holding them together, is part of the fun. Also, it's a taut, rapidly paced thriller that pleasurably subverts serial killer and sisterhood tropes for a guaranteed fun afternoon. ― Claire Fallon
This California Dreamy Music Video
Best dressed musician on planet Earth Kelsey Lu released a new video today, "Due West," and boy is it delicious! The ode to California feels like drinking a CBD chai tea, engaging in crystal meditation, dancing by the ocean and generally thriving on the Best Coast. The video is directed by Mindy Le Brock, who also serves as Lu's stylist, so the video is full of wildly enchanting looks involving bejeweled bra tops, sequined bell bottoms, ballgowns serving as bathing wear and pants that look like they've gone through a paper shredder, in a good way. ― Priscilla Frank
Mourning The End Of 'Parts Unknown'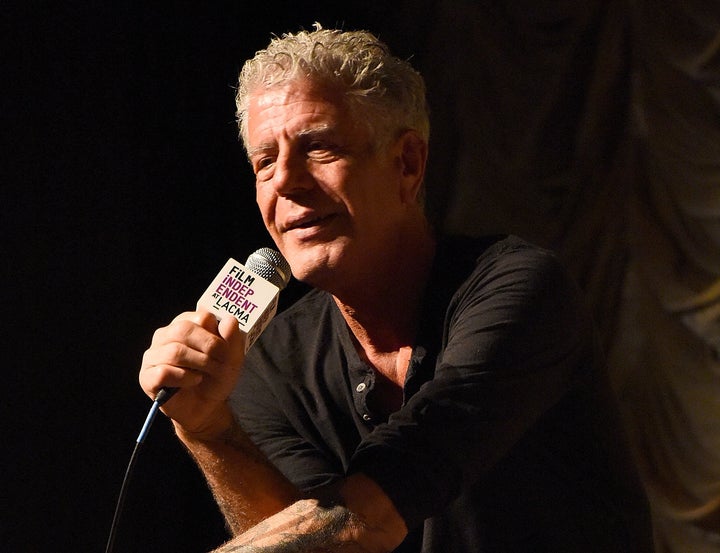 The final episode of "Parts Unknown" will air Sunday night, and fittingly it takes place on the gritty, pee-stained, food-filled streets of the Lower East Side. I am obsessed with Anthony Bourdain. His soul was a divine conduit. And I am therefore grateful that our friends at Grub Street have compiled a memorial list of the show's best moments.
Let us pray. ― Laura Bassett
The Breakup Anthem Of Our Generation
I know that Ariana Grande's "thank u, next" technically came out last week, but I simply don't care. It is unequivocally some good shit during a week (month? year?) of a lot of bad shit. Not only is the song catchy as hell, but it is a lovely ode to lady self-love and empowerment in the face of heartbreak and, perhaps, some moderately crappy dudes. And perhaps most important, it has given us a succinct response to use to every shitty news event, politician, policy and uninformed white bro in our lives: "thank u, next." ― Emma Gray
This Sci-fi Movie About A UFO Death Cult
In a quest to catch up on movies I've missed this year, I recently watched "The Endless," a horror/sci-fi hybrid that does big things with a small budget. Following a piddly theatrical release in April, you can find it on Netflix, where it will perfectly accompany the bowl you were planning to smoke later tonight. Justin Benson and Aaron Moorhead's film follows two brothers who return to the UFO death cult they fled a decade earlier. For a very trippy reason, not much has changed at the remote campground where no one ages and the moons — yes, plural — cast an eerie spell over the group. I don't want to say much more, but "The Endless" would make a great double feature with "Annihilation," another under-appreciated horror/sci-fi hybrid from 2018. At the story's core is a fable about brotherhood, devotion and life's monotony. But nestling that narrative inside inventive genre trappings elevates Benson and Moorhead's movie so it becomes a cosmic caper with an ending you'll rave about. ― Matt Jacobs