Welcome to Good Stuff, HuffPost's weekly recommendation series devoted to the least bad things on and off the internet. 
This isn't good so much as it is deeply rich and hilarious ― the idea of people finding out, after all these years, that Willie Effing Nelson might not be a dyed-in-the-wool Texas Republican like them. Willie, of course, is a hero of the pro-weed legalization movement and sits on the board of an animal welfare organization. He's friends with the Clintons and the Obamas, and he's recorded Iraq War protest songs and tunes about gay cowboys: In 2005, Willie made an appearance on the "Brokeback Mountain" soundtrack. The next year, he recorded a cover of Ned Sublette's "Cowboys Are Frequently, Secretly Fond of Each Other," which begins with these lyrics: 
Well, there's many a strange impulse out on the plains of West Texas.

There's many a young boy who feels things he can't comprehend.

And a small town don't like it when somebody falls between sexes.

No, a small town don't like it when a cowboy has feelings for men.
My guy hasn't exactly been subtle about his political beliefs, and the faux outrage (these people are all still going to listen to Willie Nelson, get real) immediately reminded me of something Sturgill Simpson said after he called our president "a fascist fucking pig" last year: "Anybody that's surprised to hear me say that, that's going to unfollow me or stop buying my records, probably wasn't listening that closely anyway." Time to spend the weekend putting a little something in the air for old Willie, I guess. ― Travis Waldron
This "F**k Yes" Photo Of NY State Senate Candidate Alessandra Biaggi
 I can't stop looking at this outrageously happy photo of Alessandra Biaggi, the 32-year-old lawyer who beat state Sen. Jeffrey D. Klein in New York's Democratic primary on Thursday. Biaggi, who will most likely head to the state Legislature after November's general election, not only becomes yet another millennial woman to run and win, but she also toppled the head of the Independent Democratic Conference, a group of Democrats who caucused with Republicans in the New York State Senate.
In the above photo, captured by the New York Times, Biaggi has a wide, open-mouthed grin (is she in the middle of screaming "yes"?) and crinkled eyes, her fist raised powerfully into the sky. For many on the left, there have been few moments of genuine celebration since November 2016, so when they happen, there is something just utterly delicious about watching them unfold. ― Emma Gray
Blake Lively's Delicious Thriller "A Simple Favor"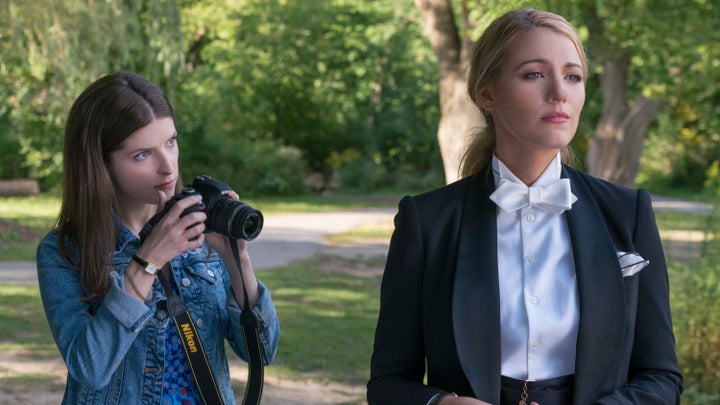 "A Simple Favor" is the perfect summer sendoff: a vampy, poppy "Gone Girl" that twists and turns at the hands of a devilish Blake Lively, a mommy-vlogging Anna Kendrick and a smoldering Henry Golding. What's not to enjoy? It's at once a buddy comedy, a murder mystery, a revenge saga and a noirish slice of camp — and it's more fun than two-thirds of the movies that opened wide in July and August.
Paul Feig — he of "Freaks and Geeks" and "Bridesmaids" fame — broadens his warehouse to deconstruct a well-appointed Connecticut suburb where schoolyard wealth turns everyone into a caricature. The performances in "A Simple Favor" are big, and so is the plot, just as it should be. Kendrick is Stephanie, a peppy stay-at-home mom who shares recipes ("my famous meatless meatballs!") and platitudes on a blog with a few hundred viewers. That number skyrockets when Stephanie gets wrapped up in the disappearance of a snooty fellow mom (Lively) who's become an unlikely friend. Suddenly she's documenting the investigation online, stoking intrigue as both a suspect and an armchair detective. The lure of the salacious is strong.
As the enigma deepens, the movie grows more heightened. It's cartoonish in treatment but not in practice: Kendrick gives her tepid Instagram hound a solitude that accentuates her understandable subservience to Lively's cool-mom-in-town sneers. But Stephanie's facade fades as the plot balloons, turning her and everyone else into both a culprit and a victim.
Caught in the crosshairs are Lively's semi-famous writer husband (Golding, abs and all), local vultures obsessed with the drama (including ones played by Andrew Rannells and Aparna Nancherla), and welcome appearances from the great Jean Smart and Linda Cardellini. The back half is a bit too drawn out, but it produces so many surprises along the way that it successfully ropes us into its scheme. Do yourself a simple favor and eat it all up. ― Matt Jacobs
That Time Cuomo Was Fatally Petty
New York Gov. Andrew Cuomo won the Democratic primary on Thursday, which we all mostly knew was going to happen, and for me, personally, I hate it. His win was not all bad, though, because it reminded me of this: 
In December of 2016, as part of his relentless and impossibly petty feud with New York Mayor Bill de Blasio, Cuomo took it upon himself to make sure a single lost deer was tortured to death because he wanted the mayor to lose. Here's to four more years of that classic Cuomo practical governance. ― Ashley Feinberg


Watching This Guy Fall On His Face Defending The Confederate Flag
I'm just gonna let y'all get into this exchange between some Confederate flag flying jerk and a producer for "Rest in Power: The Trayvon Martin Story," a docu-series detailing Martin's death at the hands of a white vigilante in Florida and the aftermath.
White Dude: The vast majority of people believe that it's a symbol of heritage. It's a symbol of our history that people think is associated with the South and that the South was fighting for slavery. That's a common misconception about what actually took place. When you study the history, that was one thing that the war was about. People don't go to war for one issue.
Producer: Name three other things that the war was about. 
Cognitive Dissonance: Uh, I mean, I'm not a historian. I mean, you're putting me on the spot for something I — you know.
Producer: So we got one thing that the war was about: slavery. What are two other things that the war was about?
Exposed Racist: Um, um, the Confederate — The, uh … In general, the war was about tyranny.
Producer: What is tyranny?
Racist Caught in Headlights: Tyranny is any time a government overreaches and they control a life too much.
Confederate Flag on the Back of My Truck: Leans back, stares at producer in silence.
I shouldn't be laughing, but I am because it's funny how people cannot intellectually defend their racist views because there is no grand and profound argument that justifies protecting the Confederate flag. You're just racist. And this racist flailed all up and down this 54-second exchange. It was great to watch. It made me feel even better about being black — something I already take a lot of pride in. ― Julia Craven
A Skateboarding Documentary With Layers
Folks, it's not close this time around: The best thing I watched this week was "Minding the Gap," a relatively new documentary now available on Hulu. The film tracks the lives of three teenage friends ― one Asian, one black, one white ― who share a love of skateboarding as they grow up in the economically ravaged city of Rockford, Illinois. One of them, Bing Liu, is the film's creator. And with "Minding the Gap," Liu pulls from his childhood hobby of making skate films to make one of the best movies ― let alone documentaries ― that I've seen in years. Like any good documentary, "Minding the Gap" isn't really about its outward-facing subject, skateboarding. What it's really about is class and race, domestic violence and broken homes, drugs and alcohol, love and friendship ― and how our experiences with those things as children never leave us, hard as we try to push them away. Watch this movie. You will not regret it. ― Maxwell Strachan
Finding Out That The Beatles Wrote "Savoy Truffle" Because They Were Worried About Eric Clapton's Teeth
The Beatles were In the News this week for, well, masturbational reasons. Good for them! I get a smile on my face knowing that these floppy-haired poets, instead of saying goodnight, really could jerk it out.
This news story was fine, but what I am actually recommending is this, from a thread by writer Nicole Cliffe about Beatles songs that are directed at an "Antagonist That No One Else Cares About":
What?? The Beatles wrote a song about Eric Clapton's teeth and NO ONE told me until now?
Look, this is also on me. I liked the Beatles. But "Savoy Truffle" was not a song that made an impression on me, and I never really listened to the lyrics.
On revisiting them, it's not exactly subtle: "You know that what you eat you are / But what is sweet now, turns so sour," goes one verse, after the Fab Four have blown through a list of candy flavors. The chorus is ominous: "You'll have to have them all pulled out / After the Savoy truffle."
George Harrison confirmed that he wrote the song for their dear buddy Clapton, who had been told by his dentist to give up candy because his teeth were more and less dissolving under the constant onslaught of sugar. "He always had a toothache, but he ate a lot of chocolates ― he couldn't resist them," Harrison recalled.
Having armed myself with this research, I listened to "Savoy Truffle" again, and the payoff was as sweet as a creme tangerine bonbon. I could not stop laughing. No one could get away with this now. Ten-year-old Aaron Carter would have been embarrassed to record a song about candy giving you cavities that was actually about candy giving you cavities. The audacity! The ego! I've never been happier. ― Claire Fallon
A Graphic Memoir For Oddballs And Artists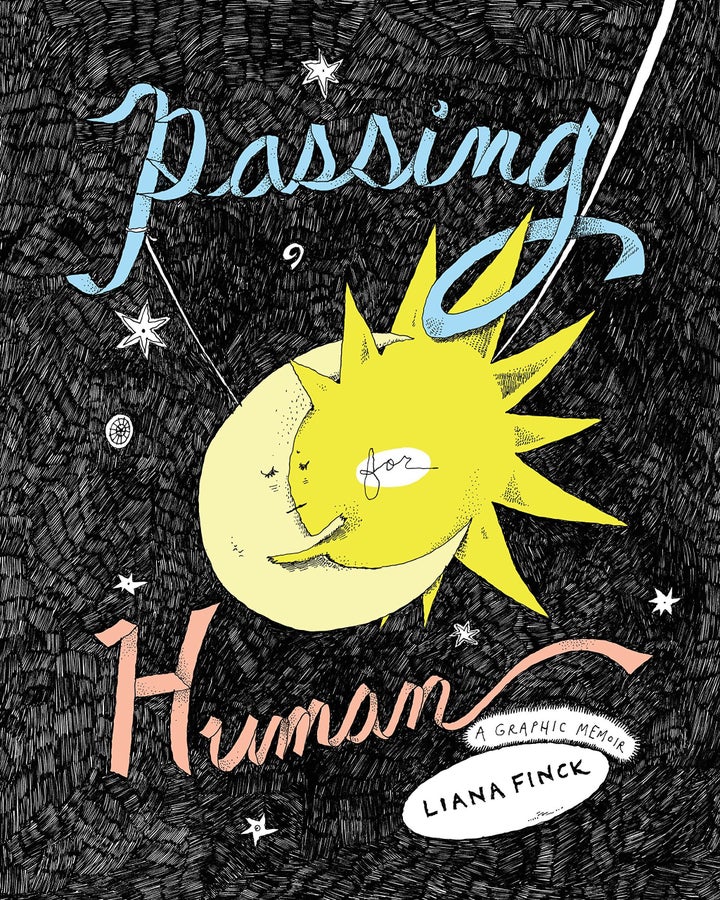 All the chapters in Liana Finck's graphic memoir Passing for Human are labeled Chapter 1; each is a false start, a new origin point for the creation myth detailing Finck's coming of age and the book itself. Finck — whose cartoons appear in The New Yorker and have a cult following on Instagram — is beloved for her jittery style of sketching, which makes her achingly anxious drawings appear to have butterflies themselves. Her visual explorations of loneliness, creative impotence and feeling like a total weirdo often seem ripped from the diary entry you wish you were eloquent enough to create. This gorgeously unorthodox narrative, grappling with the themes above, interweaves childhood memories with family folklore and meandering daydreams in Finck's quest to tell her story as an outsider and an artist. If you've ever felt like an odd bird more than a human being, give it a read. ― Priscilla Frank
This Country Music Artist's Scorching Award Show Speech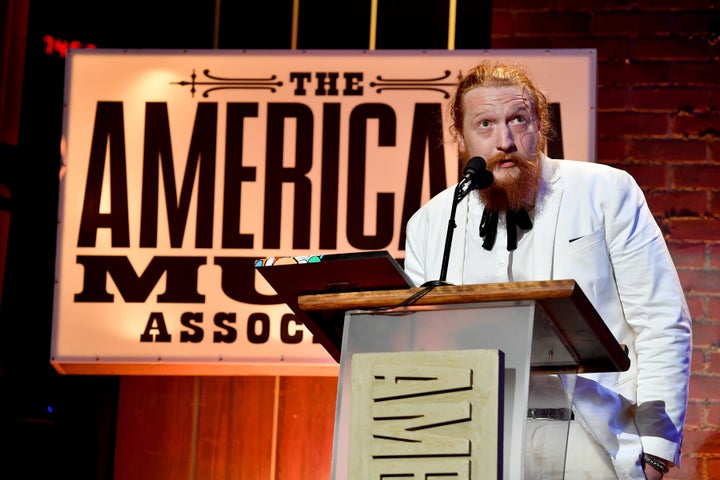 There was nothing better this week than country artist Tyler Childers calling out, well, everyone and everything. Childers won Emerging Artist of the Year at the 17th annual Americana Honors and Awards on Wednesday, and his speech was a short, searing take on the country music industry and the "Americana" label.
"I am not sure how this came about, but best I can tell, you left the back door open and now there is a stark raving hilljack in your living room, covered in goat blood and dying to rant about how 'Americana' hits them in the same places as the words 'Appalachia' and 'Childers,'" Childers said, emphasizing the mispronunciations of "Appalachia" (Apple-at-cha, not Appa-lay-sha) and his own name, which CBS News' Anthony Mason butchered while presenting Childers (Chill-derse, not Child-ers) with his award.
"It crawls up my spine. My name is Tyler Childers. I am an Appalachian artist from the foothills of eastern Kentucky, and I play country music. As a man that identifies as a country music singer, I feel Americana ain't no part of nothing, and this is a distraction from the issues that we are facing on a bigger level as country music singers. It kind of feels like Purgatory," Childers added, name-dropping his most recent album, which is worth a listen. ― Paige Lavender


A Craptacular New Season Of "American Vandal"
How do you follow up a show everyone says is the poo? Obviously, you make Season 2 all about poo. 
In the newly released "American Vandal" Season 2, documentarian Peter Maldonado (Tyler Alvarez) is back to discover who tampered with the lunch at St. Bernardine high school. Will he discover who made students have to go number two, or will his investigation leave him in deep doo-doo? Idk, but poop puns are the crap.  ― Bill Bradley
Calling all HuffPost superfans!
Sign up for membership to become a founding member and help shape HuffPost's next chapter