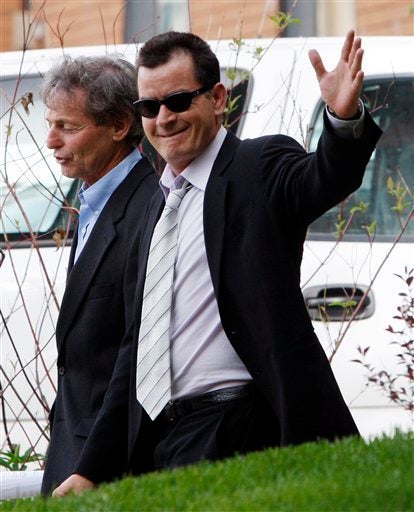 In repossessing his previously successful persona, Charlie Sheen is now tweaking it into a narrative only Hollywood's long-gone "Rogue" Archetype can play out. Whether search efforts for chards of the original Person have been abandoned only he knows; others only speculate.
Even before Monday's CBS announcement he was fired from their sitcom Two and a Half Men, Sheen drew in over a million global Twitter followers from his most recent round of unapologetic drinking, sexing, drugging and ranting. Doing it all publicly, conscious of the media reaction, puts him in league with three other Silver Screen Rogue legends whose eerily similar behavior heightened their popularity. It also taps a primal nerve going back at least to the cult of Dionysus, the Greek God of partying better known in Roman form as Bacchus.
For a century, ever since the savvy little Gladys Smith, given the persona of "Mary Pickford," was sold as "America's Sweetheart," Hollywood has bent a few actor attributes or deficiencies to craft their vaguely similar persona. If that persona busts the box-office, continuing to play to type can earn actors big fame and wealth, but not without other risks. "I'm sick of Cinderella parts, of wearing rags and tatters. I want to wear smart clothes and play the lover," Pickford soon enough unsuccessfully protested against her "Sweetheart" persona. "The little girl made me," she later explained as the reason she quit acting, "I wasn't waiting for the little girl to kill me." Those with personas drawn closely from their authentic selves had less trouble adapting it in different roles. Jimmy Stewart, for example, was nearly always a character who reflected his personal warmth and honesty.
In contrast was Charlie Chaplin who developed his own iconic persona, the "Little Tramp," with a childhood in a homeless shelter and orphanage that forced him to use wit to overcome adversity. The "Tramp" was the ultimate comic hero; confounding authority to escape sadness. To working-class Americans, especially millions of impoverished immigrants, Chaplin and the Tramp were one. The hope he offered them wasn't new. Aristophanes gave Ancient Greek audiences the character of "Strepsiades" in his 423 B.C. play "Clouds," who manages to confuse his money-lenders and slip from crushing debt, using the Archetype again in a character called "Makemedo" in his play "Bird" nine years later.
Similarly, Mae West consciously created her own undulating and moaning "Diamond Lil" persona in part to keep fresh the memory of her beloved Gay '90s mother and found it such a useful armor to slip into for real life that many felt they were one and the same. It was no coincidence that some observers called West, the first actress to subvert misogyny by being sexually assertive, a modern Aphrodite, the Goddess who wore a magic gold girdle and took many lovers.
To read the rest of this article and see classic silver screen photographs of some Hollywood legends mentioned, go tohttp://carlanthonyonline.com
REAL LIFE. REAL NEWS. REAL VOICES.
Help us tell more of the stories that matter from voices that too often remain unheard.