"I'm so glad that I got her to think of."
Ten deceptively simple, monosyllabic words open the song, "She Makes Me Laugh," the first new single by The Monkees in twenty years. It literally just walked into the internet release party by way of a Rolling Stone article. But I've already cornered it, told it I've been waiting forever for it to get here, showed it pictures of my kids, and monopolized its mingling time by asking it to start from the beginning over and over again. Someone better just go grab it a drink from the bar and tell it to get comfortable, because I have zero plans of hanging with anyone else for a while.
There's a lot to love, from the catchy riffs (Is that Peter Tork's banjo I hear? Be still my heart!), to Micky Dolenz's ageless vocals (as if it's possible NOT to love that), to the playful lyrics penned by Weezer front man, Rivers Cuomo (waving will henceforth be mandatory when in a canoe). But that phrase, "I'm so glad that I got her to think of"...I keep coming back to it. It's just a really nice way of saying you dig someone - to be so happy a certain person is there to take up space in your mind, even when he or she isn't physically around. We all have those people. I for one can always boost my mood by thinking about that time I aided and abetted my husband in stealing a giant wagon wheel from a front lawn, or when my daughter played church using a leopard print Snuggie and a Shel Silverstein book, or my son's Google search history.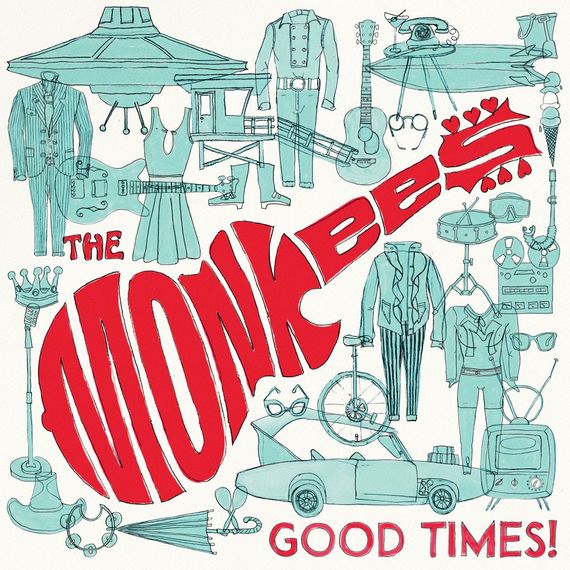 I also realized I can apply that phrase to The Monkees themselves: I'm so glad that I got THEM to think of. I've been looking forward to their upcoming album Good Times (out May 27th) something fierce, and hearing this new single gave me just the taste I needed to know I hadn't been wasting all my "looking forward to something" time. Because there's lot of cool things I could be anticipating: robot maids, not having to pack lunches every day when the kids get out of school (why do I hate that so much?), the 2020 election (I've given up on this one). But before "She Makes Me Laugh" was released, I will admit I was a little nervous. Why? Because I wanted it to be good. So good. Not just for the delicate sensibilities of my own ears. Not just to ensure that The Monkees cherry-top their 50th anniversary with something befitting their legacy. But because I am forever rooting for them as people. Yes, there's a reason I'm so glad that I got them to think of.
It is often said don't meet your heroes. I would like to amend that statement to say don't meet your heroes, unless they're The Monkees. I've received the golden ticket of fandom not once, but several times. I've seen Davy Jones graciously allow two punk girls to lick his elbows, then had the chance to tell him that story several years later and watch his charmingly disgusted reaction to the fact that he actually allowed it to happen. Peter Tork took me by the hand and expressed sincere gratitude after I somehow coherently told him what their music had meant to me over the years. Michael Nesmith displayed an interested curiosity in our conversation and even politely held off eating his Chipotle burrito until we had finished. And Micky Dolenz. More than once I have found myself in the same room as him, and every single time he was as kind, unassuming, and genial as you could hope anyone to be, celebrity or not. Um, and there was also this hug he gave me. It's safe to call it the "The Hug That Launched a Thousand Ships"...and by ships I mean "latent adolescent omigods omigods."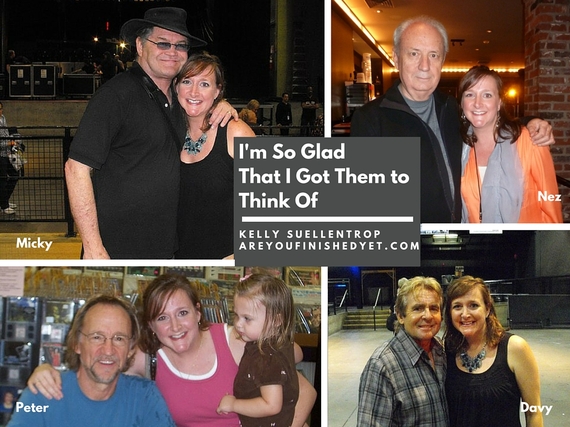 Make no mistake; I am still no more than simply a fan who has had the good fortune to meet her idols. But in those moments, there was something about each of them that made me believe they saw the person in the fan who stood before them.
And here's the thing: it's not just the four Monkees who are like this. Gosh darn it if they don't surround themselves with people who equally live up to the expectation. I've met friends and collaborators like Andrew Sandoval (guru of everything) and Henry Diltz (rock photographer/coolest guy on the planet); band members like Arnold Jacks (super cool and approachable), Dave Alexander (quite the gentleman), and Rich Dart (hilarious and always gracious); and family members like the beautiful Jones girls (sweet as can be), Christian Nesmith and his partner Circe Link (engaging and so interactive with fans), and Micky's wife Donna (probably one of the warmest, friendliest virtual strangers I've ever met). All of these people have to lend their famous loved ones to legions of fans who can often feel as though we are owed a little piece of the guys in return for our adoration. But if this shared custody is a pain in the ass for them, we'd never know it by their actions.
It's hard to express what it means to have these positive experiences with people you have invested so much with. And I don't just mean money. I'm talking about all the feel-good moments you allow these people be the source of: the music in the car on those perfect days when you roll down the windows, letting the wind and notes flow through and around you...the television episode you get cozy with on the couch instead of doing the dishes...the concert you breathe in every moment of...the teen magazines you pore over in your bedroom...the hours in front of the television with your thumb poised over the VCR record button, anticipating some pizza commercial they are in with Ringo Starr. A good life needs those rushes of excitement and joy in the midst of stretches on autopilot, and you can give power to anyone or anything to create those rushes. So when the people you've chosen to trust with your feel-good moments turn out to be a bunch of nice guys, it's a validation of sorts. Because if they were assholes, you'd probably feel like you wasted that investment. (I'm pretty sure my borderline carpal tunnel situation can be traced back to those aforementioned hours hoping to record a certain pizza commercial. But Nez waiting to eat his burrito until we were finished talking totally made it worth it. I'd feel like a real schmuck about it if he had been the kind of guy who was like, "Screw you. My carnitas with pinto beans and guac just got here. Damn it! Where's the chili-corn salsa?" Seriously? I got carpal tunnel syndrome for you, you ungrateful bastard!)
Luckily, The Monkees are people I want to root for.
Consequently, I feel extremely invested in this upcoming Good Times album, probably more so than in anything The Monkees have done in all my thirty years of being a fan. For the two other albums released during my lifetime (Pool It in 1987 and Justus in 1996), the guys were still just faces on a screen and voices in a song. But in these twenty years since Justus, I got a small glimpse of the men behind the screen, behind the voices. And from my perspective, these are men who deserve to succeed. And when they do (if "She Makes Me Laugh" is any indication), it will be made all the more sweeter as I remember the sacrificial elbows of an English gentleman, the squeeze of a sincere banjo player's hands, the untouched burrito of a kind Texan, and the hug of a crooner who's hard not to love.
Yeah, I'm so glad that I got them to think of.
Popular in the Community