2017 has been one of those Growing Pain Years for the world. Individually and collectively, we've experienced grief and loss. We've moved closer towards the precipice, it seems, of some shift that feels like it's about to take place. Perhaps we are shedding an old husk of a self and becoming more of who we are meant to become.
Many of us have found a desire and a need in recent years to ground into spiritual practice more intentionally. I think this makes perfect sense: as let go of our former selves, we search for some greater meaning in life. We search for understanding, and we long for the feeling of home.
If you've gone through a kind of spiritual death this last year (or perhaps the last few years), you are not alone. We are with you in this letting go of old ways of being and saying hello to what's possible on the other side.
To say goodbye to 2017 with intention is to honor the lessons that have come to you. To say goodbye with love is simply this: to say thank you for what has come to pass. Whether there was great pain, or immense joy, taking time on New Year's Eve to be in gratitude for the last year of your life is special. It's like looking up at the stars and marking the map of it. It's taking a moment in the desert moonlight to just breathe and feel moved by this great planet we are on at this moment.
Whatever characterized your last year, I guarantee that you became more of who you are meant to become.
On a collective scale, we learned about boundaries this year. We may have learned to protect ourselves a little more from the shockwaves that kept showing up in the media. We felt loss and lost. We had a hard time seeing where we were through the smoke. Our purpose may have felt so clear or so terribly obscured. There were storms, fires, and hurricanes. Millions of women, trans + cis, and people of color, and allies, showed up in opposition to this administration. The #metoo campaign brought visibility to the complex experiences of survivors.
Maybe you learned about love this year. Maybe you showed up for yourself or the world, powerfully. Maybe you slowed down. Maybe you witnessed childbirth, or tended to a little one. Maybe you courageously shared your story. Maybe you practiced vulnerability. Maybe you moved through a conflict that helped you grow. Maybe you chose to transition a relationship that meant a ton to you. Maybe you made the world just that much better (I'm certain, if you think about it, you did). Whatever this year was for you, now is the moment to honor it. (I honor you for everything your year was and everything it wasn't).
For me, 2017 was an inward time. It was a period of tending deeply to myself, of stewarding my inner transformation, as I waited (not always patiently) for deep change to occur in me. Being inside the chrysalis is necessary for all of us from time to time. We have seasons and cycles, just as the earth does. Sometimes, we are outward facing and action oriented. And sometimes we are inward facing and quiet.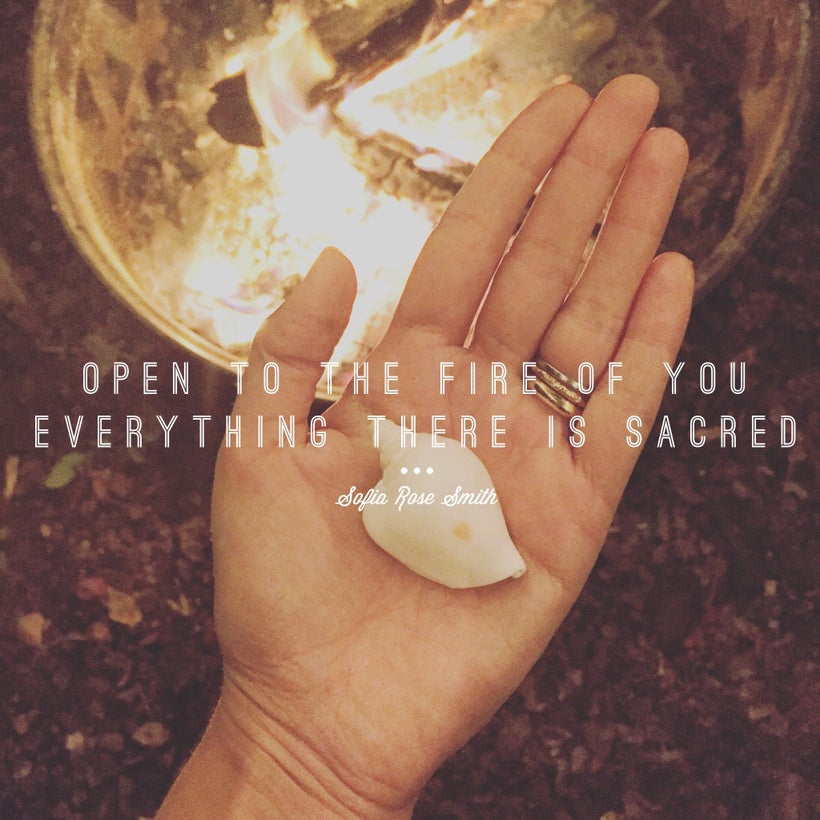 The New Year is a time to love exactly where you are as you cultivate hope for where you want to be.
Several years ago, I began ringing in the New Year with ceremony & ritual. To support us all in blessing this time, here are a 11 rituals you can use:
1. Slow way down. For me this has often looked like cooking a New Year's stew or chili to share with beloveds. There's something about chopping vegetables and sautéing onions that's meditative for me. What helps you slow down?
2. Call a few intimate friends (& friends of friends!) together to sit in a circle. Use a talking piece to pass around the circle if you'd like, and share about what 2017 was for each of you. Be spontaneous, listen deeply, and speak from the heart.
3. To create your space, light a few candles in the center of your circle. Bring together sacred objects. Make a small community altar with stones, wood, or flowers, beloved objects, something from nature. (If you have an outdoor fire pit, you can gather around that!).
4. Say your Thank You's. Do a round of Gratitudes in your circle. Thank Spirit & the Universe for all that you're grateful for in your life.
5. Pray for your loved ones and for yourself (sometimes, we really need to pray for ourselves more than anything).
6. Give away and let go all that no longer serves you. You can speak this out loud. You can write this on a piece of paper to burn in the fire or by candle. Get it all out. Feel the muck leave you.
7. Do a group meditation or guided visualization. Listen to a guided meditation to help bring you into your creativity and imagination. Visualization is a powerful practice at any time, but especially to call in the New Year! You can listen to this New Year's Meditation I recorded in 2015, which will be just as powerful for 2017.
8. Have a potluck feast with your loved ones. Have everyone bring something to eat after your ceremony.
9. Have an alcohol & substance-free evening (you'll thank yourself in the morning).
10. Have a sleepover at home, camping-style. Go camping! Wake up under the Sky.
11. Have coffee, tea and breakfast with your community on New Year's Day. Then, sit in another circle and share about your experience of New Year's Eve.
See how it feels to bring in 2018 with ceremony and ritual.
If you're flying solo, all of these can work as a journaling practice.
You can take #1, #4, #5, and #6 and use them as journaling prompts.
You can mindfully prepare a meal for yourself, light a candle, listen to music, do the guided visualization and be in quiet perfection of the moment.
Share your thoughts in the comments below.
Wishing you a glorious New Year's Eve and a 2018 full of light & love.
PS I don't own and neither did I invent these practices. I've learned them from teachers in my spiritual community who learned them from other teachers. I honor and thank them for sharing their wisdom with me. Elissa Zimmerman, Paul Perrotta and Jared Seide are all reflected in these rituals, as well as all who came before them.
About the author: Sofia Rose Smith is a queer femme healer, intuitive coach, guide and channel. She writes and facilitates workshops, powerful online programs, and circles that help folks find purpose, healing, joy and liberation. To connect with her, visit her website or follow her Instagram
Calling all HuffPost superfans!
Sign up for membership to become a founding member and help shape HuffPost's next chapter
This post was published on the now-closed HuffPost Contributor platform. Contributors control their own work and posted freely to our site. If you need to flag this entry as abusive,
send us an email
.