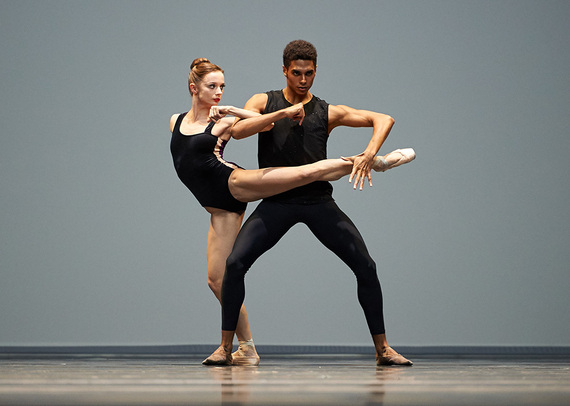 Three of San Francisco Ballet's most popular principal dancers are retiring after this season, and I'm going to miss all of them--Gennadi Nedvigin (with the company since 1997), Joan Boada (1999), and Pascal Molat (2002)--though both Nedvigin and Boada will dance in this season's last program, the late John Cranko's gorgeous story ballet Onegin. All three have that indefinable oomph, call it charisma or some special spark.... If you're familiar with them, you can tell right away when each is dancing, no matter the costume or the lighting. So to all three wonderful dancers: Thanks so much for the memories!
You might fear that losing three of eleven male principal dancers would weaken the company lineup--but only if you hadn't been to a performance lately. This is a company with tremendous depth, even in the corps de ballet. That was apparent most recently at a weekend matinee that featured several corps members and soloists dancing parts performed at other times by principal dancers.
Program 6 consisted of three well-chosen short dances: "Prism," choreographed by SF Ballet artistic director Helgi Tomasson to music by Beethoven, featuring pianist Roy Bogas with the SF Ballet Orchestra under Martin West; "Seven Sonatas," by Alexei Ratmansky to music by Scarlatti, featuring pianist Mungunchimeg Buriad: and "Rush," by another younger choreographer, Christopher Wheeldon, to music by the Czech composer Bohuslav Martinů.
The first dance in particular showcased several corps members. All of the young dancers were technically proficient and engaging. None looked amateurish or ill at ease or seemed to be concentrating on remembering or performing the steps. And yet, each was the embodiment of innocence over worldliness, if I can put it that way, lacking the sheen of life experience that principal dancers also bring to their work. In the second movement of "Prism," a romantic pas de deux danced by corps members WanTing Zhao and Henry Sidford, that innocence added to its pleasures; in manner, Sidford looked like a teen or very young man with his first love. Zhao appeared a bit more mature, as if she understood the impact she was having on the young man. It was charming, really, and quite different in mood than if this part of the ballet had been performed by older dancers.
And then, in the third movement, came something completely unexpected: Corps member Francisco Mungamba hit the stage by himself, and you immediately murmured, Whoa. With the support of the rest of the "Prism" cast, his confidence and charisma came across like a trumpet blast soaring above the orchestra--a powerful moment that left the audience cheering.
Helgi Tomasson has brought to SF Ballet terrific dancers from all over the world, from Cuba (Boada) to France (Molat) to Russia (Nedvigin) to Estonia, Armenia, China, Brazil, Australia.... So that's one reason not to worry about the future of this stellar company, not that you would. Another is dancers like Mungamba, for one, who, like Zhao and Sidford and many other corps de ballet members, received training at the SF Ballet School. While Onegin is the last ballet to be performed this season, the annual School Showcase takes place in late May. That should be a good place to see, perhaps, the next Boada, Molat, or Nedvigin.
Can't wait for next season.
April 30-May 8, Onegin, San Francisco Ballet, War Memorial Opera House, 301 Van Ness Ave., S.F.; May 25-27, Student Showcase, Yerba Buena Center for the Arts Theater, 701 Mission St., S.F., 415.865.2000, sfballet.org.
Photograph: Corps member Francisco Mungamba with principal dancer Maria Kochetkova in William Forsythe's thrilling Pas/Parts. Watch for this dance and these dancers next season.
© Erik Tomasson