Would you like to know what it feels like closing your very first month-long solo art show?
It's a bit like a death and a birth on the same day... or a friendlier analogy would be like giving a dinner party. You invite, shop, arrange, cook, clean the silver, place fresh flowers... aghhhhh.
Some arrive on time (some not at all) and your two days of joyous preparation start ticking towards their expiration date. Cocktails start at 7:30 p.m. and for two carefree hours you don't think about the dishes facing you, on schedule at 10 p.m.
If you are brave and want an art show, or if you give a dinner party, some things are predictable, and others are revelations. God's grace allows you to not have to face the entirety of your undertaking all at once, or fewer enterprises would be born. By taking life one day at a time (blessedly it's designed that way) you can find some joy, and some highs and lows in each enterprise.
From my vantage point as someone new to art, I would say the past one-year's journey has been extraordinary.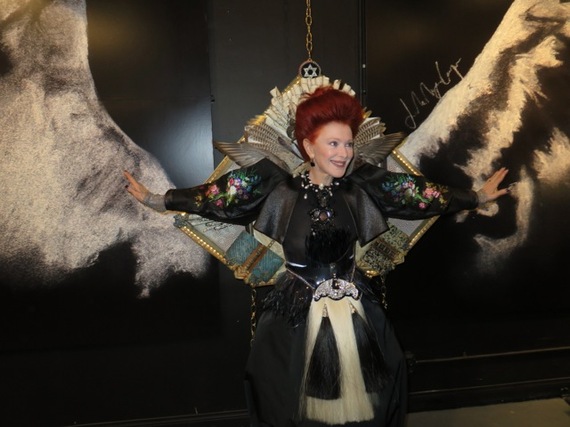 Most artists gain their skills by education, practice and a gradual understanding of their medium, and then take the next step: they try to have their art shown to the public.
I think that my self-propelled journey was an atypical runaway train ride.
From the day that art discovered me, to the opening of my first solo show, only one short year has passed. Producing a body of work (26 pieces so far) and finding the perfect gallery willing to show them sounds fictitious, yet that is exactly what happened. Voila! Gallery was like a cabinet of curiosities before I ever stepped in there on a sunny Tuesday afternoon. It remained true to itself during my exhibit, and it will remain that long after.
We did well together, and several of my "flights of fantasy" traveled to spectacular homes.
I now need to get off the train, wash the dishes and try to repeat this formula again. Can it be done? The future is shrouded in mystery, but stay tuned, and we shall both find out.
Your new, but assertive, gratified and friendly artist,

Valerie von Sobel
Popular in the Community