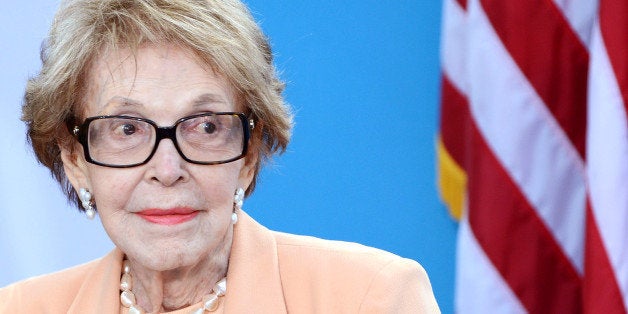 At 8:50 this Sunday morning I received a call to tell me I'd just lost a friend. Nancy Reagan had died. "You lost a 'friend?'" a second friend exclaimed mockingly in another phone call. I hung up as quickly as I could and cried, not just for Nancy who was terribly frail the last times I'd seen her, but as much for the place we'd reached in our culture when, for the most part, all civility and understanding seems to have been wrung out of our common humanity when we differ politically.
I certainly disagreed with President Reagan's politics, and he with mine, but those opinions were expressed in a series of personal letters and conversations, not in the playground antics that passes for political discourse today. But back to Mrs. Reagan. I liked her from the first time I danced with her forty some years ago -- before that, when at meeting me, she smiled. I thought her charming, gracious, forever warm and interested, fully able to resonate to a partisan but empathic source with which she was not necessarily familiar.
Too many words, perhaps, when all I mean to say is that I cared very much for the First Lady; one
of my proudest moments was when she asked me to present an award to her, given by the John Wayne Hospital; and I will miss the now and again times we met for lunch or afternoon tea. And then there was her smile.
REAL LIFE. REAL NEWS. REAL VOICES.
Help us tell more of the stories that matter from voices that too often remain unheard.