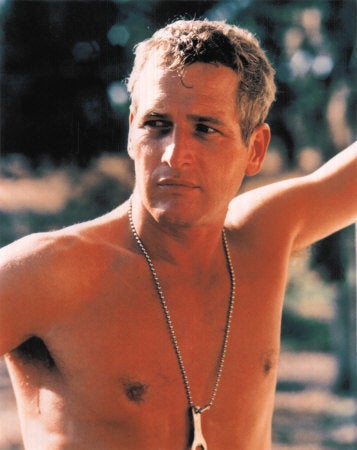 When I was very young, my father praised Paul Newman by saying to me, "No one wore a shirt like he did." I didn't quite understand what he meant until I saw The Hustler. A white shirt, his famous blue eyes turned a piercing light gray by the black-and-white cinematography, his lithe body infinitely suggestive just below the fabric. He was beautiful, he was powerful, and he was in control. Of course, the movie took the classic Hollywood route for him to get to what he wanted: he had to be down and out before he could be victorious. But Paul Newman won in the end, because in Hollywood the beautiful are always deserving.
Paul Newman was beautiful. He tried hard to play against type -- a bank robber in Butch Cassidy and the Sundance Kid, an aimless criminal in Cool Hand Luke, drunks in The Sting and The Verdict, a womanizing lout in Slap Shot, a crime lord in Road to Perdition -- but it never really worked. You could never root against him. It might have been easier for him to sink into villainy if he wore dull-colored contact lenses, to blunt the brilliance of his eyes, to hide the twinkle. He never did.
He was the last of Hollywood's square-jawed leading men, and possibly the greatest. He was a contemporary of Marlon Brando, whom he strongly disliked, and the contrast between the two was telling of the age. Both had studied at the Actors Studio and both came of age in the 1950's, broke out in the 1960's, and struggled to find their ground as elder statesmen in the youth movement of the New Hollywood of the 1970's. But while Brando bloated away his beauty, lost his genius in indulgence and self-loathing, withered away his final years working on a pirate novel and living in the South Pacific, Newman's playing against type was matched by strictly enforced modesty. He lived in Connecticut with his wife of 50 years, actress Joanne Woodward, donated hundreds of millions of dollars to charity through his Newman's Own food products, and made movies when it suited him.
His onscreen partnership with Robert Redford, in the Western Butch Cassidy and the Sundance Kid and the Prohibition heist comedy The Sting, made for two of his best movies and two of the best movies of the entire New Hollywood period. Symbolically, it was a changing of the guard, as a movie star of the past decade shared screen time and gave way to a movie star of the next decade. On screen, it was a case study in actorly restraint, as Newman allowed Redford to take a lot of the good lines, a lot of the credit, and a lot of the stage, ceding the spotlight as he understood that he didn't need to be front and center for the audience to watch him.
Of course, I was immensely proud to watch him in Exodus in my Sunday school, even though he played a character named Ari Ben-Canaan, a fictional fighter for the birth of the State of Israel. (He said the word "Shalom" in an accent that sounded about as convincingly Israeli as Charlton Heston playing a Mexican in Touch of Evil, but I forgave him -- small price to pay to have Paul Newman fighting for your cause.) The son of a Jewish father and a non-Jewish mother, he identified as Jewish "because it is more challenging." For me, growing up with a Jewish mother and a non-Jewish father, I loved having him on my side.
He had a lifelong interest in auto racing, and lent his voice to the Pixar movie Cars, the one touch of grace in an otherwise middling movie. "He even turned down promising parts if their shooting schedule interfered with his auto racing," writes Adam Bernstein of the Washington Post, which perfectly fit in with his anti-Hollywood lifestyle.
He died at age 83 of cancer -- after a long, full life -- as a great actor and a better man. He left the world a better place than he found it, never letting himself sink into complacency and always leavening his fame with self-deprecating humor. He was everything we could ever wish in a movie star. There'll never be another like him, and never was another better. We'll miss you, Paul.