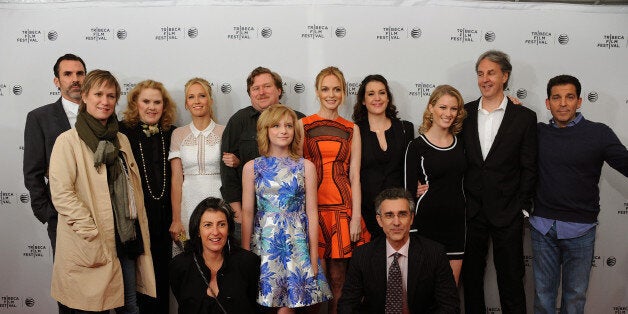 When "Junebug" writer Angus MacLachlan showed the script for what would become "Goodbye to All That" to his long-time agent, her response wasn't exactly what he had hoped.
"She said no one is going to make this film. That maybe if I lived in the '70s people would make it. So, I'm no longer with her," MacLachlan said in an interview with HuffPost Entertainment. "I like her very much as a person, and she's a very good agent, but the fit wasn't quite right."
As it turns out, MacLachlan's agent wasn't right either: "Goodbye to All That," MacLachlan's directorial debut, premiered at the Tribeca Film Festival this year as a fully formed movie with a cast of recognizable names that includes Anna Camp, Heather Graham, Melanie Lynskey, Amy Sedaris, Celia Weston and, in the lead role, Paul Schneider. The actor plays Otto Wall in "Goodbye to All That," an average guy whose wife asks for a divorce after nearly a decade of marriage. Free from the bounds of betrothment, Otto begins his romantic life again, balancing a parade of dates with his duties as father to a young girl.
MacLachlan had written two scripts prior to "Goodbye to All That": the aforementioned "Junebug," directed by Phil Morrison, which scored Amy Adams her first Oscar nomination, and "Stone," a drama starring Edward Norton and Robert De Niro that was based on MacLachlan's own play.
"A lot of my projects have taken forever. 'Junebug' took 14 years from the time when Phil and I said we would make it until it came out," MacLachlan said. "'Stone,' too, I wrote 12 years before. This movie was based on a lot of incidents that happened to a lot of friends of mine, but Otto is not based on anyone I know. He sort of emerged as I was writing it. You write something and then you hope it will be made. I don't even have the idea that this was for a specific person."
That was a good thing, since finding the perfect actor to play Otto proved quite difficult for MacLachlan and his casting director, Mark Bennett, who also worked on "Junebug."
"We had a number of men that we considered," MacLachlan, who went to the same school in North Carolina as Schneider, explained about his quest for Otto. "The character needed to be somebody who was good enough looking that you could believe these women would want to go to bed with him, but if he's too good looking, you don't really like him. He had to be an average guy who was good looking. He also needed to be able to be an athlete -- a runner -- but also bumbling and hapless; not an idiot, but kind of clueless; be able to be kind of funny and kind of serious. Also, a parent who you could believe had a daughter. I wanted an actor who you felt liked women as well as wanted to sleep with them."
Schneider, who is best known for his work with David Gordon Green and on the first two seasons of "Parks and Recreation," emerged for a number of reasons, according to MacLachlan, not the least of which was the intelligence he's able to project in even the smallest scene.
"The great thing about Paul that I've always liked about his work is that he's a thinking actor. He's always got something going on even if he's in the background," MacLachlan said. "I love that quality."
"Goodbye to All That" doesn't have distribution yet, but that's the goal. MacLachlan hopes his charming, laid-back comedy will then do well enough to get him another shot behind the camera.
"This film was an anomaly that it got made," he admitted. "As my agent said, it's a human story. I have another one that's human that way. It's called 'Saltwater' that's about this ne'er-do-well con man, who gets roped into taking this 9-year-old Colombian boy from Washington DC through Williamsburg, Va. to Myrtle Beach, Fla. to search for the boy's father. It's inspired, kind of, by 'Paper Moon' or 'The Bicycle Thief.' I was very inspired by 1970s movies and Renoir -- his humanity. Modern-day filmmakers who I really love, and who I can see are kind of akin, are Kenneth Longeran or Tom McCarthy. Those movies that are about human interactions that are serious and funny."
Calling all HuffPost superfans!
Sign up for membership to become a founding member and help shape HuffPost's next chapter
BEFORE YOU GO
PHOTO GALLERY
Tribeca Film Festival 2014