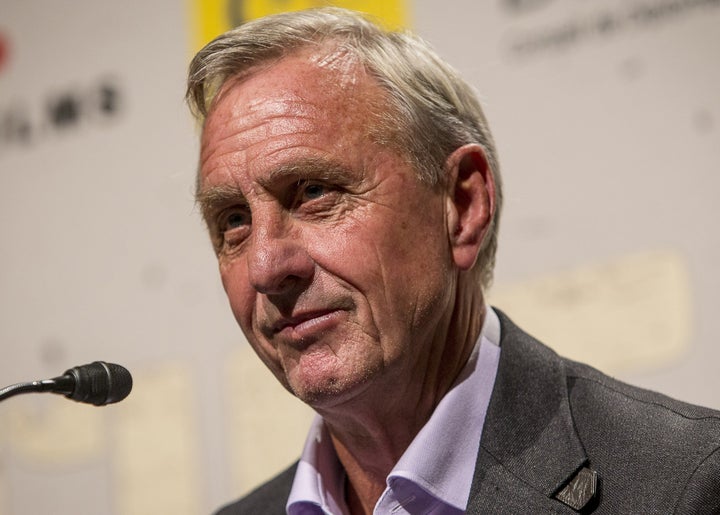 Barcelona FC claims more than 91,000,000 fans on Facebook -- the highest number from any professional sports team, and the fifth most liked page overall. Fans of the beautiful game flock to consume and revel in the year-to-year brilliance of Barcelona's soccer, a club adorned with a dizzying amount of trophies, legends past and present, and above all, Lionel Messi.
But to understand how Barcelona became the most beloved, powerful and successful soccer club on the planet, one only has to trace its successes back to the influence of one man: Dutch soccer player Johan Cruyff, who died on Thursday from cancer at 68 years old. 
Since the turn of the 20th century, the globalization of soccer knowledge, furthered by advances in communication technology and ease of travel, has exponentially spread with each passing decade. It's how a German soccer great ends up as the U.S. men's national team coach. And more incisively, it's how Cruyff, a Dutchman from Amsterdam, laid the groundwork for Barcelona-as-we-know-it, and more broadly, how modern soccer is played, from Spain to California to Japan. 
As a star attacker for Ajax Amsterdam during the '60s and '70s, Cruyff acted as the on-field brain of coach Rinus Michels' very, very basic concept: for the team to work well together. Born out of this simple philosophy, totaalvoetbal or "Total Football" burst onto the international soccer scene.
This devastating trick, known as the "Cruyff Turn" is often the one of the first moves young soccer players attempt to master.
Specifically, the revolutionary strategy required each outfield player to be versatile enough to shift into any position on the field -- to become amorphous as the flow of the match dictated. If Cruyff, an attacker, found himself in a position to defend, out of necessity, he'd take up that position, and instinctively, a teammate would move into his vacated position. Using total football, Ajax won three consecutive European Cups (1971, 1972, 1973), and the Cruyff-lead Dutch national team, by then dubbed "Clockwork Orange," made the World Cup Finals in 1974 and 1978, only to be upset in both tournaments. But the metaphysical soccer revolution was already underway. 
Backed by tangible successes and crowd-pleasing displays, the style was a massive departure from the popular strategy of the '60s, Italy's catenaccio calcio, which rigidly had each player man-mark their opponent in defense-first, grind-it-out matches. Cruyff, forever a proponent of entertaining, attacking soccer, was emphatic in his opposition to these tactics, even once saying, "I much prefer to win 5-4 than 1-0."
Cruyff's Ajax teams disrupted the zeitgeist and pushed soccer into a free-flowing, aesthetically brilliant passing-intensive display of teamwork, sacrifice and technique. Looks familiar, eh?
Barcelona's attackers combine in a mesmerising sequence for a goal against Real Betis in December 2015.
In the summer of 1973, Barcelona bought Cruyff from Ajax for $2 million -- a world record transfer fee at the time. At Barcelona, he named his son a Catalan name, Jordi, while on his way to leading Barcelona to its first La Liga title since 1960 and winning the 1974 European Football of the Year award. According to soccer historian Jimmy Burns, "with Cruyff, the team felt they couldn't lose." 
His impact, however, was fully felt when he returned to manage Barcelona in 1988. There, he laid the groundwork for the next stage of total football: "tiki-taka," a pass-and-move strategy so patient and hypnotic, but also so difficult to execute, that it required homegrown talent to run it. 
 This famous Cruyff goal against Atletico Madrid has been dubbed the "phantom goal" or the "impossible goal." How'd he score that? Who knows. 
As a Barcelona player in 1979, he had the club renovate an old farmhouse into Barcelona's now-famed La Masia academy, which begins developing players as young as six-years-old. Upon his return as manager nearly a decade later, he overhauled La Masia, allowing shorter players -- those thought to be too weak for the demands of professional soccer -- to stick around, so long as they possessed prodigious technique and expert knowledge of Cruyff's teachings. Without that change in policy, players like Xavi, Andres Iniesta and Lionel Messi would've never become who they are today. In any other academy, they would've been cut.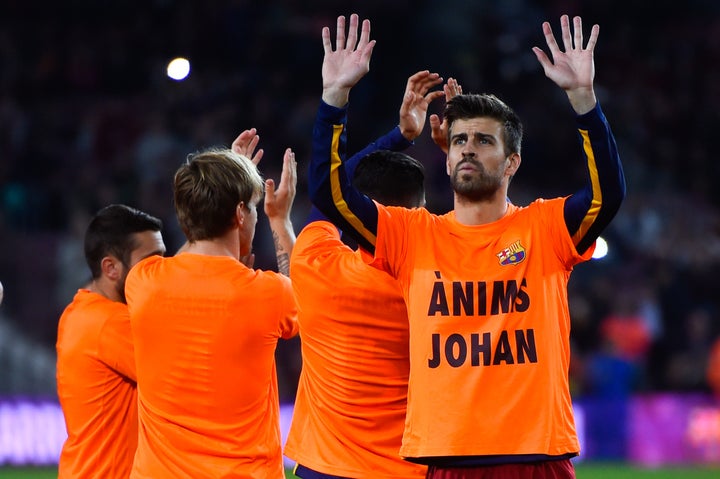 Under Cruyff's guidance, Barcelona won four straight La Liga titles from 1990-1994 and one European Cup in 1992. After leaving the post in 1996, every Barcelona manager since -- including Bobby Robson, Louis van Gaal, Frank Rijkaard, and most famously, Pep Guardiola -- has carried Cruyff's torch. One can even point to Arsenal's Arsene Wenger as another disciple of Cruyff's approach. These extremely successful managers are all Cruyff's progeny.
The Spanish national team, full of Barcelona players, execute Cruyff's vision match after match, and 40 years since the inception of total football, it's stood the test of time; Spain won back-to-back European Championships in 2008 and 2012 and the 2010 World Cup, marking an unprecedented four-year run of dominance in international soccer.    
Without Cruyff, soccer would probably have still advanced -- the early 20th-century work of English coach Jimmy Hogan began what Cruyff eventually seized total understanding off -- but not in such an ingenious, wonderful way.
Johan Cruyff fast-forwarded soccer into the future, and it's been operating at light-speed ever since. 
CORRECTION: A previous version of this article misidentified Johan Cruyff's nickname as "Jordi." Jordi is the name of his son. The same article also incorrectly named Spain as the 2014 World Cup winner, not Germany. 
REAL LIFE. REAL NEWS. REAL VOICES.
Help us tell more of the stories that matter from voices that too often remain unheard.
BEFORE YOU GO
PHOTO GALLERY
The Most Badass Photos From The Women's World Cup Final