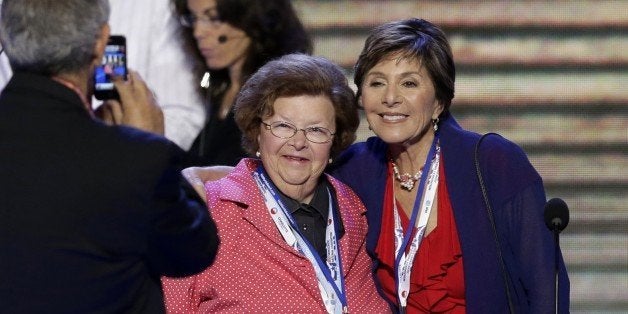 Today is the last day of women's history month. This year, two fantastic women senators will mark the ends of their historic Senate careers. Senators Barbara Boxer and Barbara Mikulski have served a collective 70 years in Congress. In those decades, they've established themselves as strong environmental champions.
Senator Mikulski has represented Maryland in Congress since she was first elected to the House in 1976. She is now the longest-serving female member of Congress in history.
Mikulski has demonstrated a consistent commitment to environmental protection and clean energy throughout her decades in Congress. She has earned a lifetime score of 84 percent from the League of Conservation Voters. She's consistently voted to act on climate change, to support clean energy and to improve and uphold bedrock environmental laws like the Clean Air Act.
Mikulski's environmental passion has been saving the Chesapeake Bay. According to her own website, "Mikulski fights to improve the Bay's health and looks out for the people who depend on it for their livelihoods." A report from E&E News described Mikulski as someone who saw "the estuary as not just an ecological gem, but a driver of the region's blue-collar economy, providing jobs for watermen and shellfish for restaurants, and drawing tourists to the state." Mikulski has consistently worked to improve the bay's water quality, habitats and fisheries. In a statement on her retirement, Will Baker, president of the Chesapeake Bay Foundation, said, "It is hard to imagine how the Chesapeake Bay will survive without Sen. Mikulski. Just as her beloved oyster is a keystone species in the Bay's ecology, Sen. Mikulski has been a political cornerstone of support for saving the Bay."
First elected to the House of Representatives in 1982 using the slogan "Barbara Boxer Gives a Damn," the junior senator from California has lived up to her promise. Boxer has given a damn time and again when it comes to environmental protection. Boxer has not only earned a lifetime score of 90 percent from the League of Conservation Voters, but she has been a leader on many of the most important issues in recent decades.
As the chairperson and now the ranking member of the Senate Environment and Public Works Committee, Boxer has led the charge to fight off attacks on lifesaving Clean Air Act protections. In 2010, Boxer helped defeat a resolution that would have overturned the EPA's scientific finding that greenhouse gases endanger public health and welfare. In 2011, Boxer led the opposition to a resolution that would have overturned the EPA's regulation to control air pollution that crosses state lines. In 2012, Boxer again helped lead the opposition in stopping a resolution that sought to block the EPA's first-ever standards to control mercury and other hazardous air pollution from power plants.
In addition, Boxer has been a champion for safe drinking water, leading efforts to reduce arsenic and lead in drinking water and to improve community right-to-know protections regarding drinking water contaminants. She has also worked tirelessly to preserve California's precious public lands. Boxer has protected more than 1 million acres of federal public land in California as wilderness, including along Northern California's Coast in Big Sur and the Los Padres Forest. Boxer also championed legislation that converted Pinnacles National Monument and San Francisco's Presidio into national parks, and legislation that expanded Sequoia National Park.
I know we'll miss these two green champions when they leave the Senate at the end of the year. However, the Senate women have come a long way, thanks in large part to the leadership and example of Mikulski and Boxer. We now have a tremendous bench of women senators who will carry the torch -- like recent Running Clean leaders Jeanne Shaheen and Mazie Hirono.
We'll be looking forward to the new generation for leadership in climate action and creating a clean energy future, but we'll be sure to look back at Mikulski and Boxer for inspiration.
REAL LIFE. REAL NEWS. REAL VOICES.
Help us tell more of the stories that matter from voices that too often remain unheard.