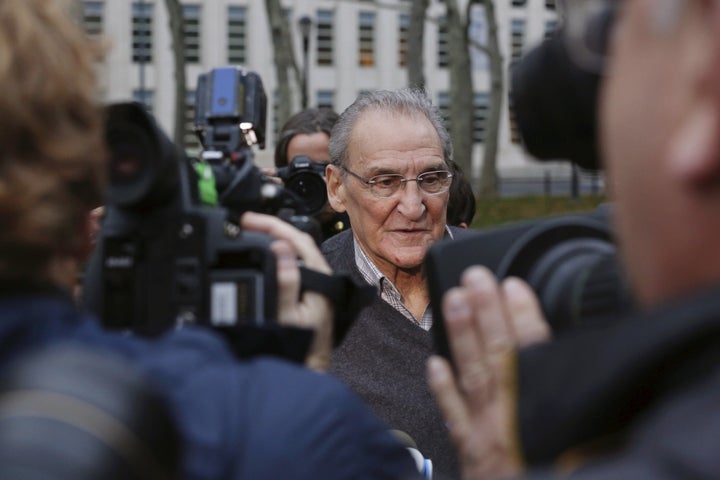 NEW YORK -- If not for a burnt-out and broke low-level gangster, it's quite possible that the biggest cash robbery in American history would have remained an open case. 
The crime in question is the infamous 1978 Lufthansa heist, in which a team of mobsters and their cronies snatched $6 million in cash and jewels from JFK airport in Queens, New York, an event later immortalized in Martin Scorsese's "Goodfellas." The man accused of co-masterminding the armed robbery is Vincent Asaro, a mid-level Mafioso whose gambling problem ate up his share of the heist, according to prosecutors. 
Asaro, now 80, sat in federal court in Brooklyn last week for the start of his trial for racketeering, robbery, extortion and other crimes. The indictment includes the alleged 1969 murder of Paul Katz. Asaro has pleaded not guilty. 
"Vincent Asaro is not a name that anyone would really know," said Robert Sberna, who writes about organized crime, including the Lufthansa robbery. "But he's an old-school Mafia guy who's going to go down fighting." 
If convicted, he could be sentenced to life in prison. 
The government's star witness is Asaro's cousin, Gaspare Valenti, who ratted out Asaro because he was broke due to his own gambling losses. Valenti went to the FBI in 2008 and began wearing a wire that would eventually allow him to capture Asaro griping about his share of the cut from the Lufthansa job.
"We never got our right money, what we were supposed to get. We got fucked all round," Asaro said on tape, according to The Guardian. Asaro reportedly netted $500,000 from the robbery but squandered most of it at the track.
Despite the scope of the robbery, experts said that solving the crime wasn't a priority until Valenti made it easy for the feds. 
There were squabbles among the mobsters about splitting the jackpot, even though it was millions more than they expected to reap. Many of the people involved in the Lufthansa robbery have since been killed, but jurors cannot hear about them, because Asaro isn't accused of taking part in their deaths. 
Asaro is a holdover from another era, according to experts like Capeci and Sberna. The Mafia motto "death before dishonor" is reportedly tattooed on his arm. His father and grandfather were wiseguys too, and his son, Jerome, got indicted in 2014 at the same time he did.
Though still operational, the Bonanno family is a shell of its former self, according to Sberna. The organization no longer has the same kind of muscle from labor unions, bookmaking and drug dealing that it once did.
The interest in this trial is therefore more as a history lesson than as a direct attack on the mob's influence. 
"The only impact this is going to have is on Vinny Asaro," said Jerry Capeci, a veteran reporter and former Huffington Post blogger who run the website Gangland News. "It's not going to make the Bonanno family any weaker than it is now." 
The Scorsese flick doesn't portray Asaro, but it does prominently feature his partner in organizing the Lufthansa robbery. That would be Jimmy "The Gent" Burke, played in the film by none other than Robert De Niro. Valenti testified about the directions he allegedly received from Asaro, who didn't take part in the actual robbery. 
"This sheds light on a legendary, iconic story," said Capeci. The case "was on no one's radar" before Valenti approached the FBI with information, he said. 
Burke and many of the other people who had a role in the heist have been dead for years. But a number of ex-mobsters, including Joseph Massina, a former Bonanno family boss turned government informant, are expected to testify in Asaro's case.
The defense for Asaro has tried undermining the credibility of the government's witnesses. They hope jurors will not trust witnesses like Valenti, who they argue is seeking leniency from the government in exchange for his cooperation against Asaro. 
The trial will also include testimony about the alleged murder of Paul Katz, a Mafia associate who disappeared in 1969. Prosecutors allege that Asaro and Burke strangled Katz with a dog chain because they feared he was cooperating with law enforcement.
REAL LIFE. REAL NEWS. REAL VOICES.
Help us tell more of the stories that matter from voices that too often remain unheard.