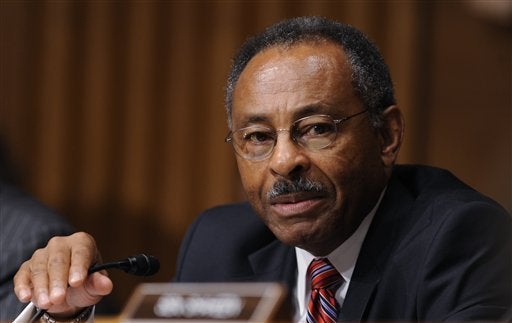 For a short time last January, it appeared that the Illinois legislature, the state's new governor, Pat Quinn, and the Democrats in the U.S. Senate might actually do the right thing and deny our local laughingstock, Roland Burris, the Senate seat formerly held by President Barack Obama. No such luck. By February Burris was in his seat with plans to stay, and I offered the new president some advice on how to dislodge Burris while placating him and his supporters.
At the time, President Obama seemed to be misstepping on finding a secretary of commerce -- his first two choices, New Mexico Governor Bill Richardson and New Hampshire Senator Judd Gregg, withdrew before they could be confirmed.
I joked, sort of, in a post in late February, that the new president should offer that cabinet post to Burris
But no, Obama ignored me, Burris managed to hang on, and now it looks like the lame-duck senator -- he recognized that there was no way he could win in 2010 so he announced he'd retire -- may have the last laugh.
He has announced that he will not vote for the president's health care bill unless there is a public option. He's been the invisible senator -- except when news of the continuing Ethics Committee investigation crops up -- until now. He's a key part of a story in Wednesday's Wall Street Journal, identifying the six senators who must be kept in the fold if the president is to get his health care plan. (In the print edition, his photo helps illustrates the story.)
So, here's another stab at a solution. Behind closed doors, Burris must be offered something in exchange for voting for the bill, which will almost certainly not contain a public option. Here's some possibilities:
--A cabinet position -- there must be someone who could be launched for the good of national health care.
--Help in paying his huge legal bills resulting from his fight for that Senate seat
--Help in neutralizing the Ethics Committee, which is still deliberating Burris' case in the wake of the release of tapes of a conversation between Burris and former Gov. Rod Blagojevich's brother Rob, in which Burris seems to be offering to write a check to the now indicted/impeached Blago in exchange for the seat. See my previous post.

--An ambassadorship. Obama, to the disappointment of career Foreign Service officers, has been no better than his predecessors in resisting the tradition of appointing fundraisers and friends instead of professionals. Burris was not a bundler for Obama, so he doesn't qualify on that count, but the health care bill is awfully important.
--The Nobel Peace Prize. Someone needs to get in touch with the Norwegians who selected President Obama last week and see if, to keep the peace in Washington, they might whisper in Burris's ear that they'll see what they can do about getting the junior senator nominated in Feb. 2010. Whether he wins or not, he can still have "Nominated for the 2010 Nobel Peace Prize" carved on his much-ridiculed tombstone that carries the title "Trailblazer" and leaves space for other accolades.
--President of the County Board -- maybe the Daleys can help.
--So many cool potential openings and opportunities.
I'm out of ideas -- so please respond if you have any others.
Related
Popular in the Community