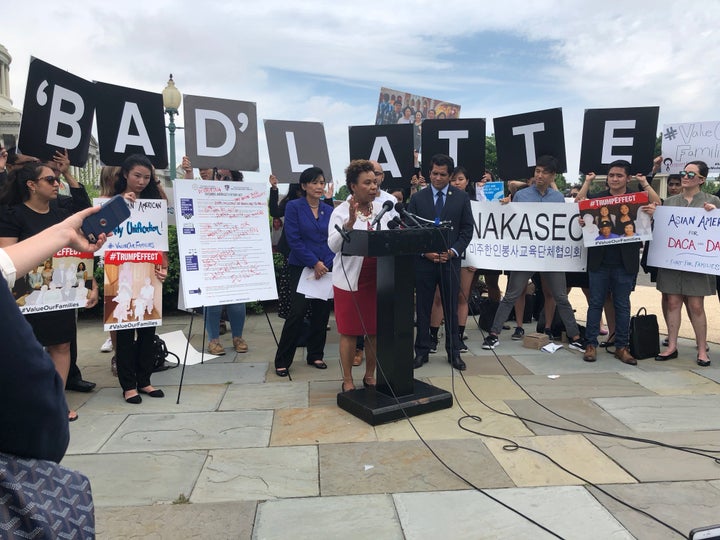 A coalition of immigrant rights activists, policy experts and faith leaders gathered outside the U.S. Capitol on Wednesday to protest a bill that would significantly slash legal immigration.
The bill, sponsored by Rep. Bob Goodlatte (R-Va.), would not only nix the diversity visa lottery ― which provides an estimated 50,000 visas annually ― but also cut "chain migration," a term immigration restrictionists use to describe the policy that lets immigrants sponsor their family members to join them in the U.S. (Immigrant advocates use the terms "family reunification" or "family-based immigration" instead.)
The Goodlatte bill, considered a hard-line immigration bill, would also beef up security along the U.S. border. It will be moved to a vote next week, along with another bill that's expected to appease more moderate Republicans.
Judy Chu (D-Calif.), chair of the Congressional Asian Pacific American Caucus (CAPAC), spoke at the rally and says the Goodlatte bill seeks to erase America's diversity.
"Goodlatte is making his message loud and clear by feeding into Donald Trump's desire to make American white again," Chu told HuffPost. "Goodlatte's harmful desire to gut even our legal immigration system reflects a larger Republican effort to cut back on immigrants entering this country overall."
Members of Asian Americans Advancing Justice, Church World Service, The National Korean American Service & Education Consortium (NAKASEC), UndocuBlack and advocates and families from across the country participated in the protest. Several held signs and posters skewering Goodlatte as "BADlatte."
"The Goodlatte bill ... is a blatant attempt to further warp the immigration system to keep people of color out."
Chu told the crowd the legislative proposals to be brought to the floor next week would "use Dreamers as a bargaining chip" and "pit immigrant communities against one another." The Goodlatte bill only protects Dreamers temporarily, while targeting other immigrant groups.
"The Goodlatte bill also does not offer a pathway to citizenship for our young undocumented community members, so it essentially leverages [Dreamers'] futures to take away large components of the legal immigration system without even providing them with a permanent solution," Becky Belcore, NAKASEC co-director, told HuffPost. She urged people who oppose Goodlatte's bill to call their representatives.
Activists of color ― including Asians and black people, who are often left out of the immigration discussion ― described how the Goodlatte bill would affect their communities.
"We want a clean DREAM Act; that has been and remains our call," said Patrice Lawrence, UndocuBlack Network's national policy and advocacy director. "Plain and simple, the Goodlatte bill is not that. Instead, it is blatant attempt to further warp the immigration system to keep people of color out. The diversity visa program, in particular, has been scapegoated in order to further the administration's plan to demonize African immigrants."
African immigrants make up roughly half of all recipients of the diversity visa, which provides a legal pathway to citizenship for people from countries with historically low immigration rates to the U.S. Trump railed against diversity visas after a man from Uzbekistan who'd entered the U.S. through the lottery program carried out a deadly November attack in New York City.
The Goodlatte bill would particularly affect the Asian-American community by terminating family-based immigration, said Esther Jeon, immigrant rights fellow at NAKASEC Chicago.
"Our parents, siblings, and family members make us into who we are today, and to remove that necessary support is un-America, cruel, and inhumane," Jeon said. "We are here to show Congress and this administration that we will not tolerate any cuts to family reunification, and we won't stop until our families are here to stay!"
Reports show that the vast majority of Asian immigrants come to the U.S. through the family-based immigration system, relying on the program to reunite with family members who are U.S. citizens or lawful permanent residents.
"Asian-Americans should care about this bill ― and any bill ― that includes changes to our legal immigration system and family reunification laws," Chu told HuffPost. "With 92 percent of Asian-Americans being immigrants or the children of immigrants, there is no question that this bill will be catastrophic for Asian-American families and future generations of immigrants to our country."
Popular in the Community