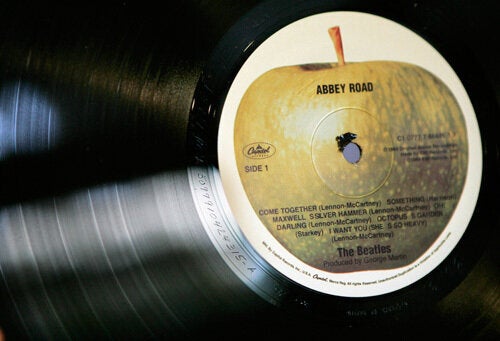 I think it was Hamlet that said "for murder, though it have no tongue, will speak with most miraculous organ: the record player."
Perhaps that wasn't the exact quote. But one thing is true: the CD is finally dying its much-awaited death, and it wasn't the MP3 that killed the king: it's the record player. The once antiquated method of listening to music has been making a welcome comeback among both young and old music fans, especially in the indie-music realm. So why now?
Well, vinyl finally figured out a way to fit on your iPod.
Not literally, of course: record companies are wising up, and a majority of albums now come with MP3s, allowing collectors to have that tangible "in-your-hand" feeling of vinyl with the ease of a simple download. Purchase the vinyl, and a card listing a download code is included within. Like the point recording artist Jill Sobule made the other day: we all want to experience the act of flipping through liner notes and viewing the album art, but want to combine this with the ease of a simple download. We want to feel and see the music - not just a click of a button. The vinyl and MP3 marriage satisfies both of these needs: making the idea of a CD pretty pointless along the way.
"It's just nice to sell something that is a collector's item for those people who want to support their favorite bands, but also love their ipods," said Christina Rentz, of Merge Records, a North Carolina-based record label that is home to She & Him, Spoon and my recent interviewee Conor Oberst among others. Merge releases their albums on 180 gram form, which is considered by some to be the best-sounding, heavy-weight vinyl available. Each purchase, naturally, includes the free MP3.
I've always felt somewhat alienated by the ease of the MP3 experience- it satisfies one need (the lure of instant gratification) but not others (the pleasure that comes from unwrapping and devouring all parts of the purchase, and having the ability to collect something concrete). So while vinyl still is a niche market, MP3s are not, and this unique way of merging the old with the new satisfies a gamut of music fans.
While Merge sells its vinyl online here, one of the most comprehensive and user-friendly places to purchase vinyl on the web is Insound: now celebrating its 10th birthday, it's one of the pioneers of the record resurgence (the store also sells music in all formats in addition to band gear, posters and more). Insound created an LP and MP3 program, which means shoppers need not wait to hear their album until the mail comes--the downloads are available immediately at checkout upon purchase of select LP's. The idea was born out of founder/president Matt Wishnow's desire to reintroduce a newer generation of fans to the dying art of the physical music purchase and the act of listening to an album as an entity from start to finish, while respecting their desire to quickly grow their digital catalogs.
"The technology is there to deliver MP3 files immediately with vinyl purchases. However, we are one of a very few places that does it on a large scale. In general, vinyl sales have been growing on our site by almost 5% each month. But I will say that the LP+MP3 titles are selling at a faster rate than normal catalog vinyl," Winshow tells me.
Insound reported recently that their vinyl sales have increased from 20% of overall business one year ago to more than 40% last quarter. Likewise, turntable sales have enjoyed double-digit percentage growth each quarter for the last year. This is in sync with the RIAA's recent findings that vinyl sales revenue from EP and LP records had grown by 46.2 percent from the previous year.
Touch and Go / Quarterstick Records has also taken a similar approach to offering their customers a fully interactive experience: MP3s are available in the download store, in addition to massive, studio-quality download files that offer amazing sound quality. Other record labels, such as Saddle Creek and Sub Pop, sell multiple formats (including vinyl) on their web sites. Stores like Amoeba Music in Los Angeles and Other Music in New York City have entire sections dedicated to vinyl.
"I think the appeal is that vinyl bonds fans with bands in a way that digital music cannot. It is the scale of the 12" LP, the artwork inside, the fragility and care it requires and, most of all, the way it way in which it says "music is the architecture of my life. I must be surrounded by it,"" Wishnow says. "In an age where the casual music fan can have a music collection larger than the most ardent record collector, by downloading music for free or sharing files, albums separate the most avid of fans. "
Haven't yet embraced the transition to (or back to, actually) vinyl? Here are a few of Winshow's tips for growing a record collection to get you started:
1. The first step is easy -- buy a turntable. They are cheaper than ever, portable, and come with USB conversion software. Alternately, many vintage turntables are available on EBay or at local thrift stores for nothing.
2. Once you have a turntable, I'd recommend you purchase the essential 20 albums that you cannot live without. Most classic albums have been repressed recently and are available new, in mint condition.
3. It's fun to go "crate digging" at local vintage record shops. You can easily start your collection for under $200 if you don't need new products and not much more even if you want the shiny new toys.
My collection began with a few hand-me-downs and has grown with a combination of thrift-store scouring, online shopping and diligent concert-going. Most notably has been the fact that the last five albums I've purchased have all been in record (with MP3) format. The way you listen to music changes: you heard the record from start to finish, you experience it as an album and not just a chain of singles.
So is the CD really, truly dead?
Says Winshow: "It's barely breathing. It has a terminal disease. It's sad. But it lived a good life. Perhaps a little too good."
I once heard you can make a photo frame out of a jewel case, if it's any consolation.
Popular in the Community