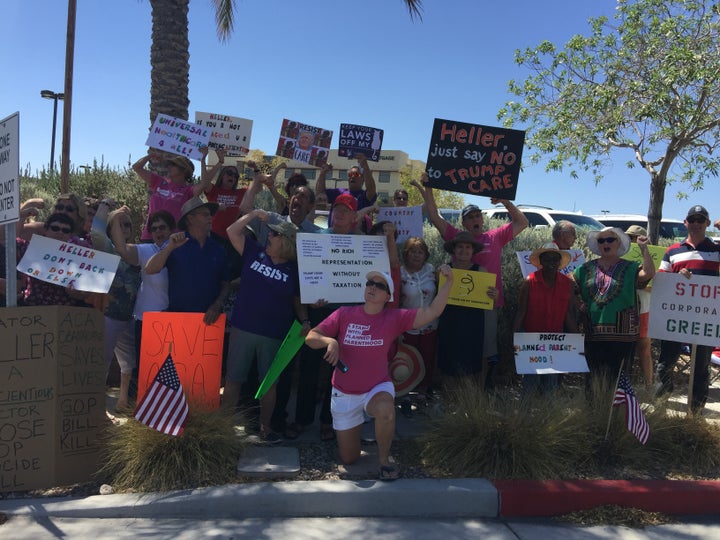 It was 106 degrees yesterday in Vegas for our rally outside Sen. Dean Heller's office. Good thing Republicans have assured me there's no such thing as global warming, or I would've been worried.
The night before, I drove straight from the airport to Deb Shomsky's house where the Indivisible Owls meet every Monday night. There they prepare for Resist Trump Tuesday, a regular demonstration now outside Heller's office at 10 AM, before it gets too hot. OK, so maybe it was only about 100 when we started yesterday, not 106. What's a little hyperbole in the age of Trump.
That night, I spontaneously led the Indivisible Owls in a rewrite of our old Sha Na Na closing theme, the Spaniels' classic that started with my bass part: "Doh doh doh doh doh Goodnight Trumpcare, well it's time to go…" Great rehearsal!
We reprised our number at the actual rally when Sheila Humphries, leader of one of the three Indivisible groups who joined us, fetched Sen. Heller's Regional Director Jack Finn for his weekly confrontation to urge Sen. Heller to vote "No!" on Trumpcare. Jack seemed to enjoy the concert and even applauded at the end.
But we weren't just musical guests. We also deluged Jack with lots of info. That 122,500 Nevadans are likely to lose coverage if Trumpcare passes. That his constituents thank Senator Heller for his promise to vote "No," but that he's going to be held to keeping that promise. That we were wise to the almost $800 billion in cuts that would destroy Medicaid (and Nevada's a Medicaid expansion state) representing a massive reverse Robin Hood shifting of wealth to cover $590 billion in tax cuts for the richest Americans.
I even noted directly to Jack that I spent my career in the upper brackets, am still there today, and, no, I do not need a tax cut, thank you. Jack had a tough time coming up with a response for that one, so he offered none. He was cordial throughout and promised he'd reflect everyone's comments back to Senator Heller. It really does seem as if the constant constituent barrage combined with the rational, constituents-above-party position of Nevada Governor Sandoval have moved Heller to a pretty firm "No" approaching his reelection year of 2018.
Turns out that while we were demonstrating, Mitch McConnell postponed the vote till right after the July 4th recess. A small victory worthy of some celebratory soft drinks afterward to fight the scorching desert heat. But everyone knows this is when McConnell is most dangerous—the second you let down your guard. The protests will become more frequent, not less. Resist Trump Tuesdays will actually spread throughout this entire pivotal week. And I'll leave Nevada in the capable hands of its passionate activists. I love them all.
Goodnight, Trumpcare! Goodnight!
REAL LIFE. REAL NEWS. REAL VOICES.
Help us tell more of the stories that matter from voices that too often remain unheard.