Does your workday feel like a walk on the beach? Rich Amundson's didn't, so he sailed his way into a new career. In 2009, Rich founded Dicks Cottons, a sunglasses company with fashionable, affordable, shades for party-ready Millennials. Now, it's hard for him and his business partner, T.J. Eaton, to tell where their jobs end, and their vacations begin. Jealous? Read on.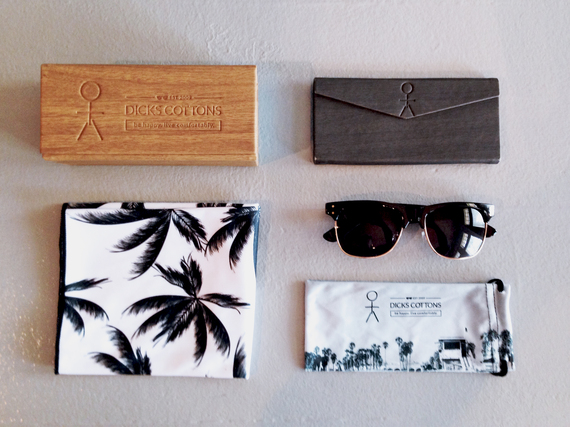 A sneak peek of DC's new packaging and a new frame
Alex Schattner: Did you have formal design training?
Rich Amundson: No, just an idea and a sense that things could be done better than what was currently offered on the market. So, I started taking classes at FIT at night and learned as much as possible in a short amount of time. I went to college for Business and sold condos for Corcoran before starting Dicks Cottons (a.k.a. DC).
Do you find similarities between selling real estate and selling sunglasses?
Rich: People are really particular about both. Attention to the smallest details is paramount. The short story is: I worked seven days a week in suit and tie selling condos for Corcoran, and was seriously lacking in free time. When I finally booked a trip with friends to go sailing in Croatia, I went searching for the perfect shades, and didn't find anything I loved. I spent the trip sketching sunglass concepts. I told everyone on the boat that, when I got back, I was starting a sunglasses company. They all laughed. When I got home, I cancelled all my NYU real estate development classes and enrolled in FIT design classes.
Nine months later, with five thousand pairs of shades, no website, and no idea what I was doing, I quit my job. I figured the worst-case scenario was that I would have an endless supply of sunglasses I loved wearing.
That must have been daunting.
Rich: It was the most freeing feeling ever. It sounds cliché, but I was reading 'The Secret' and Barbara Corcoran's business book while all this was happening. I've always loved traveling and the outdoors, so I think it was destiny.
Did your manufacturer have any recommendations?
Rich: No. Our factory makes sunglasses for the major brands, so my tiny order was more of a bother to them than anything. Now we have a better relationship with them! I recommend watching this 60 minutes piece, it will explain a lot about the eyewear industry. One company controls much of the market and sets very high prices. We're fighting that trend one pair and one face at a time! Our glasses retail around $85.
How did you set your price?
Rich: We set out to create an affordable-luxury product. When I was searching for shades before that sailing trip, the options were either really cheap street shades or overpriced 'designer' shades. So we set out to do high-quality shades at an affordable price. Based on the level of quality, [our price] should be higher, but we love saving our customers money so they can use their extra cash to book a flight, hit a music festival, and enjoy a few extra Coronas at happy hour.
How do you determine fit and styling?
Rich: Everything is unisex. We have small and large wayfarers, an aviator (on backorder), and some unique shapes and bold colors that set us apart from everyone else.
How do you get the glasses in front of people? Trade shows?
Rich: We don't do trade shows, advertising, or PR. The brand has spread through word-of-mouth -- our customers tell us they get so many compliments on their sunglasses. My business partner, T.J. Eaton, saw the shades on a friend, got a pair, read the story and handwritten letter that came in the package, and wanted help grow the brand. He's worked with some major brands, and saw the potential. We've been working together for 3+ years and he's been amazing. It's cool to notice the brand spread. It's serendipitous every time we see a stranger wearing Dicks Cottons at a random party, beach, or just walking down the streets.
We have collaborations with Mike Stud and Huey Mack, two hip-hop artists with large followings. Nowadays, consumers -- especially Millennials -- are craving something new that understands and supports their lifestyle. If you make a great product at a great price, and none of their friends have it yet, there's a desire to get it first.
I'm sure it also doesn't hurt that your twitter page looks like a web version of the MTV beach house.
T.J. Eaton: Yeah, that's a pretty good observation and a noticeable coincidence. I worked in collaboration with MTV and MTVU for over 7 years on travel, beach, concert, and brand activations. Dicks Cottons has always been an exact representation of who we are. We party hard, we travel hard, we work hard, we love our friends, and most importantly, we love our customers. Our customers feel the same, and they are always sending us great photos, and crazy stories of where their shades took them.
Even if we're partying or enjoying the beach, we're still working, but it doesn't feel like work. We connect with our customers because they're probably doing the exact same things as us. We just do us, have full transparency, and we're confident the right people vibe with it. We have a few really cool campaigns in the queue that are set to launch for spring '15, which will help reach more like minded friends. In our eyes, a stranger is just a friend we haven't met yet!
T.J.: Campaigns will be based on the travels that inspire our designs. We're launching a new initiative and apparel line backed up by some science, along with a charity component based on one of our many trips to the Caribbean. We're in talks with an airline, a hotel chain, and a major music festival about possible collaborations. We're focusing a lot on travel. We hope our feel-good shades will be a staple for the best times in your life.
Will this be the first time you're selling offline?
Rich: Pretty much. We think it's important to have a balance and be both on and offline. Starting off, we're very selective with retailers who support the lifestyle. We're sold in Story in NYC (19th and 10th), Heritage Surf Shop in Ocean City, NJ, a boutique in Miami (Babalu), and the W Hotel in Boston. We also had our own store in LA two summers ago to test the waters.
Is Dicks Cottons increasing production?
Rich: Yes -- our number of styles and quantities for 2015 are tripled. We'll still do limited 1 of 100 runs since we love doing limited edition items, and our customers are so loyal that they collect our frames. Most customers have between 3 and 25 pairs.
Where are you guys these days?
Rich: We're based in NYC, where it all started, and we just opened a creative space in sunny Florida, too. The new space has a really nice, stress-free, vibe, and the beach is close by. We're building a lifestyle truck to take to all the beaches, surf shops, and college tailgates. We're within a 4-hour drive to over 200,000 college students. And, they need sunglasses all year round.
What's in-store for DC's future?
Rich: One constant is to always make great shades with a huge focus on our customers. Meanwhile, we'll keep traveling to inspire new lines. Our ultimate goal is to throw the world's largest ever beach party, and to invite everyone we've met along the way.
Related