"That is NOT Jil Sander." I squealed, picking up a pair of high-waisted gray pants, "Read the label to me."
I had been told that there were deep baskets of clothes, shoes and accessories in a large open space that had originated in other Goodwill stores. (It is a warehouse, after all.) But here's the most remarkable part: everything was sold by the pound. You can ignore all the $7.99 labels attached to the clothing, as those price tags are remnants from the clothes' former Goodwill locations. Instead, prices change based on how much you purchase, but the maximum price is a pretty sweet $1.69 per pound. Though a great bargain, I was skeptical on whether our search would yield anything. How, exactly, would anything "worth it" not get picked over in the Goodwill stores they had originated from? We stepped off the subway and prepared ourselves for the worst.
First impression: YES. IT IS AIR CONDITIONED. Second: They love their Lite FM. As we listened to Cyndi Lauper, Fleetwood Mac and Adele, Raydene and I began sifting through the bins of clothing. Overwhelmed at first, we started towards the front of the store. We discovered soon enough that those were definitely the most picked over. Somewhat discouraged, we ventured further back, efficiently throwing clothes from one side of the deep trays to the other.
"Is this a Tahari jacket?" "Is this cashmere?" "Wait, this is really cute..." After finding one item each, the finds started piling up. "We should get a cart," Raydene suggested.
Less than an hour later, we had both successfully acquired an abundant heap of treasures. My grand total was $8.45 and included two jackets (J. Crew and Lafayette 148), two striped tees, a Boy by Band Of Outsiders button down blouse, three sundresses, a cashmere sweater, a pair of cropped Club Monaco trousers and the aforementioned Jil Sander pants. Raydene found more success in the accessories department, picking out three bags in addition to her clothing finds. Like the clothes, bags and shoes are also purchased by the pound.
While we were both pleased with our finds (which you can see below), there are a few things I will do differently when I return.
1) Bring hand sanitizer. This was a definite oversight. Sifting through all of the clothes was fun, but dirty.
2) Give yourself a lot of time. We had about an hour and a half in the store, and that wasn't nearly enough to see everything.
3) Wear form-fitting clothing. There is no dressing room so it will be easiest if you try things over your outfit. A tank top and shorts is ideal.
4) Be patient! We started panicking at first that we wouldn't find anything. You will, you just have to work for it.
5) Start from the back The most easily-accessible bins, in the front, will always be picked-through first.
Want more? Take a peek at the photos below to see hour amazing finds and head over to Refinery29.com to read about the best consignment stores in Los Angeles. Be sure to check out Stylelist on Twitter, Facebook, Tumblr and Pinterest.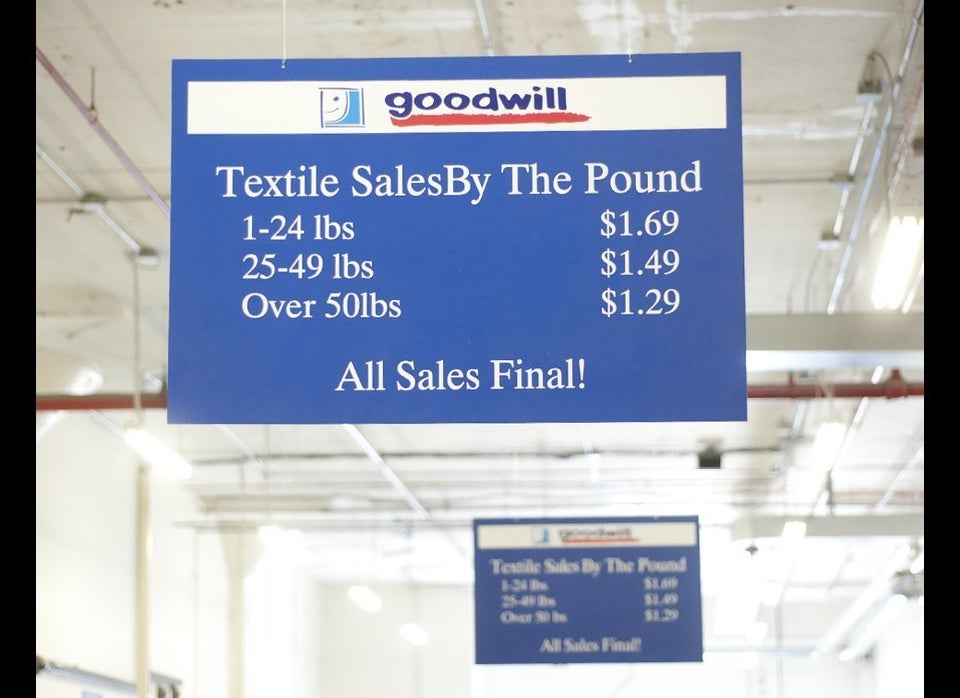 Goodwill Shopping Trip (PHOTOS)