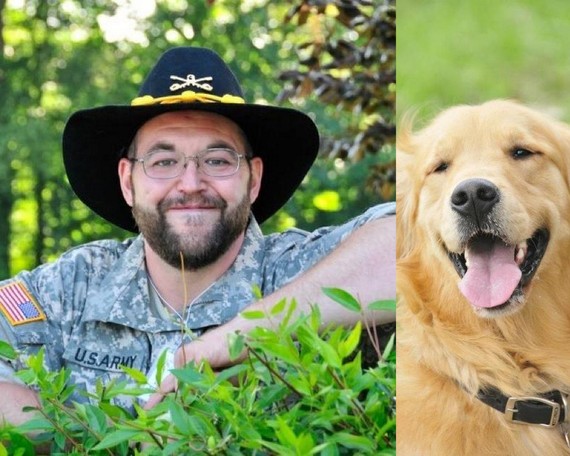 Pfc. Philip H. Bauer's helicopter was shot out of the sky over Fallujah, Iraq, on November 2, 2003. Half of the thirty Calvary men and women in the helicopter survived the crash; Phil was one of them.
He lost his right leg, suffered severe burn wounds, traumatic brain injury, and damage to his stomach and jaw. It was the PTSD that nearly killed him, though.
Phil battled night terrors that kept him awake for days at a time. Flashbacks came on so powerfully that he was re-living the crash every day, sometimes multiple times each day.
"You never forget the smell of burning flesh," Phil recalls.
He refused to leave his room for months at a time because his fear of crowds was paralyzing. He became angry and agitated. His wife divorced him and he lost access to his three young children.
On February 2, 2008, Phil attempted suicide. He was 32 years old.
While Phil was in the lockdown psychiatric unit of his local VA Hospital, feeling hopeless, overmedicated, and eagerly awaiting his next opportunity to take his own life, his cure was born.
Reese learned over 90 commands that could be chained together into multi-step activities that made daily living easier for Phil.
"Look! Get it! Hold! Bring! Give!" Phil tells Reese the five commands to find his prosthetic leg, pick it up, hold it, drag it to him across the room, and place it in Phil's hands.
In addition to tasks of daily living, such as reminding Phil to take medication, tugging open doors, and retrieving a crutch or prosthesis, Reese learned to help with Phil's crippling PTSD.
When the two venture into public, Reese circles around Phil to keep crowds from jostling him. Reese nudges Phil's hand or leg when he senses a flashback starting. Reese helps him find an exit if Phil is getting anxious.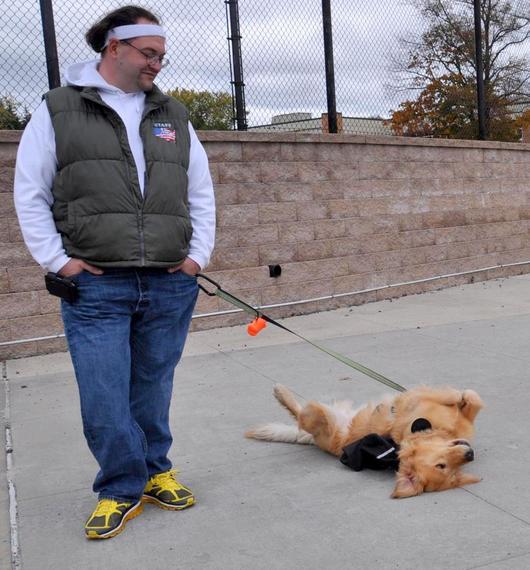 As a last resort, if Phil is getting angry and agitated, Reese, who is typically exceptionally well behaved, will turn on his goofy, puppy personality and give Phil no choice but to turn his attention to the service dog chasing his tail or rolling around on his back in the middle of the mall. This is enough to break Phil's anger into a smile and give Phil an excuse to leave the situation.
Phil and Reese were matched as a team in November 2009, six years to the day after Phil's helicopter fell from the sky. They haven't been separated since.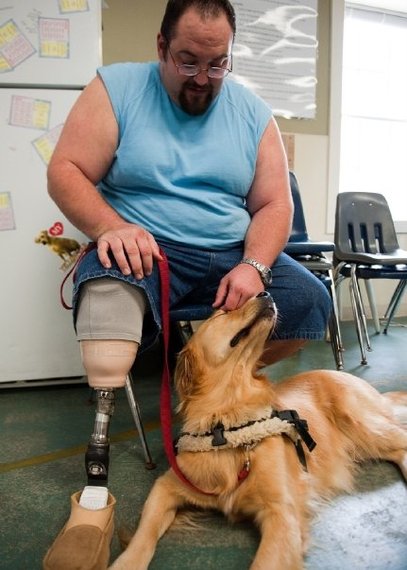 Since Reese entered Phil's life, his medication use has declined and his mental health has improved dramatically. He improved so much that he began working with the teenagers at The Children's Village to teach them how to care for the dogs in ECAD's kennel, where his story inspired countless teens to find their own hope even when they felt hopeless.
Thanks to Reese, Phil also reconnected with his three children again, who not only got their dad back, but were excited to meet Dad's "medicine" - the fluffy, fetching, 75-pound dog.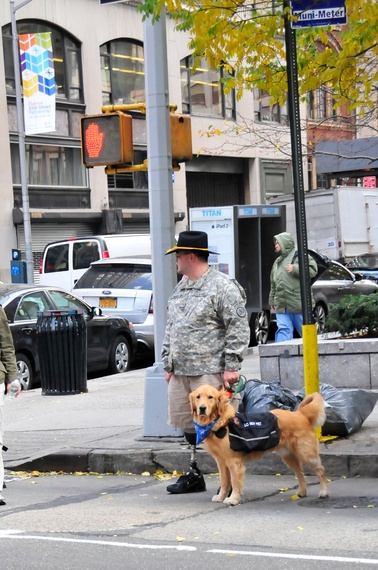 When you meet Phil at a Yankees game, at his job at Dunkin' Donuts, giving speeches all over the country, or charming beautiful women in the park (Reese's other natural talent is attracting women), you would never guess that this man who seems unstoppable, gregarious, and charismatic, was once crippled by his own mind and eagerly awaiting death. Reese did that. Reese cured him.
Left: Phil and Reese headed to the Veteran's Day Parade in NYC (2011)
Calling all HuffPost superfans!
Sign up for membership to become a founding member and help shape HuffPost's next chapter