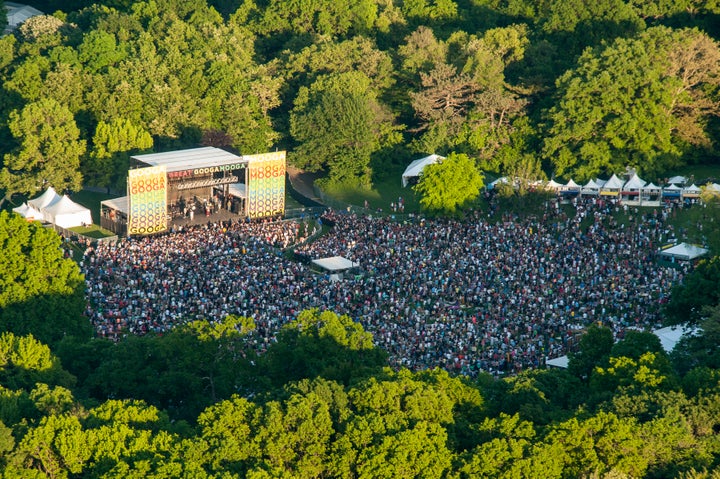 Attendees at last year's event may recall hour-long waits for food in blistering heat, spotty cell phone service that made finding friends nigh impossible and a fistfight over fried chicken. But those were growing pains, said Jonathan Mayers, co-founder of event producer Superfly Presents.
"You learn by doing it, and we've taken the feedback from the attendees and the participants," Mayers explained in an interview with The Huffington Post. Several measures, he said, will dramatically improve the overall festival experience. "We've definitely listened and learned," he said.
Among the changes are a shift to a three-day format (Friday evening will be a kick-off concert featuring Yeah Yeah Yeahs, the Flaming Lips and the Darkness), a greater number of admission gates, more points of sale at each food stall (last year there was only one, this year there will be three), more restaurant participants, a wider selection of beer and wine, and temporary cell phone towers to improve service. Mayers told HuffPost that he hopes these efforts will encourage an easier flow of traffic throughout the festival.
The format of the VIP section, ExtraMooga, has also been altered. Last year, attendees who shelled out $250 for the experience were refunded when it failed to live up to expectations. This year's ExtraMooga is priced at $79.50 a day on Saturday and Sunday. ExtraMooga, called the VIP Cocktail Experience, is centered on artisanal cocktails and demonstrations. A special VIP viewing station will be set up in front of the main stage.
Like last year, admission on Saturday and Sunday will be free. Tickets will be available through an online lottery from April 1 to April 3. Recipients, chosen at random, will be notified by email by April 10. The Friday kickoff concert costs $49.50, and includes a guaranteed ticket to either Saturday or Sunday. All tickets for the event go on sale Thursday.
Mayers said that with festivals of Googamooga's size and ambition, some mistakes were inevitable. "With Bonarroo, the early years, we definitely had logistical things that we worked through," he said, referencing the popular Superfly Presents-produced annual music festival founded in 2002. With Googamooga, "we learned a lot in our first year, just as we did with the other festivals we produce," he continued.
Mayers said he hopes this year's attendees come with an open mind. "We have a long track record of success," he said.
Related
Before You Go
The Great GoogaMooga 2012
Popular in the Community