Google tweaked its algorithm following weeks of backlash after several outlets reported the top result for the search "did the Holocaust happen" directed users to an article from American neo-Nazi group Stormfront that claimed it never took place.
"We recently made improvements to our algorithm that will help surface more high quality, credible content on the web," a Google spokesperson said in a statement to The Huffington Post. "We'll continue to change our algorithms over time in order to tackle these challenges."
The update marks a reversal of the company's original decision earlier this month to refrain from tampering with the anti-Semitic article's top position.
"[The company does] not remove content from [its] search results, except in very limited cases such as illegal content, malware and violations of our webmaster guidelines," a Google spokesperson previously told Gizmodo.
The Stormfront article does still appear in search results but not at the top, and tweaking the phrase to "the Holocaust didn't happen" continues to place the article near the top of results.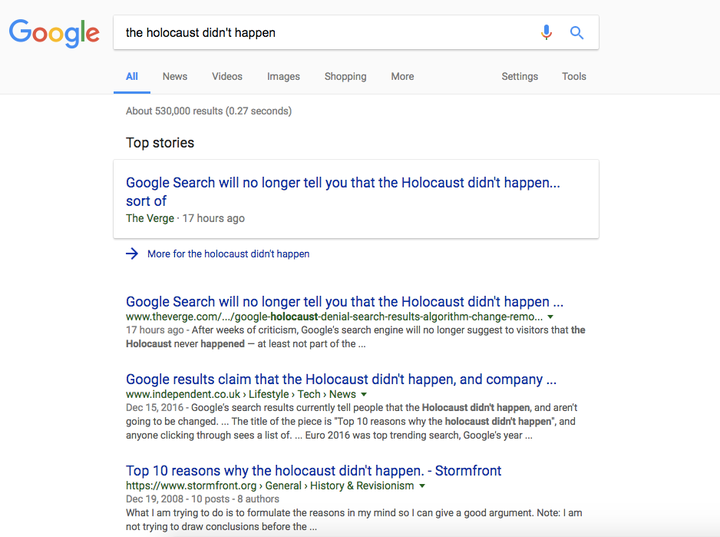 The company did not further explain whether it has any continuing efforts to alter search algorithms.
This isn't the first time Google has come under fire for inadvertently bringing up offensive content. The search engine also altered its auto-completion suggestions earlier this month after racist, anti-Semitic and misogynistic prompts like "are Muslims bad" and "are women evil" were reported.
These updates highlight Google's tricky task of embracing free speech and remaining politically neutral, while maintaining its commitment to producing fact-based search results.
"Google was built on providing people with high-quality and authoritative results for their search queries," the spokesperson told HuffPost. "Judging which pages on the web best answer a query is a challenging problem and we don't always get it right."
Popular in the Community