Messaging apps like WhatsApp and Facebook Messenger are all a bit same-y. But Google's latest contender, "Allo," is shaking things up with a very simple feature: It will let you modulate your "voice" when you're typing.
The company announced Allo during a keynote event at its I/O Conference in Mountain View, California, on Wednesday. It has a couple of nifty features that might lure you away from the competition. 
A sort of "volume control" is one of them. When you're typing a message, you can drag on the "send" button to turn it into a slider. Drag up, and your message will get bigger, like you're shouting. Drag down, and it'll get smaller -- a sort of whisper. (You can see what this looks like in the tweet embedded above.)
It will also let you send canned messages composed by artificial intelligence. If someone sends you a picture of a dog, the app will be smart enough to recognize it and suggest responses like "Cute dog!" or the more specific "Nice Bernese mountain dog."
These are the features that you're probably going to use every day when you type on Allo. If you're a little embarrassed -- like when you tell your wife that you forgot to feed the cat -- you might offer a mea culpa in small type to adequately express your debasement. If your sister tells you she's pregnant, you might respond with a huge "CONGRATS!"
Allo also has other enjoyable features that you'll probably use less often. It will include bots, so you can use the app to make reservations via OpenTable, for example. (Facebook introduced bots to its Messenger app earlier this year.) 
And Google promised security features like "incognito" conversations, with end-to-end encryption and self-destructing texts that will prevent your messages from being seen by anyone other than the intended recipient.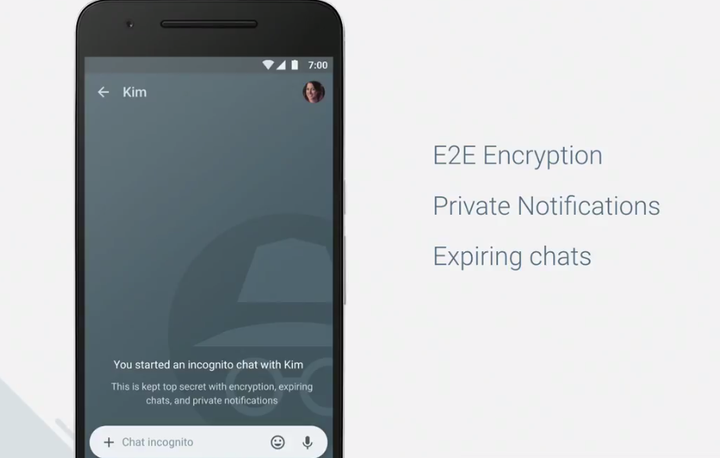 Calling all HuffPost superfans!
Sign up for membership to become a founding member and help shape HuffPost's next chapter