As a parent we have read probably hundreds, if not thousands of articles and resources about how to keep our children safe online.
We look to our schools and communities to offer classes as well as seminars to further our education on cyber-safety, not only for our children, but for adults, especially seniors, since they can be victims of Internet scams too.
Has Google earned this recognition and clout? It seems they have -- or the statistics wouldn't prove this year after year. However they need to remember they have millions, if not billions, of very young eyes surfing their cyber-turf 24-hours a day, 365 days a year. Which begs the question, is Google living up to its "do no evil" mantra, particularly with one its most popular products -- YouTube?
According to a recent Digital Citizens Alliance report, it also seems cyber-criminals have the same rights on Google that our children have. This is very concerning.
It was actually a year ago when Digital Citizens reported the lack of oversight on Google and YouTube with fake online pharmacies. This resulted with a promise from Google to clean it up.
Today we are taking another look at Google and YouTube and again we are stunned by the findings.
Digital Citizens has discovered that YouTube is infested with videos selling credit cards. These quick videos will instruct your teenager on how to get the cards from sellers known as "carders." This is extremely risky business. Will some teens buy credit cards, then use cards to purchase illegal drugs they can find just one click away? Yes, it is extreme, but it can happen.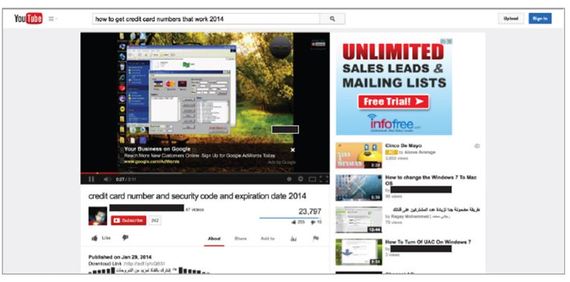 Note the Google AdWords video embedded in the video and that while the video has only been up since January 2014, it already has more than 23,000 views.
What is Google's responsibility?
According to a recent survey from Digital Citizens, 88 percent of Americans believe that Google has a responsibility to make the Internet safer.
No one begrudges anyone from making money in life, however when it infringes on the safety of others -- especially children and seniors, there is a sense of accountability that should be in place.
YouTube, especially should not be a platform for cyber-criminals and Google should be going over and above to insure the safety of their visitors. Google, has repeatedly said they ask their viewers to flag questionable videos (content) and they will review it to consider removing it.
Really? They need a flag to determine if a video says "Fresh Credit Cards, 100% working, live, cc, cvv" (See image below.)
Google is a huge business, and we can appreciate it. Many of us love to Google! I think there are few people out there today that don't Google something at least once a week.
Google should show the same respect to their consumers and start cleaning up the areas that need polishing.
Once these videos go up, part-two happens. The hackers and scammers start leaving notes for your kids. Read these comments and ask YouTube why they are were not removed? Again, I don't think these take flags, as much as they could use the common sense of Google employees to make judgment calls. Would that be so difficult? They have been up for over a year. Sad, don't you think?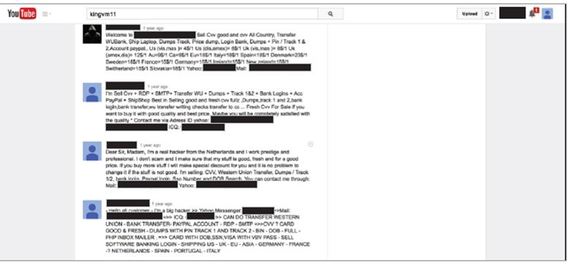 Yes, Google has a responsibility to parents and the people to keep the cyber-world safer.
Google is the number one search engine. We made them that, and in return, shouldn't they help create a safer net?
•You are your child's cyber-advocate, be sure they know the consequences of online crimes.
•Reiterate to your child about over-sharing personal information online.
•Double-check your credit card statements for charges that are not yours.
Related