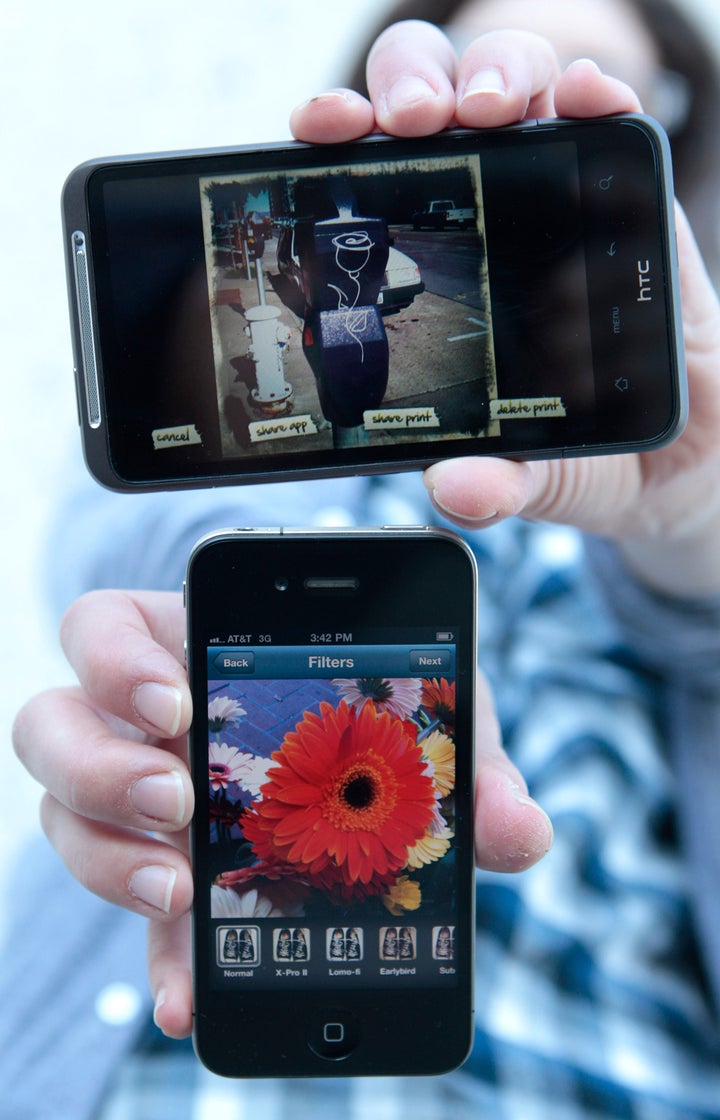 Apple and Google don't track your phones just to scare you. They also compile valuable targeting information that advertisers would pay handsomely to get their hands on.
News that Google and Apple use cellphone towers to track user locations, even when these settings are switched off, has spurred major privacy concerns. The companies have tried to allay these fears by telling users that they need to know where they are at any given time to improve location-based features: tracking customers' whereabouts makes maps more accurate, local search results more relevant, and traffic data more precise.
This is only part of the story. These companies recognize the financial goldmine that this kind of information represents to advertisers, eager to expand their reach to the mobile phone market, who want to use location data to better target their ads. The tech firms aren't just trying to provide their customers with better maps but also encouraging advertisers to pony up for better ads.
Advertisers want to provide consumers with ads most relevant to their interests, at the time and place they're most appropriate.
"Smartphones have given us the ability to hone in on a potential customer at a series of co-ordinates on a street," said Jonathan Marguiles, vice president at Winterberry Group, an advertising consulting firm. "That is a very, very valuable piece of information."
Location is key to the success of mobile ads, a nascent market ready to explode.
In 2010, web advertising revenue hit a record $26 billion, while mobile advertising reached just $877 million in comparison. That number is predicted to grow by 120 percent to $1.9 billion in 2011, according to IDC. While Google holds 59 percent of the overall mobile market share, the search giant is head to head with Apple when it comes to display ads, with 19 percent to the latter's 18.8 percent in the past year.
The two companies are undeniably aware that location-based ads will be hugely important to mobile advertising's future. Google secured a patent in March the company originally applied for in 2003, allowing location to be used as a factor in determining ad relevancy.
In a note to potential businesses looking to get into Google mobile ads, the company touts the fact that mobile devices "have unique characteristics like location awareness...that make it easy for people to engage with information conveniently, and create unique opportunities for businesses as well."
And AdMob, a mobile advertising platform recently purchased by Google, already tested geolocation-enhanced ad targeting in the UK last May. By the looks of it, the company is already banking on location as an asset to make mobile ads attractive to advertisers.
"You will get advertisements tuned to where you are," Karsten Heide, an analyst with IDC said. "Advertisers are willing to pay for that."
Apple, meanwhile, filed for a patent in 2008 for a system that allows advertisers to match users with ads targeted to their location, and their iAds mobile ad system already offers location targeting. This is valuable real estate -- the company has even closed the door to other apps that might want to take advantage of the phone's location capabilities.
"Apple and Google are at the nexus of this issue right now. From a technology and a software standpoint alone they are in a position to capture more granular information than anyone else," said Marguiles. "They are effectively the 800-pound gorillas in this industry."
Using location to find consumers is nothing new in the advertising industry. The direct-mail business relies on obtaining home addresses it can ply with flyers. But the specificity of mobile-enhanced location data triggers an instantaneous fear in users for whom the word "tracking" suggests omnipresent surveillance.
Unlike with direct mail, phones can deliver ads instantaneously based on where you're standing, a process far more intrusive and intimate than receiving an envelope at a fixed address. But advertisers don't want to scare customers, either.
"They don't want to be Big Brother. Their concerns are purely commercial," said Heide. "It's not just good for advertisers, it's not just good for publishers, its good for consumers. The ads you see are not random, they're actually stuff you're interested in."
The potential privacy complications of such ads have been hashed out before. iAds' use of geolocation sparked concern last July, leading the company to offer an explanation to Rep. Ed Markey (D-Mass.), who remains at the center of the company's current controversy. Last summer, Apple explained that collected data would be stored for only six months before deletion and would be kept completely anonymous. Further, they confirmed that interest and location-based data would not be shared with advertisers.
Apparently satisfied by this explanation, Markey said, "Apple's responses provided additional information about how it uses location data and the ability of consumers to exercise control over a variety of features on Apple's products, and I appreciate the company's response."
Nine months later, Apple is back in the hot seat, especially given the revelation that iPhones gather location data even after the option is switched off. If the goal is to provide users with the best, most relevant ad experience they can have, it seems more and more likely that location-sensitive ads (and other kinds of targeted advertising) will have to meet some kind of commonly accepted usage standard before people are ready to accept the idea that their phone "knows" where they are.
"The question boils down to: who owns data?" said Marguiles. "A consumer handset, a piece of technology, is capable of collecting a piece of information. Does that put it in Apple's hands?"

Popular in the Community