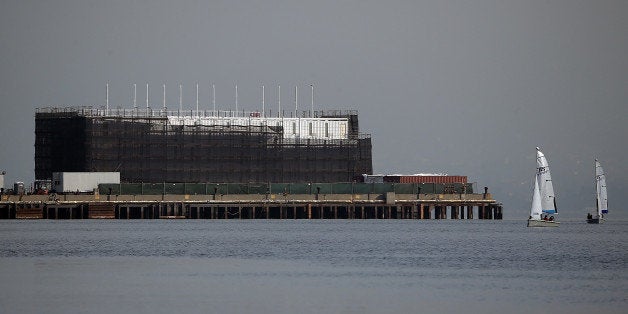 SAN FRANCISCO, Oct 29 (Reuters) - How badly does Google want to keep under wraps a mysterious project taking shape on a barge in San Francisco Bay? Badly enough to require U.S. government officials to sign confidentiality agreements.
At least one Coast Guard employee has had to sign a non-disclosure agreement with the Internet giant, said Barry Bena, a U.S. Coast Guard spokesman. Another person who would only identify himself as an inspector for a California government agency had to do the same.
Moored in the shadow of the Bay Bridge off of Treasure Island, a former military base, the nondescript barge is stacked several stories high with white shipping containers, and sprouts what appear to be antennas on top. The hulking structure, half shrouded in scaffolding, has stirred intense speculation in the Bay Area since reports of its existence surfaced late last week.
Technology website CNET theorized that the vessel might be a floating data center that will house banks of computers. Local TV station KPIX said the barge is intended to serve as a floating retail store for Google's "Glass" wearable computer device - although its external appearance, at least thus far, doesn't suggest such a purpose.
Adding to the mystery, a second similar barge was recently spotted in Portland, Maine, and is also registered to By and Large LLC, according to local media reports.
The company itself is keeping mum, refusing even to acknowledge its affiliation with the vessels.
Secrecy is a standard business practice in Silicon Valley, where technology companies such as Apple Inc go to great lengths to keep their latest gadgets under wraps and a constellation of blogs compete to reveal highly prized details.
But the concealment effort surrounding the barge is in another league. Chain-link fences and security guards encircle a pier and a couple of nearby buildings on the island, which sits between San Francisco and Oakland.
A California state inspector, who said he had business in the hangar-like Building 3 where some of the early construction took place, told Reuters he had to surrender his mobile phone and sign a confidentiality agreement in order to enter.
Bob Jessup, a construction company superintendent who works in a building across the street, said Google spent the past year working on the project. He said they fenced off a wide area and brought in at least 40 welders a day, who worked around the clock and refused to say a word.
"They wouldn't give up any of the information," Jessup said. "It was a phenomenal production. None of them would tell us anything."
He said they worked on the inside and the outside of the shipping containers, outfitting them with electronics - "very hush hush" - and then loaded them onto the barge with a crane. They put sides on the containers, with glass windows in some of them. They had to weld them very precisely so they could stack, Jessup recounted.
Jessup said he could not imagine that Google would try to use the floating vessel as a retail outlet. "Who's going to want to climb up in there?" he asked. "It's really ugly."
The vessel is registered to a company called By and Large LLC, and some nearby property on Treasure Island has been subleased to the same firm. Representatives of the firm could not be reached for comment.
Larry Goldzband, the executive director of the San Francisco Bay Conservation and Development Commission, told Reuters his agency has had several meetings with Google officials about the barge in recent months. Yet the company provided little information other than telling him that the vessel will be used for "general technology purposes," he said.
Google "could not give us a specific plan of any kind," not even whether they intended the barge to move or stay in one place, Goldzband said. If the barge remains in place for an extended period of time after its construction is completed, it will require a permit from the BCDC, he said.
"We've asked counsel to get us as much information as soon as they can, so that we can continue the discussion," Goldzband said, referring to Google's law firm.
Related
Before You Go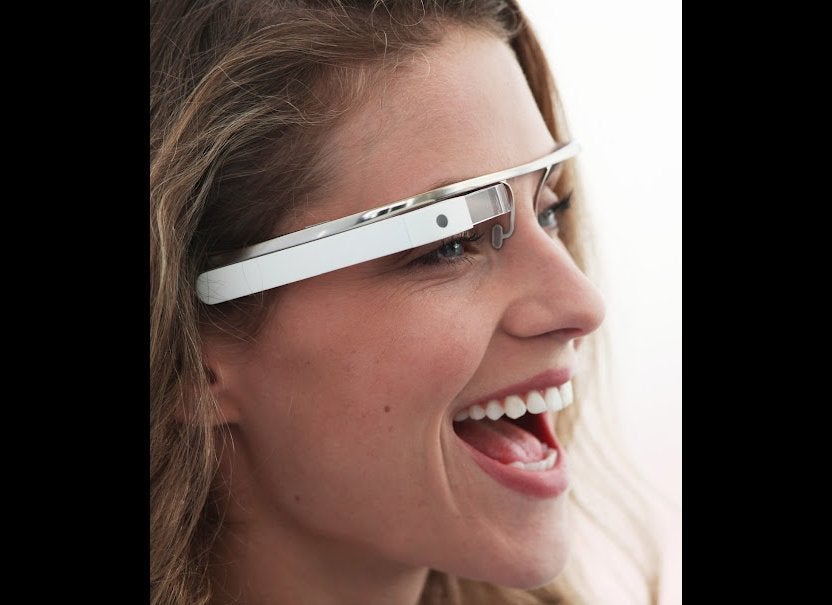 Google's Project Glass
Popular in the Community