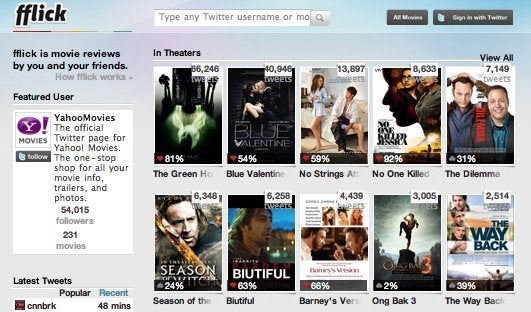 Google's piggybacked onto Twitter with its acquisition of fflick, a sentiment engine that uses Twitter to help recommend movies.
According to Techcrunch, Google will close the deal with fflick for around $10 million dollars later this week. Fflick uses Twitter to generate movie recommendations based on the tweets of friends and movie experts, showing the user tweets that can be organized by how positive or negative they are, as well as by recency, and by friends only. They also provide a RottenTomatoes style percentage rating based on their aggregation system.
The recommendations engine currently uses its sentiment machine for movies alone, but the model is potentially expandable to other verticals, a goal the founders laid out when first introducing fflick. Created by four former digg employees, the company launched just this past August.
That includes not only other topics (like video games), but also other social media platforms, like Facebook. The site currently filters not just for recommendations, but also for mentions more generally, allowing the service to work for movie executives to check out a film's buzz. Electronista suggests Google will use fflick to help suggest films within their developing Youtube streaming movie project. But more generally, fflick seems to be part of Google's ongoing effort to incorporate social information into their model, as with the lackluster Buzz.
Fflick is not the first sentiment aggregator to utilize Twitter's powers--others, like FlixUp, RankSpeed and TweetFeel perform like functions. A similar service called Summize, which brought together Twitter reviews of books, movies and more, was acquired by Twitter for $15 million itself all the way back in 2008 to help power Twitter's own search site.

Popular in the Community