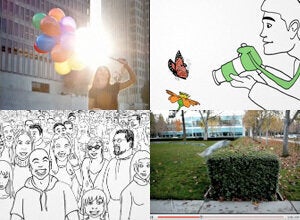 (AP) MOUNTAIN VIEW, Calif. -- Google is making it easier to socialize on its e-mail service. It's unveiling a new "Google Buzz" feature that sets up a face-off with Facebook.
The feature unveiled Tuesday will enable Gmail users to create status updates on Google Buzz and read and comment on the updates posted by their friends.
Other tools turn Gmail into a showcase for sharing video, pictures and Web links to interesting stories, just as users can on Facebook and Twitter.
Gmail's new twists are a direct response to Facebook's rapid rise since it started six years ago.
Facebook now has more than 400 million worldwide users, many of whom post information that can't be indexed by Google's search engine. Facebook's large audience also threatens to siphon away some of Google's advertising sales.
Google Buzz was described as 'a new way to share and communicate' in Gmail.
With the new product, Google seeks to solve what it characterizes as a 'relevancy and ranking problem' posed by the volume of content produced and shared on social media.
CNET, which is live-blogging the Google Buzz announcement, has information on Google Buzz features:
1. Auto-following: First time you use the product you automatically follow the people you e-mail or chat with. 2. "Rich, fast sharing experience." Includes media, keyboard shortcuts, twitter updates, "all the things users like to share often." 3. "Public and private sharing." Public entries indexed into google's search. 4. "Inbox integration" 5. "Just the good stuff." A relevancy filter to highlight only top items.
Google Buzz will include a custom-built photo viewer that aims to make it easier and faster for users to view photos (see it below). In addition, users will be able to control what media (photos, videos, etc) are made public, and what is private. CNET notes, 'any item in Buzz can become a conversation,' a feature Google's Todd Jackson calls 'one of the most interesting parts of the product.'
Google also demonstrated new features that will allow people to use Google Buzz on their mobile handsets.
Mashable highlights several unique features Google Buzz offers mobile users:
- Buzz knows where you are. It will figure out what building you are and ask you if it's right.

- Buzz has voice recognition and posts it right onto your buzz in real-time. It also geotags your buzz posts.

- Place pages integrate Buzz.

- In the mobile interface, you can click 'nearby' and see what people are saying nearby. NIFTY, if I say so myself.

- You can layer Google Maps with Buzz.
Google Buzz will begin rolling out over the course of the next few days.
Check out Google's introduction to Google Buzz in the video below.
WATCH:
Popular in the Community