When identical twins Teegan and Riley Lexcen were born in August, doctors told their parents that Teegan, who was born missing a lung and half of her heart, wouldn't survive for long.
Baby Teegan's condition seemed inoperable, meaning she would need a miracle. Thankfully, after four months, doctors in Miami gave her one -- with the help of a tool you don't see in most operating rooms: a modest, build-it-yourself virtual reality viewer called Google Cardboard. 
Because of Teegan's missing lung, her heart is located in her far left chest, making it very difficult to operate. Doctors at the Nicklaus Children's Hospital were further disadvantaged due to a broken 3-D printer, which meant there was no way to design or plan a surgery.
That's when the hospital got creative.
When used in combination with a smartphone, Google's $20 kit enabled Teegan's team of doctors to view her heart from all angles within the context of her body. They were then able to design a surgery perfectly suited to her heart, greatly reducing the risk of operation.
Burke believes Google Cardboard, simple as it may look, made the operation possible.
"There are certainly more expensive technologies you could use to look at virtual imaging, but I thought this was really elegant because it's essentially a cardboard box," Burke told reporters at a press conference.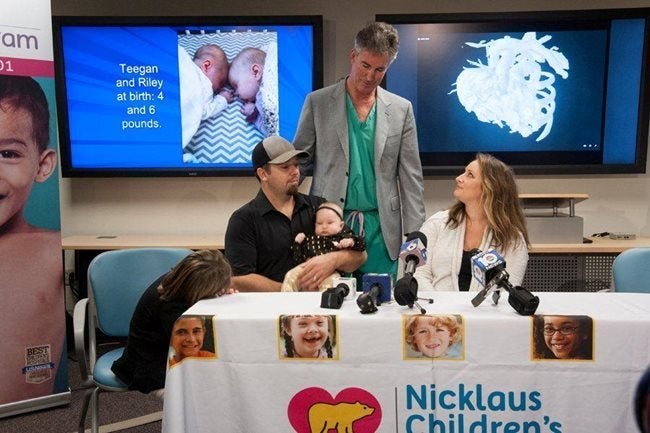 Now, though Teegan will require more surgeries, her parents are hopeful that she will pull through.
"Being innovative seems to be the goal for this hospital and its doctors," Cassidy Lexcen said, according to the Miami Herald. "And innovation is what saved our daughter's life."
PHOTO GALLERY
Google Doodle Slideshow
REAL LIFE. REAL NEWS. REAL VOICES.
Help us tell more of the stories that matter from voices that too often remain unheard.