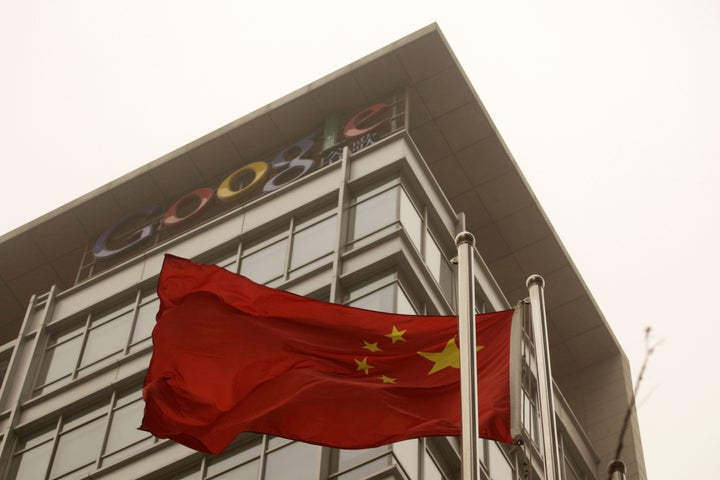 BEIJING — Google Inc.'s partial withdrawal from the China market brought swift condemnation from the government Tuesday while leaving Chinese Web surfers to wonder whether they would be able to access a new offshore search engine site or be blocked by censors.
Google's decision to move most of its China-based search functions to Hong Kong opened a new phase in a two-month-long fracas pitting the world's most powerful Internet company against a government that tightly restricts the Web in the planet's most populous market.
A bulletin from China's state-run news outlet Xinhua blasted Google in a post titled "China says Google breaks promise, totally wrong to stop censoring." Meanwhile, however, a few Chinese passers-by laid flowers or chocolates on the large metal "Google" sign outside the company's office building in northern Beijing. Many Chinese felt caught in the middle, admiring Google for taking a stand against censorship but wondering whether the government might further punish the company.
"I don't know what the Chinese government will do to Google next," said Zhou Shuguang, a well-known blogger who uses the online name "Zuola." "But I welcome the move and support Google because an uncensored search engine is something that I need."
After threatening to quit China over cyberattacks and legally required self-censorship, Google announced early Tuesday Beijing time that its Chinese search engine, google.cn, would automatically redirect queries to its service in Hong Kong, where Google is not legally required to censor searches.
The shift did not mean, however, that Chinese were suddenly allowed unfettered access to everything on the Internet. Chinese government Web filters – collectively known as the Great Firewall – automatically weed out anything considered pornographic or politically sensitive. The move, in effect, shifts the responsibility for censoring from Google to the communist government.
Beijing responded swiftly, testily declaring that Google violated commitments it made to abide by China's censorship rules when it entered the China market in 2006.
"This is totally wrong. We're uncompromisingly opposed to the politicization of commercial issues, and express our discontent and indignation to Google for its unreasonable accusations and conducts," an official with the Internet bureau of the State Council Information Office, China's Cabinet, was quoted as saying by the official Xinhua News Agency.
An op-ed by Xinhua published on the CCTV website accused Google of "groundlessly accusing the Chinese government of supporting hacker attack [sic]" and warned Google that it "should not continue to politicalize itself." The article continues,
Regrettably, Google's recent behaviors show that the company not just aims at expanding business in China, but is playing an active role in exporting culture, value and ideas.

It is unfair for Google to impose its own value and yardsticks on Internet regulation to China, which has its own time-honored tradition, culture and value.
The withdrawal of its search engine makes Google the latest foreign Internet company to founder in a China market that is heavily regulated and prone to particular consumer tastes. Companies such as Yahoo, eBay and Microsoft's MSN instant messaging service have never gained the traction in the China market that their homegrown rivals have.
Google's move, however, marks only a partial retreat. It's leaving behind a research and sales division. Its map services and a free, advertiser-supported music portal still have their servers in the mainland, and its Gmail e-mail service remains available too.
"It's a balancing act. They are trying to leave but not leave, stay but not stay," said Duncan Clark, managing director of BDA China Ltd., a technology market research firm.
Google's discord with the Chinese government added to souring ties between Washington and Beijing over Taiwan, Tibet and trade and others economic issues.
Playing down the friction with the Internet company and with Washington, Chinese Foreign Ministry spokesman Qin Gang said China had a right to filter content deemed harmful to society and national security and Google's response should not harm wider relations with the United States.
"The Google incident is just an individual action taken by a business company, and I can't see its impact on China-U.S. relations unless someone wants to politicize that," Qin said at a routine media briefing.
Google's strategy leaves the google.com.hk search engine vulnerable to a total blockade. Facebook, Twitter and YouTube, which is owned by Google, are completely shut out of the mainland. The Mountain View, California, company also could see its existing operations foiled by a government unhappy about being challenged by a marquee foreign investor.
Despite reports saying a move was imminent, Google's decision caught many Chinese users by surprise. He Xinliang, an employee at an Internet security company in China's western city of Xi'an, first realized something had changed when clicked on google.cn but found himself on the Hong Kong site.
"I was more or less mentally prepared for this because it's been a hot topic for a while, but I was still just a little surprised," said He, who regularly uses Gmail, Google Docs and Google Calendar. "At least the page is still in simplified Chinese."
The Hong Kong page offers search results in the simplified Chinese characters used in mainland China in addition to the traditional characters used in the self-governed territory.
Initial post-move plans were broken to some of Google's 600 Chinese staff at a meeting held in the first-floor cafeteria of Google's Beijing office, said company spokeswoman Jessica Powell.
"We haven't worked out all the details so we can't ever rule out letting people go, but we very much want to avoid that," said Powell. "The sales presence to a certain degree could depend on the success of google.com.hk."
A client who stopped by to find out the status of his Google advertising account told reporters gathered outside that Google staff he had spoken with seemed nervous and confused.
"Nobody in there could give me a clear answer," said Pan Yun, manager of a Beijing real estate Web site. "I just want to know if our business can continue but they couldn't give me an answer."
On taobao.com, a popular Chinese online retailer, at least one vendor was already selling a "GoogleBye" t-shirt for 38 yuan ($5.50). The words were tucked under an image of the Great Wall and above that in Chinese characters, it said "Long Live the People's Republic of China."
The State Council official said the government talked to Google twice to try to resolve the standoff and suggested that China's laws requiring Web sites to censor themselves was nonnegotiable.
"We made patient and meticulous explanations on the questions Google raised ... telling it we would still welcome its operation and development in China if it was willing to abide by Chinese laws, while it would be its own affair if it was determined to withdraw its service," the official said.
Still the decision is likely to further dismay many Internet-literate Chinese, who admired Google's fight against censorship even though they don't like to be reminded of the government's heavy hand.
"I feel that people will greatly respect Google's action," said Beijing law professor and human-rights lawyer Teng Biao. "China's censorship of the Internet search engine results is a violation of the most basic of human rights. By doing this, Google will bring more global attention to China's human rights situation."
Associated Press writers Gillian Wong and Anita Chang and researcher Xi Yue in Beijing contributed to this report.
Popular in the Community