Thursday, Shareaholic, a maker of digital tools that help get content get distributed, discovered and shared across the web, released its Browser Share report with surprising findings.
Who is this report intended for?
Why care? Because it's worth knowing which browsers are more commonly used so you can optimize your website to be compatible with those browsers. This way, your visitors can have an exceptional experience every time they drop by, regardless of whether they're using Chrome, Firefox or Safari. In this report, you'll see which browsers are most popular and whether or not their usage has grown or declined.
Here are the results over the last nine months (click to enlarge):

What are the three biggest takeaways?
1) The top four browsers are used by more than 80 percent of the market. Last month, Google's Chrome web browser still held the No. 1 spot, capturing more than a third of the market with a 34.68 percent market share, which was also more than double Firefox's market share (16.60 percent). Firefox came in 2nd place, followed by Safari and Internet Explorer used by 16.15 percent and 15.62 percent of the market, respectively.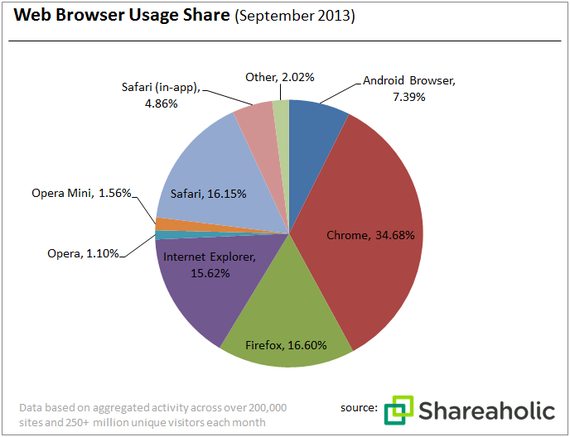 2) Only the stock Android browser and Chrome experienced double-digit growth. Of the eight browsers we tracked, Android grew the fastest (growing 26.75 percent from January until September), followed by Chrome which continues to solidfy it's market leader position (growing 15.64 percent in the same time period).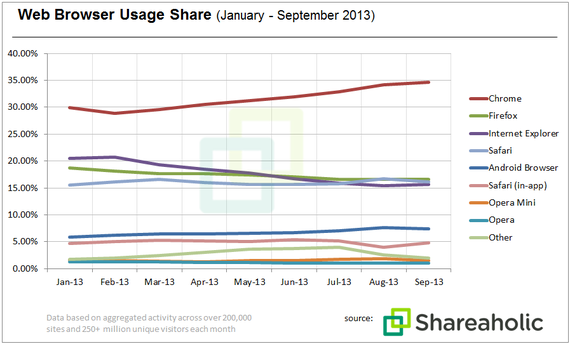 3) Half of the browsers we tracked were in decline. Internet Explorer was hit the hardest; in the last nine months IE saw its market share shrink 23.81 percent. Opera was next in line, losing 16.65 percent of its market share. Firefox experienced a 11.6 percent decline in usage and Opera Mini (Opera's mobile browser) saw their market share drop 6.23 percent.
It will be interesting to see how these numbers play out in the next few months. As smartphones become cheaper and more accessible, we'll likely see further growth among mobile browsers, perhaps in Android usage moreso than Safari. Maybe the new Chromebook might catch on too. Oh, the possibilities.
Which browsers are your visitors using? Let us know in the comments!
Popular in the Community